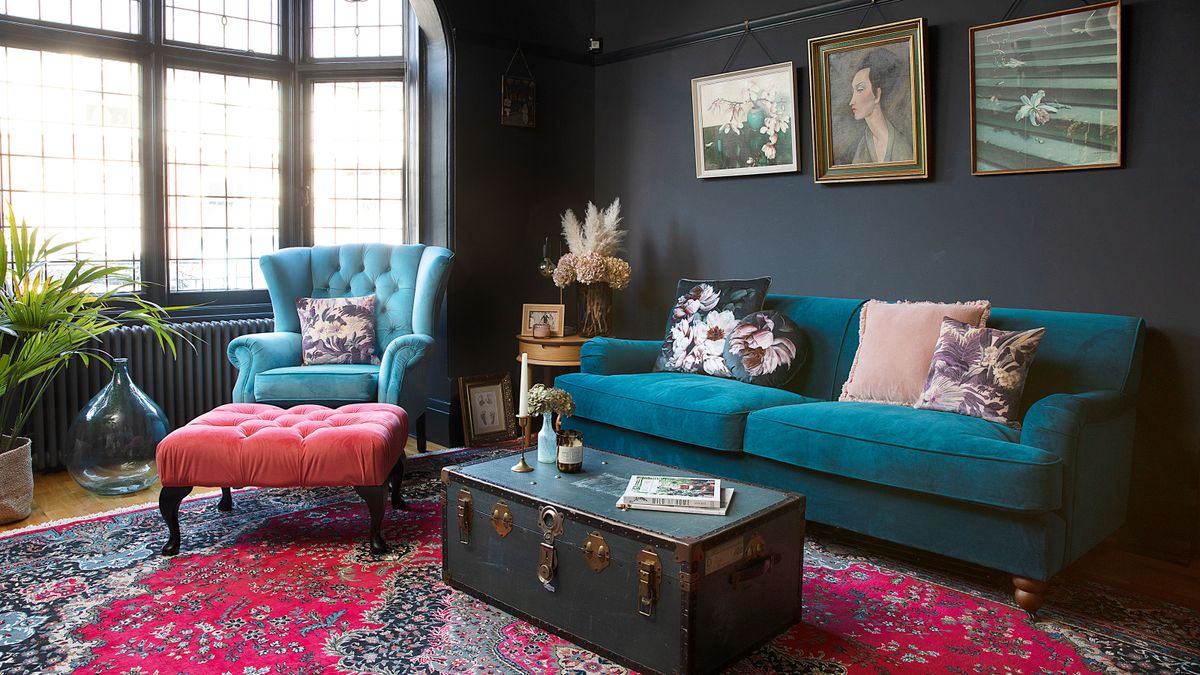 10 coffee table alternatives to sub into your lounge
If you're on the lookout for coffee table alternatives, we've got you covered. For many of us, a conventional piece of furniture just won't do. 
Some living spaces are simply too small, and others… Well, they just warrant a bigger and bolder statement. And, for the large majority of us, the best coffee tables simply fall outside of our budget.
There are so many creative alternatives to coffee tables, many of which you probably own already. It's all just about placing these already-existing items in your living room and redefining the function they have in your front room.
You'll be pleased to know that many of these items can be sourced cheaply, or even given to you for free (if you ask nicely.) One thing's for sure, they won't 'look budget', or out of place, and some of these options even double up as extra seating too.
Clever coffee table alternatives
'If you want to find the most unconventional coffee table possible, look at things that aren't coffee tables at all. There are plenty of other functional pieces of furniture that can be used in place of a coffee table,' says Kate Crowle, director of content strategy, brand marketing, and social media, Pottery Barn.
'If your living room has a global style or elements of Boho chic, try using a flat-topped vintage trunk as your coffee table. For a more traditional space, try an antique chest. Either of these options would make great coffee tables and provide considerable storage.'
'Keep an eye out for unique pieces, and you may just find the perfect non-traditional coffee table hiding right under your nose.'
1. Stack some vintage trunks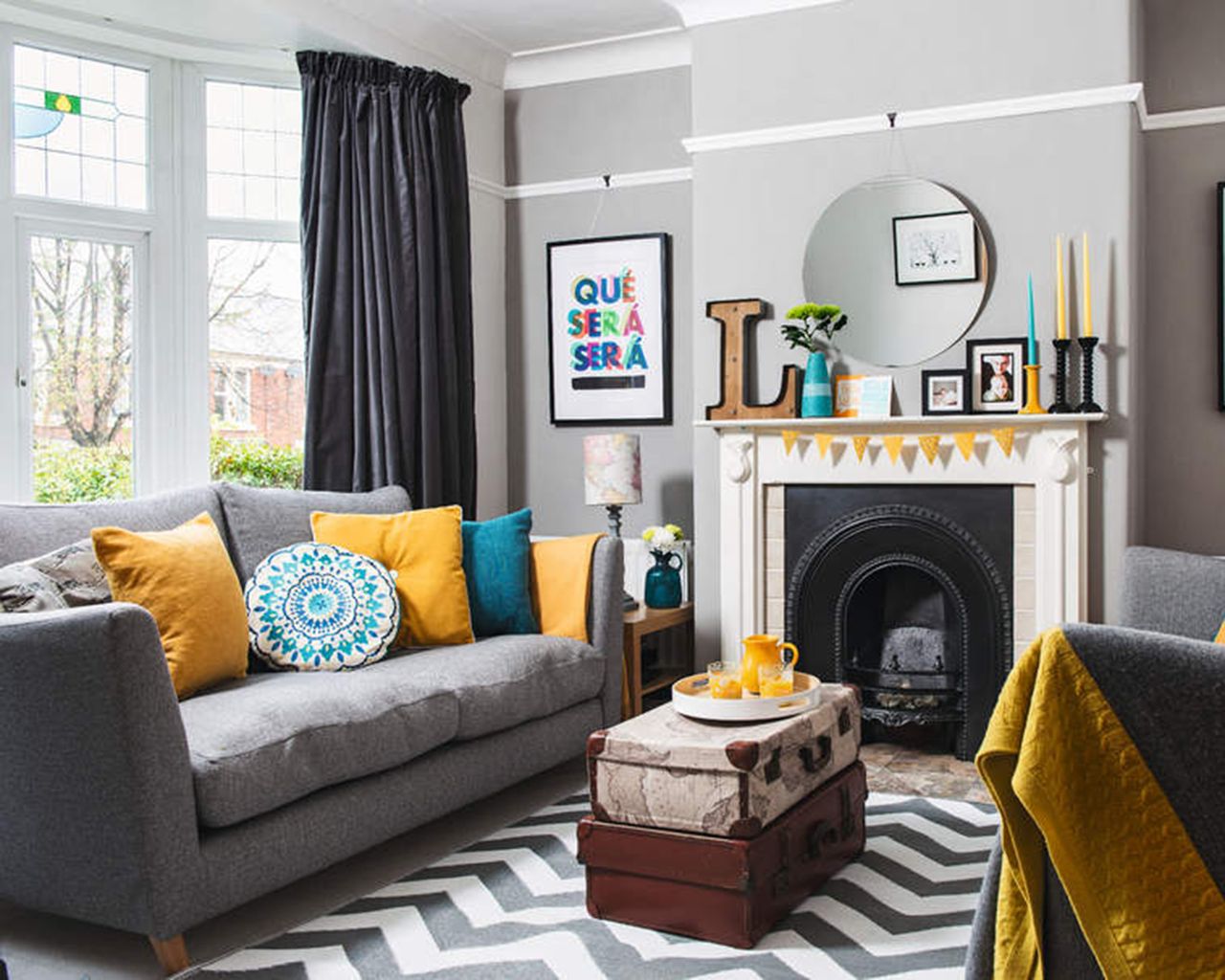 Pack your backs because you're going on a trip to destination dreamy living room with this gorgeously vintage get-up. Recreate the look by using a trunk to turn your living room into a time-warped scheme mixing old and new. Or have double the fun stacking suitcases on top of one another. We love how a touch of brown instantly warms up this cool and contemporary living room scheme.
2. Recycle a fruit crate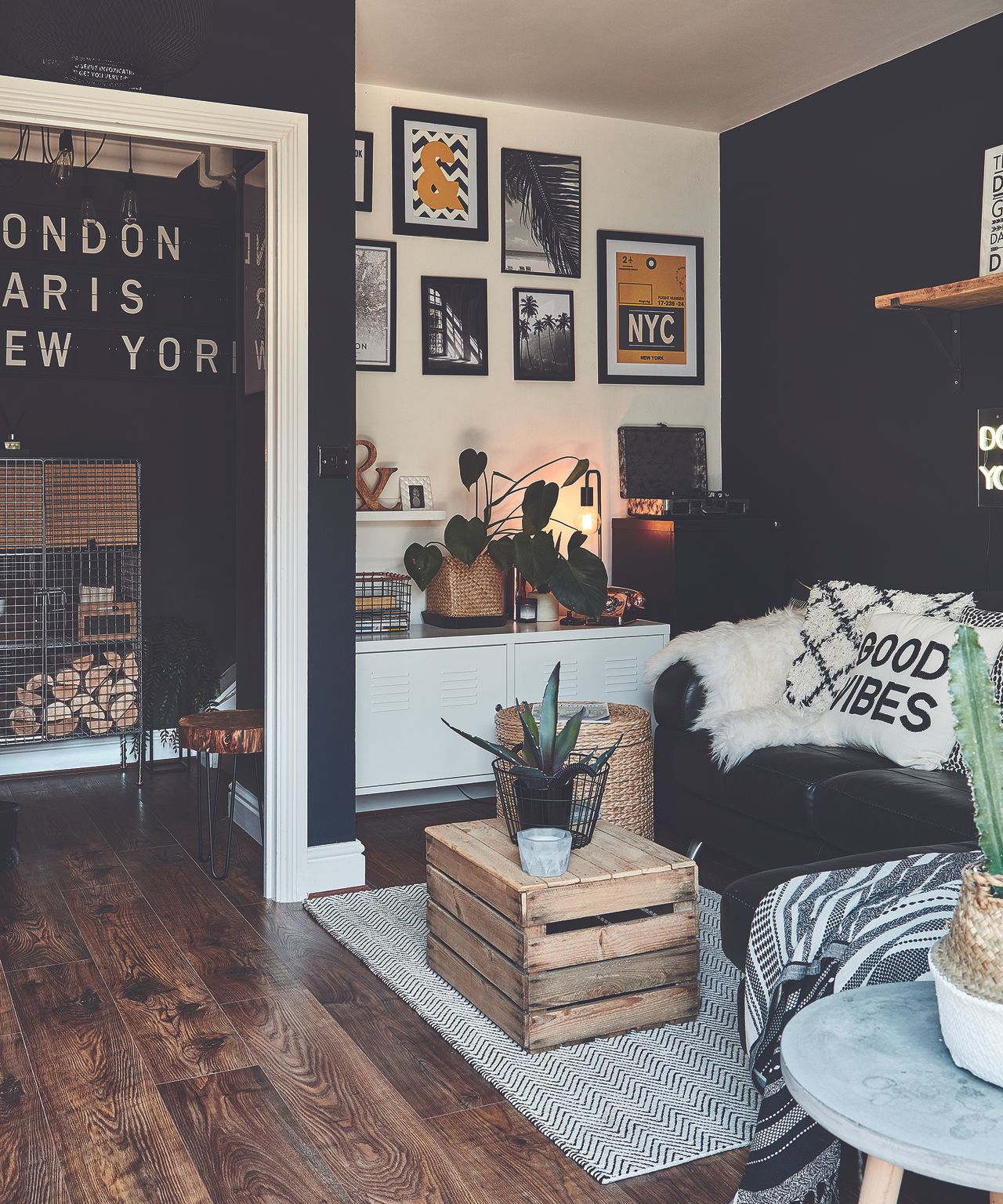 Go farmhouse chic for free with a wooden crate in lieu of a living room coffee table. Combined with the dramatic black wall paint decor, wood flooring (and wooden logs in the background), this'll look so good in an industrial rustic or dark boho scheme. Alternatively, make it fit a colorful scheme by using chalk paint to jazz it up.
3. Use a vintage chest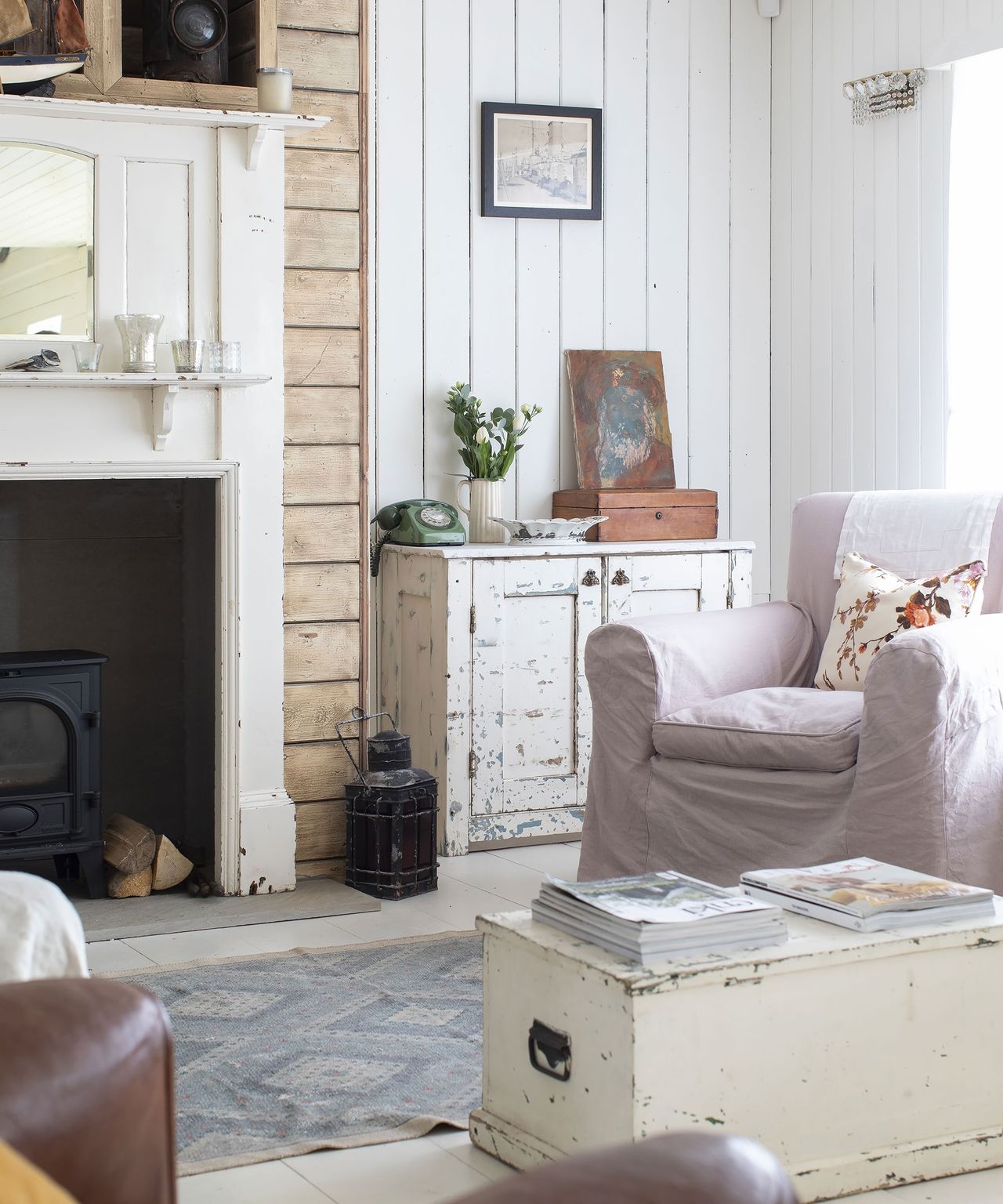 Make a statement in your sitting room with a vintage chest. Combined with the shiplap wall and ceiling decor, distressed drawers, and boat souvenirs in the cubby, we're getting classic nautical vibes. Now all that's left to do is pop your treasure on top of the chest, instead of inside it.
4. Create a DIY tree stump coffee table alternative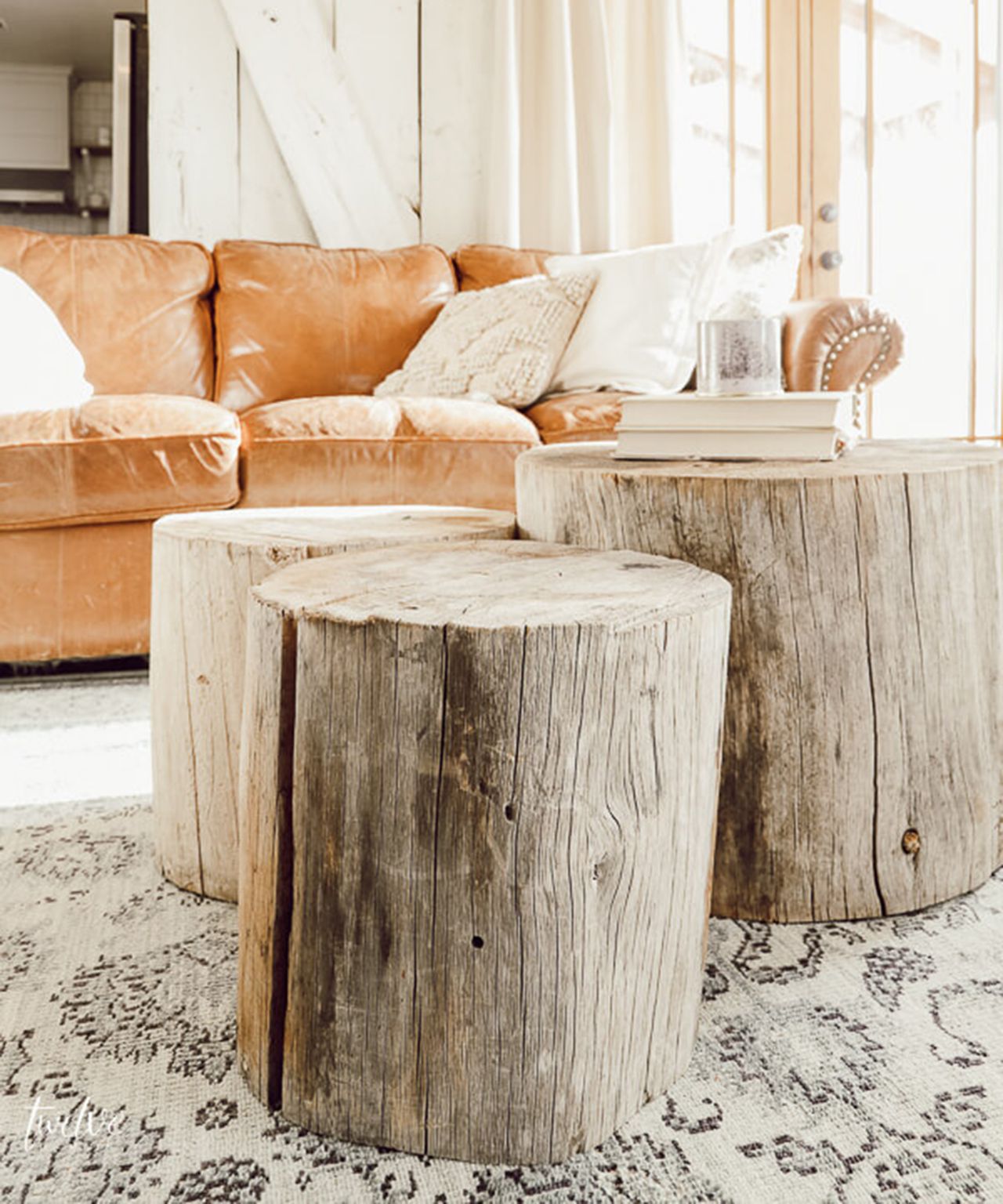 'It doesn't matter if you live in the city or the country, the tree stump coffee table is here to stay and they are a very popular decor item these days.' says Sara aka @Twelveonmain.
'Tree stump coffee tables are where it's at.  They are the most forgiving and flexible coffee table I have had in my house.  You can rearrange them to your liking, separate them out or keep all the logs together.'
You will need:
Tree stumps-grab some pre-cut on Etsy
Access to secure outdoor space (such as a porch or garage)
A heater – this patio heater on Amazon does the job
Palm sander (optional)
Paint/stain/clear gloss (optional)
How to:
Make sure your tree stumps are fully dry.  Let them sit out on a porch or in the garage for a few weeks. You can also put a heater near the stump to help dry them quicker.  You may get some splits in the wood, but Sara said she loves that.  She has some in hers. 
Use a palm sander to soften the edges to the desired finish.  This is completely up to you. 
If you want to paint them, this is the time to do it.  You can also paint a clear coat to make them shine.  I've seen many like this and they are gorgeous.
Tree stumps can be heavy.  Especially if you choose large ones. Sara's largest stump is so heavy she has to roll it on its side to move it, and getting it on its side is a chore.  Make sure you have someone to help you.  They will be a bit lighter once they have dried out all the way.
5. Add farmhouse chic with a wicker storage basket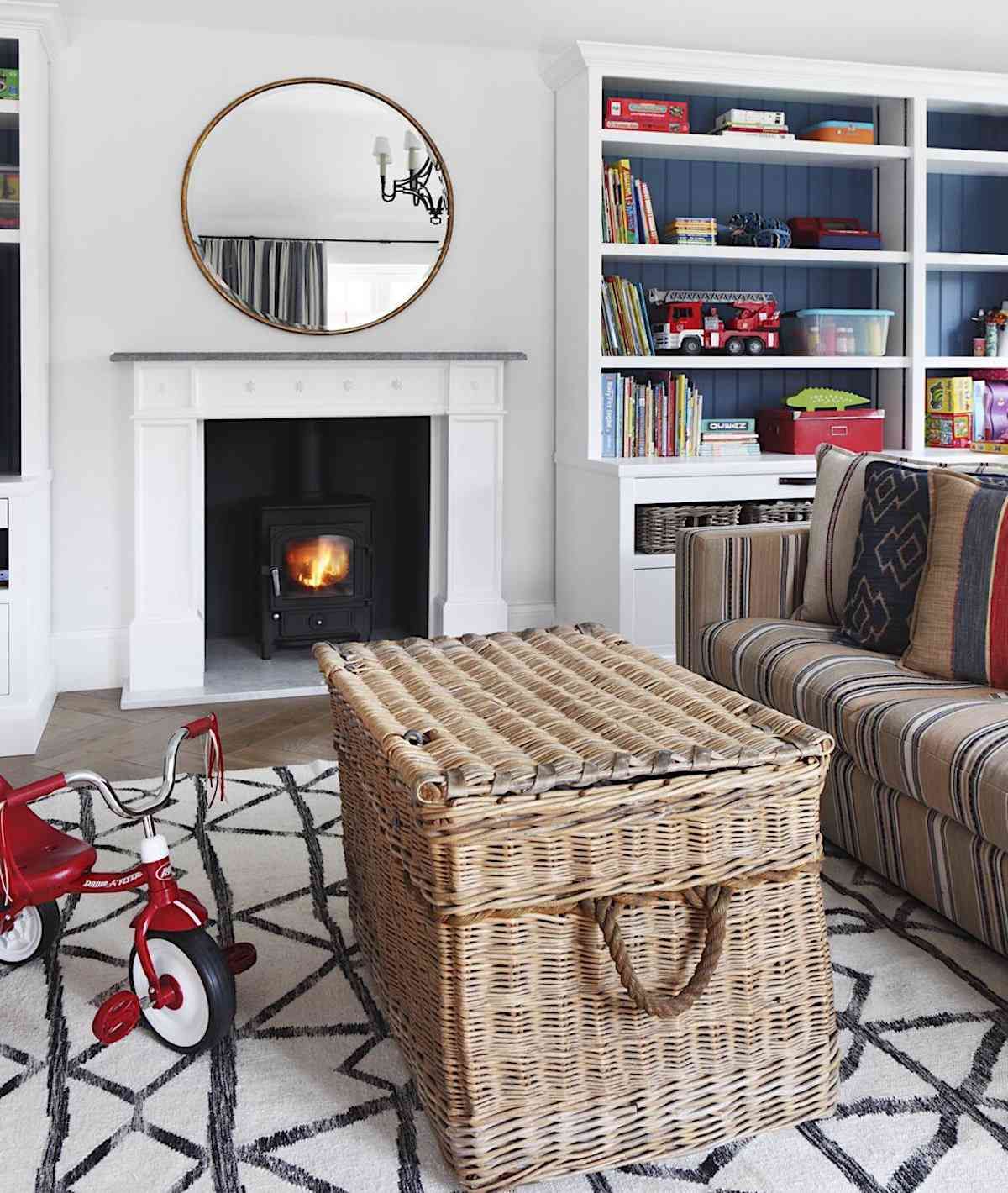 Combine storage with rustic country style by using a wicker basket in the middle of our lounge. Just like lift-top coffee tables, you can keep everything from a spare throw to the kids' toys in this vessel.
6. Pick up a pouf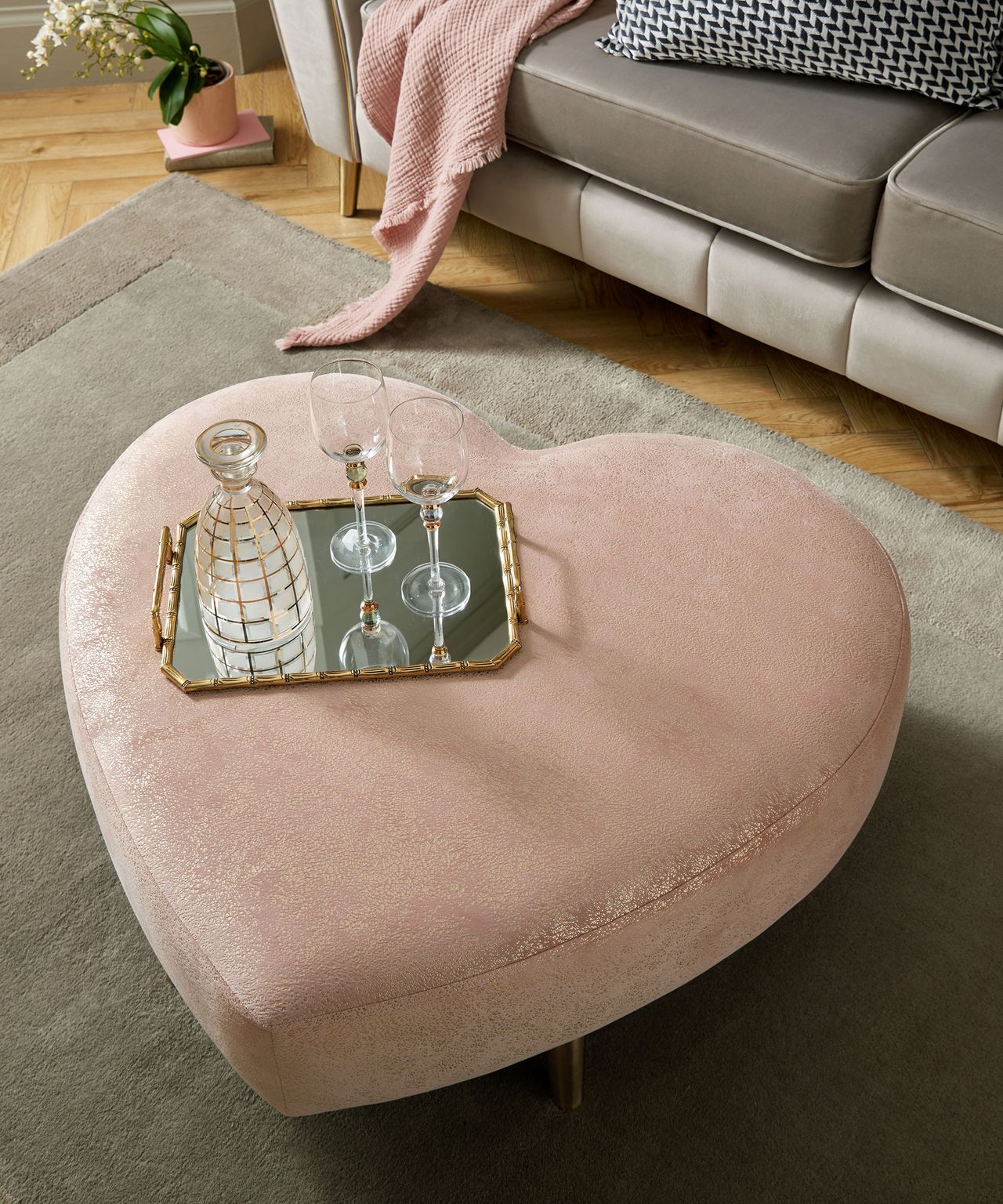 When can your table transform into a seat? When it's a pouf! Very en vogue and versatile, this cushioned surface can be used for mags, books, and butts (when seating is limited) and makes for a contemporary update if you're looking for modern coffee tables. Most helpfully, these beanbag-like bolsters are typically lighter than a wooden table so can be tucked away with ease when not in use.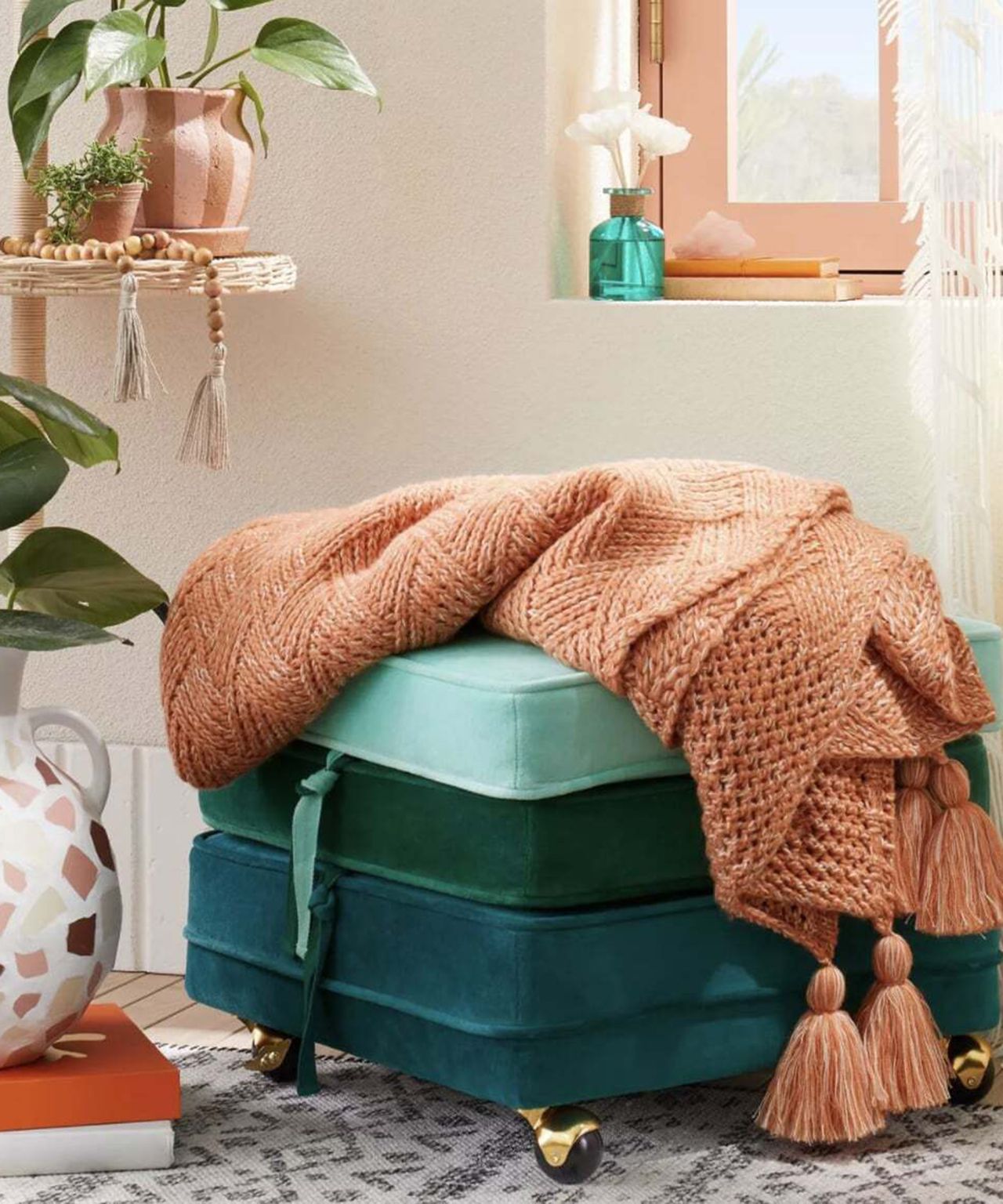 Alternatively, these stackable green poufs with casters mean that your coffee table is portable and can be personalized to your taste by building the plush pillows in the order of your choice. If you're not keen on green, this Opalhouse™ / Jungalow™ furniture, exclusive to Target, is also available in different gradients of pink too.   
7. Use an ottoman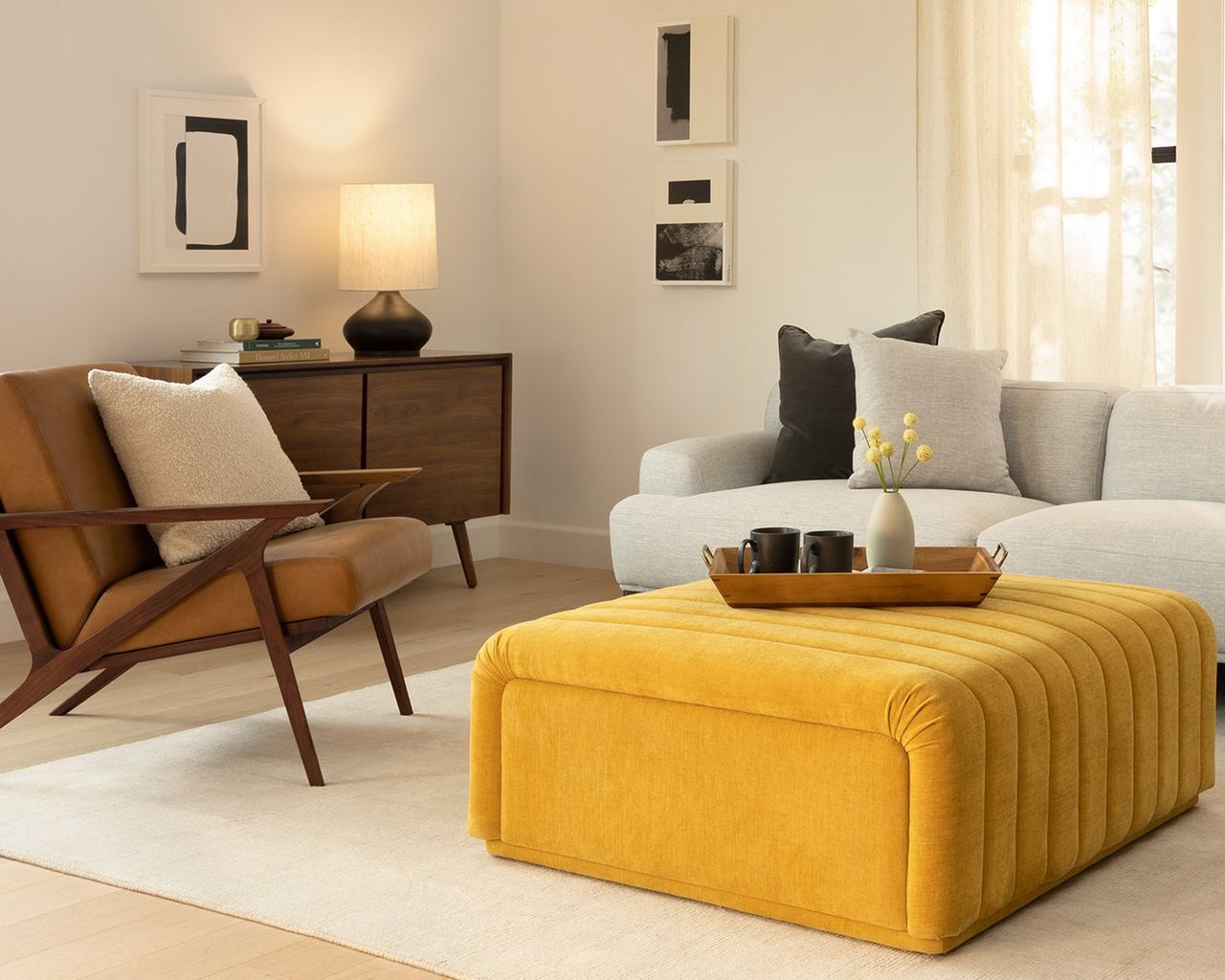 If you've ever knocked your foot on a coffee table leg, or have young children, you'll know the risks of purchasing hard furniture. So if you think your living room will look a little sad without something in the center a coffee table ottoman is a suitable, family-friendly option.
Adding color and soft texture to the living room, this SEFTO
ottoman from Article with adds a vibrant pop of yellow to create a mid-century modern inspired living room.
8. Stack some hardback books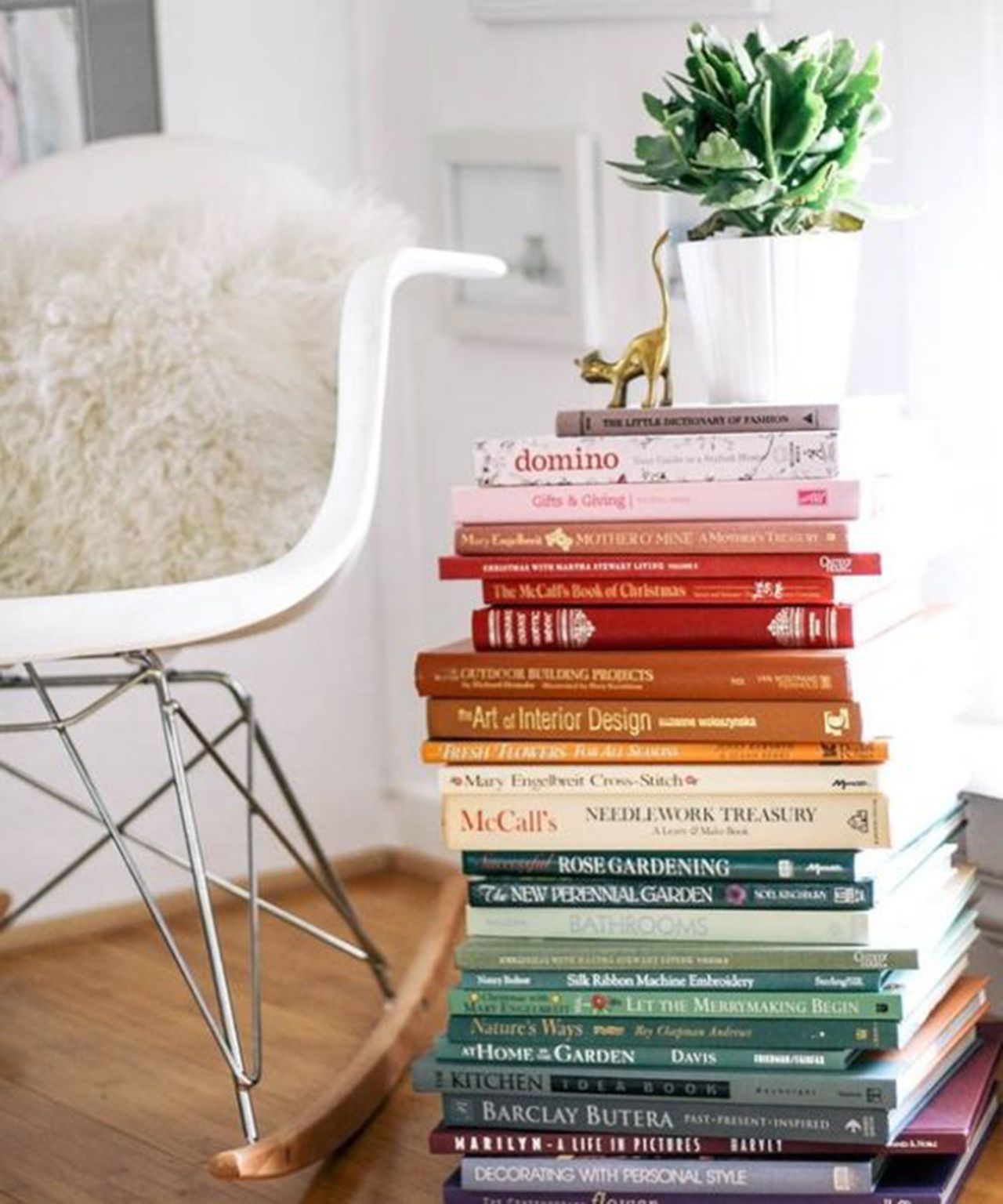 Create cheap-but-chic alternatives to coffee tables with a set of the best coffee table books. These don't have to sit on a coffee table – they are the coffee table. You don't have to have a home library to make this look work. Simply grab some hardback titles from a thrift store, or try an online arena like Facebook Marketplace.
For a super boujie feel, why not try experimenting with 'designer' book covers from Etsy. These coverings can turn an unrecognizable title into a Tom Ford-style literary treat.
We particularly love the way the color of these books have been sorted and organized in rainbow order for a subtle ombre effect.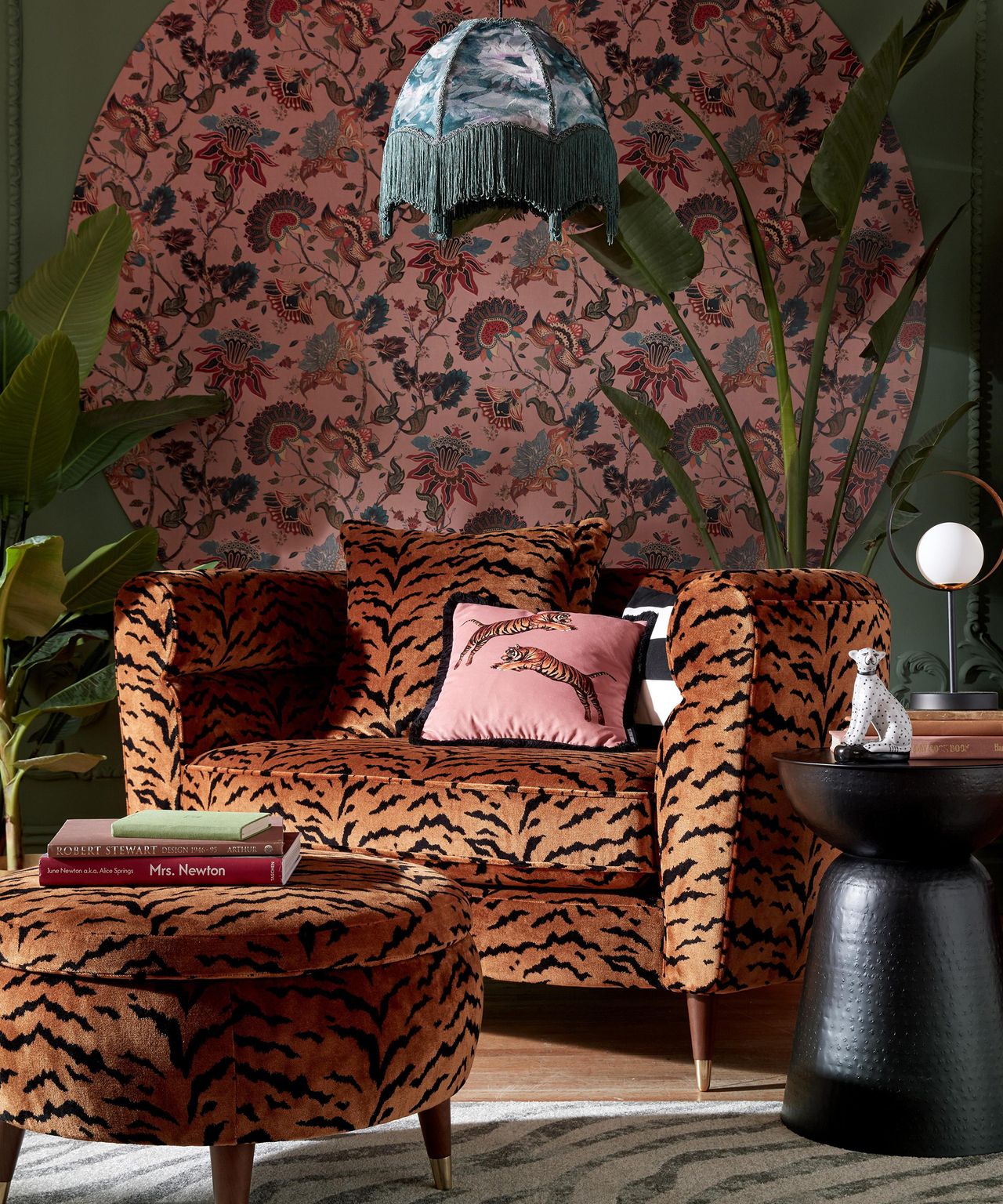 If you're looking for a multi-functional coffee table alternative – look to your footrest. While we often look to this fixture to elevate our feet and recline into a laid-back position, it can also be used to pop the remote or a romantic novel in a nearby spot. While you can go chintzy and go for a mismatched stool, we're obsessed with this animal print-inspired armchair and footstool co-ord.
10. Use a bar cart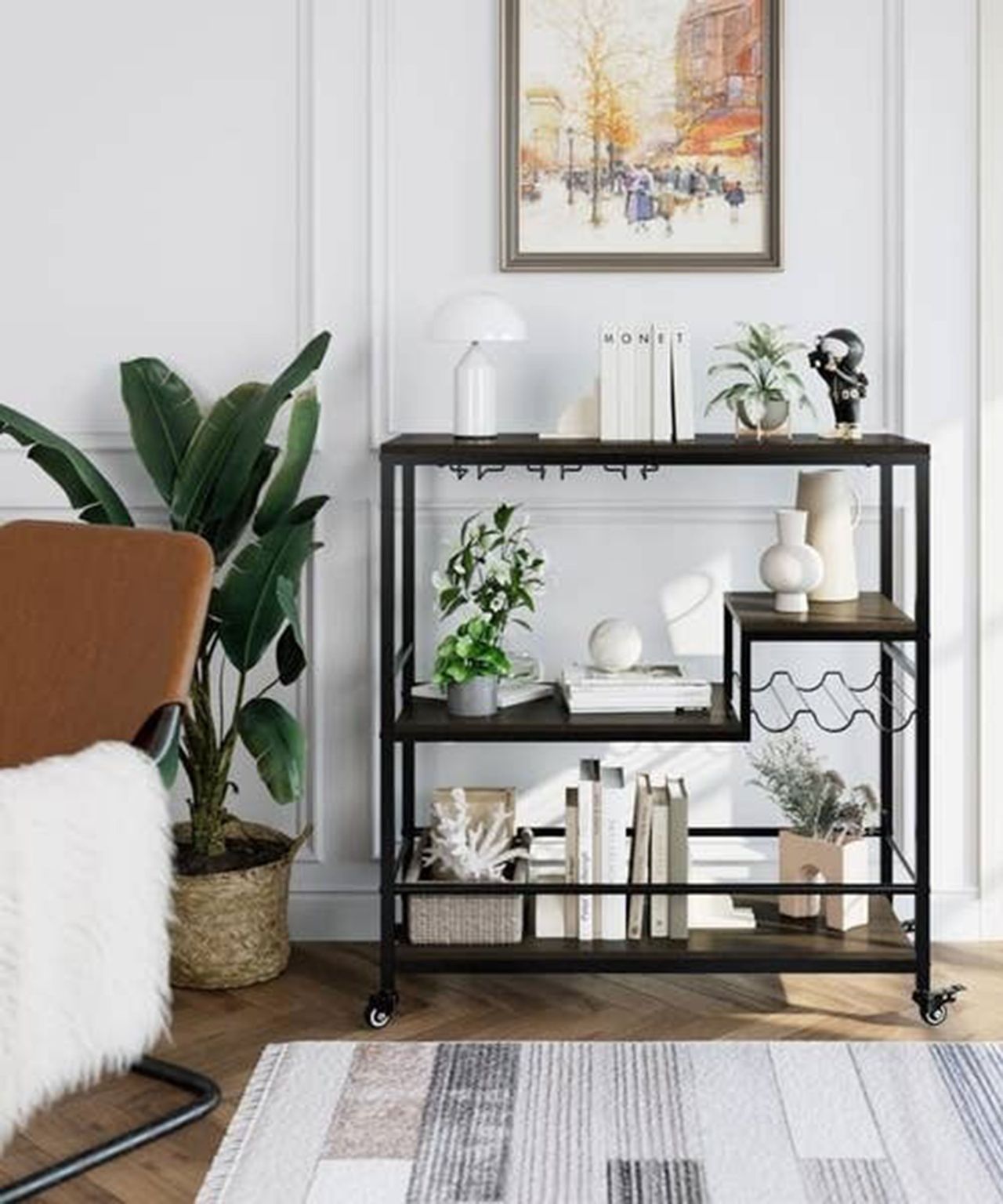 Not just for fixing up something strong, turn your drinks trolley into a place to showcase trinkets and other coffee table decor… Simply by moving it into the middle of your lounge. Typically speaking, the best bar carts are available in metallic hues so use this opportunity to show off your glass vases, and a lampshade. The light reflected from each of these furnishings with beautifully bounce off brass and copper-hued trolleys.
11.  Pull up a bench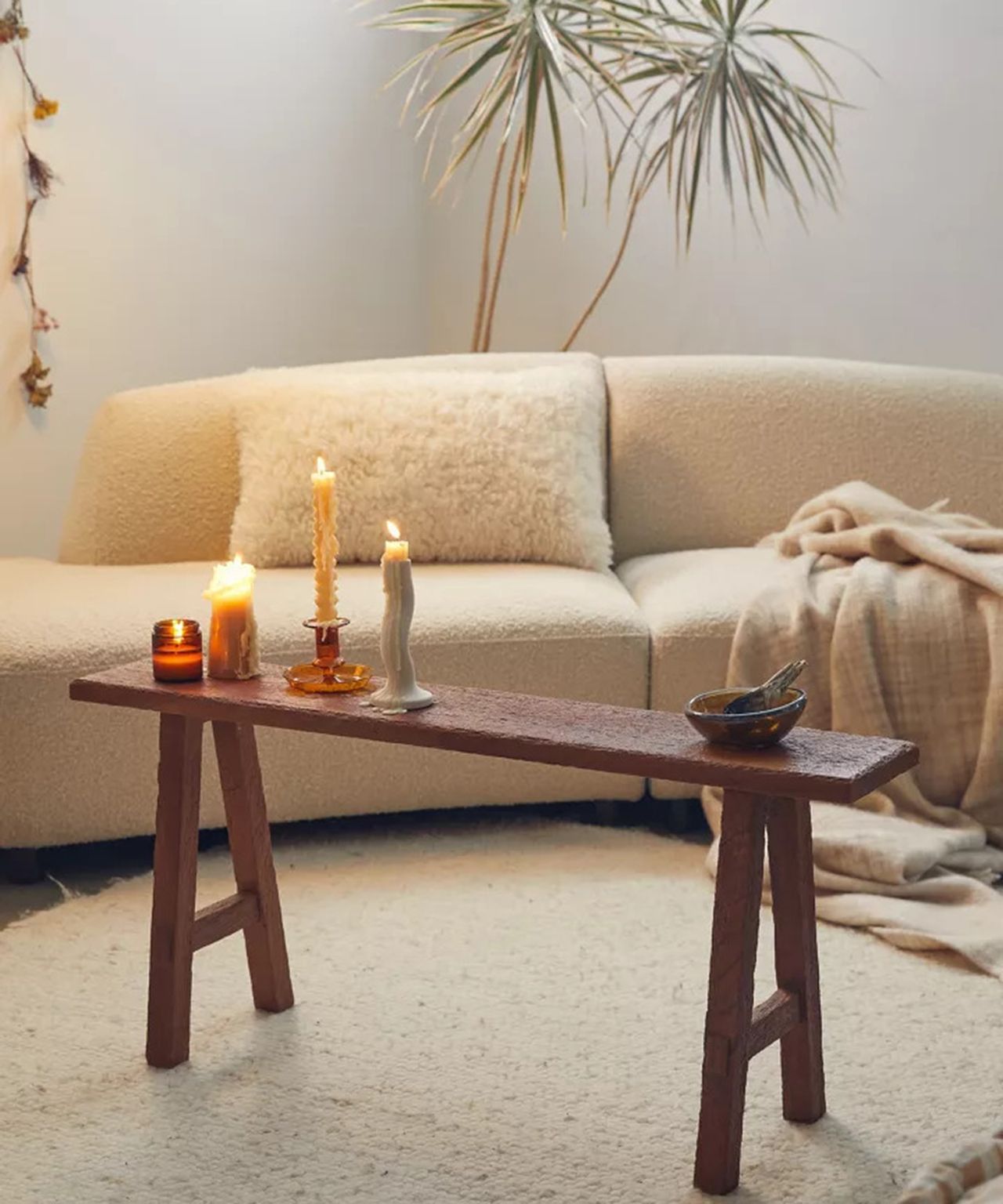 Relocate your entryway bench to your living room for a relaxed, Nordic-inspired feel. We love the combination of textures in this scheme, where a fuzzy boucle sofa and tactile faux fur cushion work in harmony with the colored glass and earthy aesthetic of this workbench, which acts as a wooden coffee table .
When it isn't used to hold candles and other ornaments, use it as extra seating for when guests come round (it's great for parties and a fun place for kids to sit). This Sasha Bench, exclusively available at Urban Outfitters is made from Acacia wood and looks best in a minimalist living room aesthetic.
What can you use instead of a coffee table?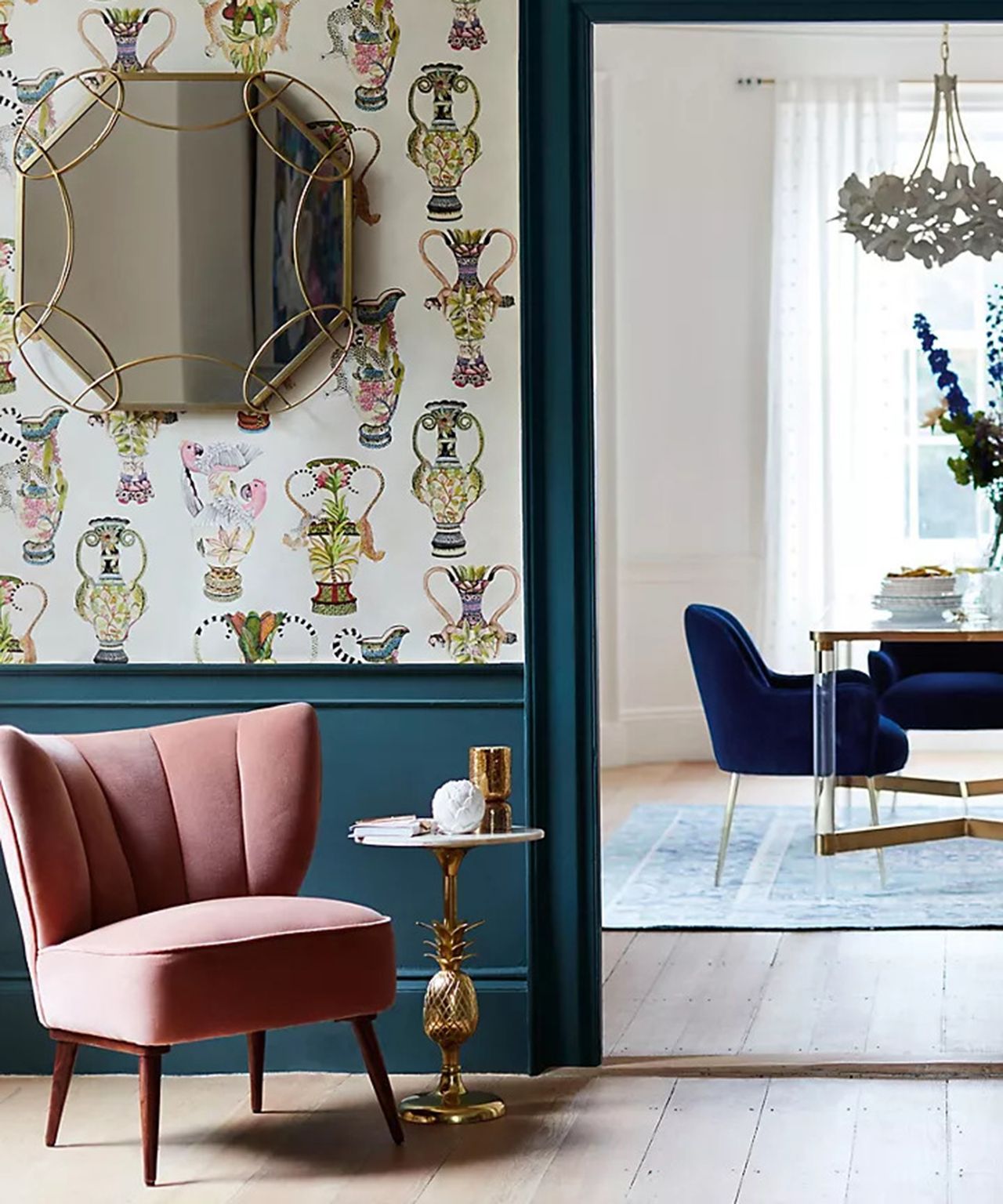 'When shopping for a coffee table, it's natural to do exactly that: choose one coffee table. But why limit yourself to just one large one when you can use several small tables for the same effect?' says Crowle.
'This doesn't mean you should throw a few random tables around the room. Instead, follow a few simple guidelines to achieve an attractive, cohesive look.'
'If you choose two or more small square side tables that are the same size, try putting them together in place of a single coffee table. This will give you the look of a standard table with more versatility and visual interest. When you're entertaining, split the tables up and put them exactly where they're needed. This also provides more space in the center of the room if needed.'
'If your tables don't match, that's all right!  Just make sure they're somewhat similar in shape and style. Three circular tables of different heights arranged in the center of the room gives you plenty of table space, and takes on a more sculptural look.'