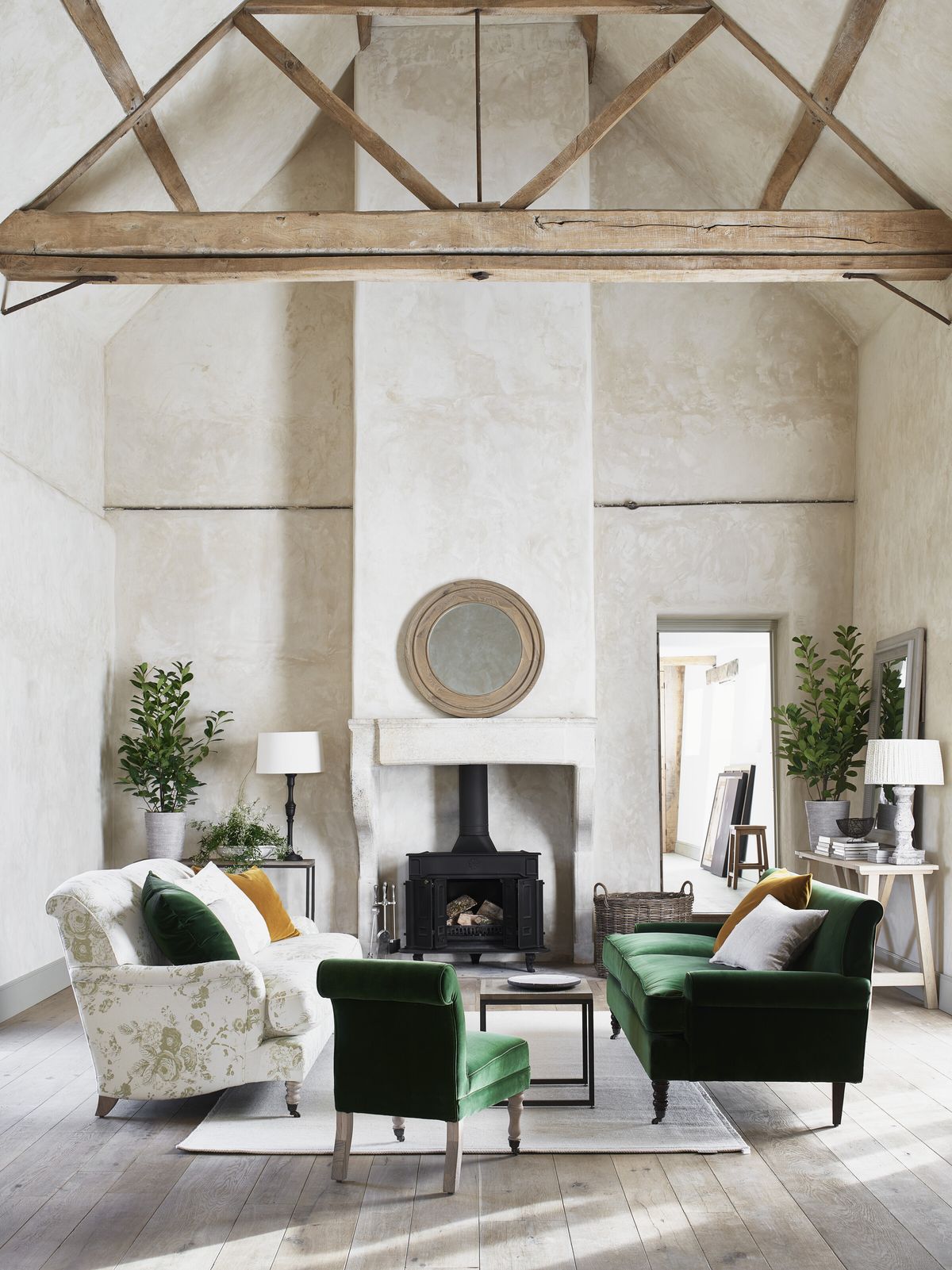 12 awkward living room layout ideas that will give you instant stylish solutions
We spend many hours chilling in our living rooms and a well-designed layout will make it feel warm and welcoming for ourselves and visitors. This is of course, when the living room is a regular easy-to-design shape, but some can be challenging especially if the property is old, has slanted walls, irregular walls or is a super small living room design. 
'An awkwardly proportioned living room can be difficult to plan and arrange. The best option is to celebrate the quirks of the room and embrace the unique shape to maximize the space available,' say Jen & Mar, co-founders of Interior Fox (opens in new tab).
So where do we begin with an awkward living room layout? 'Start with the largest items first, such as the sofa. This helps you determine where the remaining items will go. Think about the different functions of the room and create two to three different areas, such as the TV watching area, reading area, and something else, perhaps a talking area with two or three seats. Contrary to popular belief, you don't have to have your furniture against the walls. Don't be afraid to pull them out and push them into the center of the room more,' says Aaron Lebowski, certified interior designer at Juliei Salone (opens in new tab).
Mastering an awkward living room layout is possible, as there's always a solution for every design, it's about using clever interior design tips and tricks to achieve a stylish space that works perfectly for you. 
1. Zone open living spaces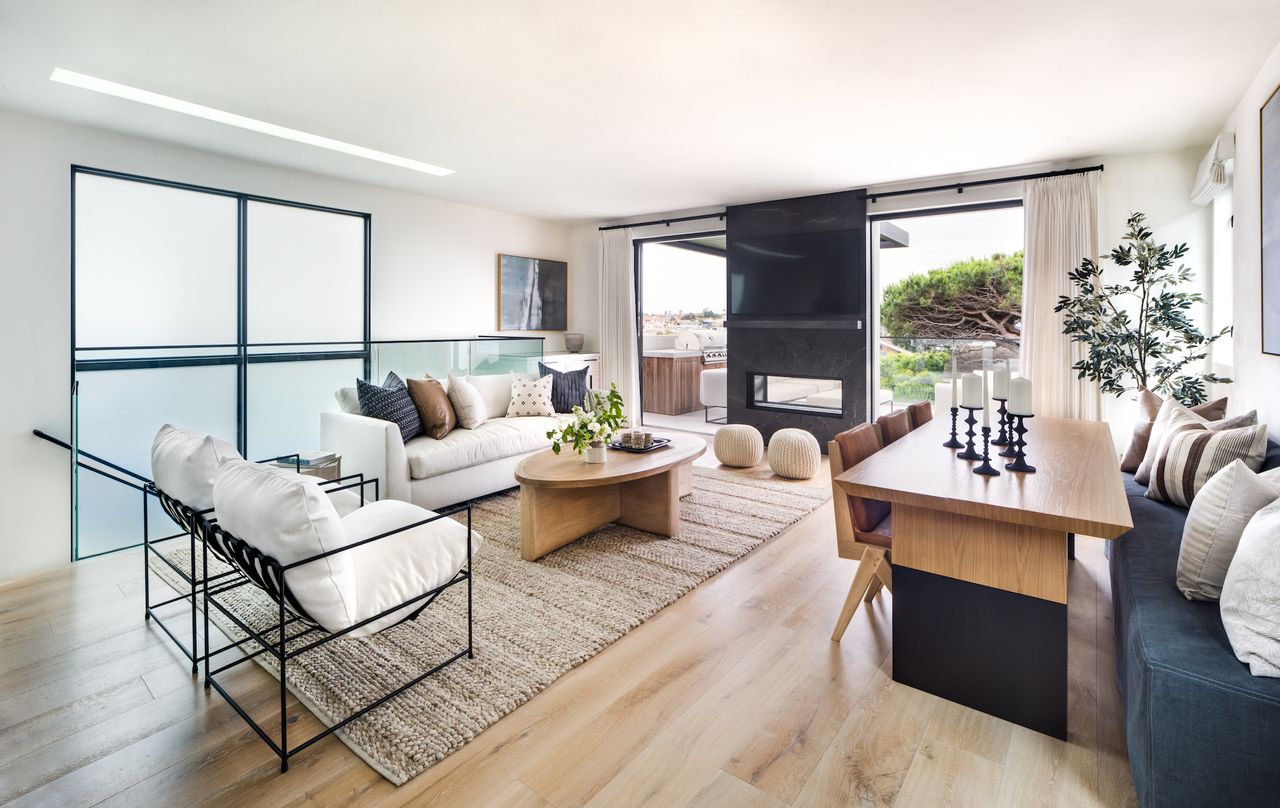 If you live in an apartment it can be hard to juggle the different elements that are needed within the living, kitchen and dining spaces. A simple way round this is to zone one of the areas. In the case of this smart apartment, the living room area is defined by the large rug – note the key pieces of furniture are on the rug. Then, to the right sits the dining table and extra seating which is in its own space by the opposite wall.
2. Choose furniture that can easily be moved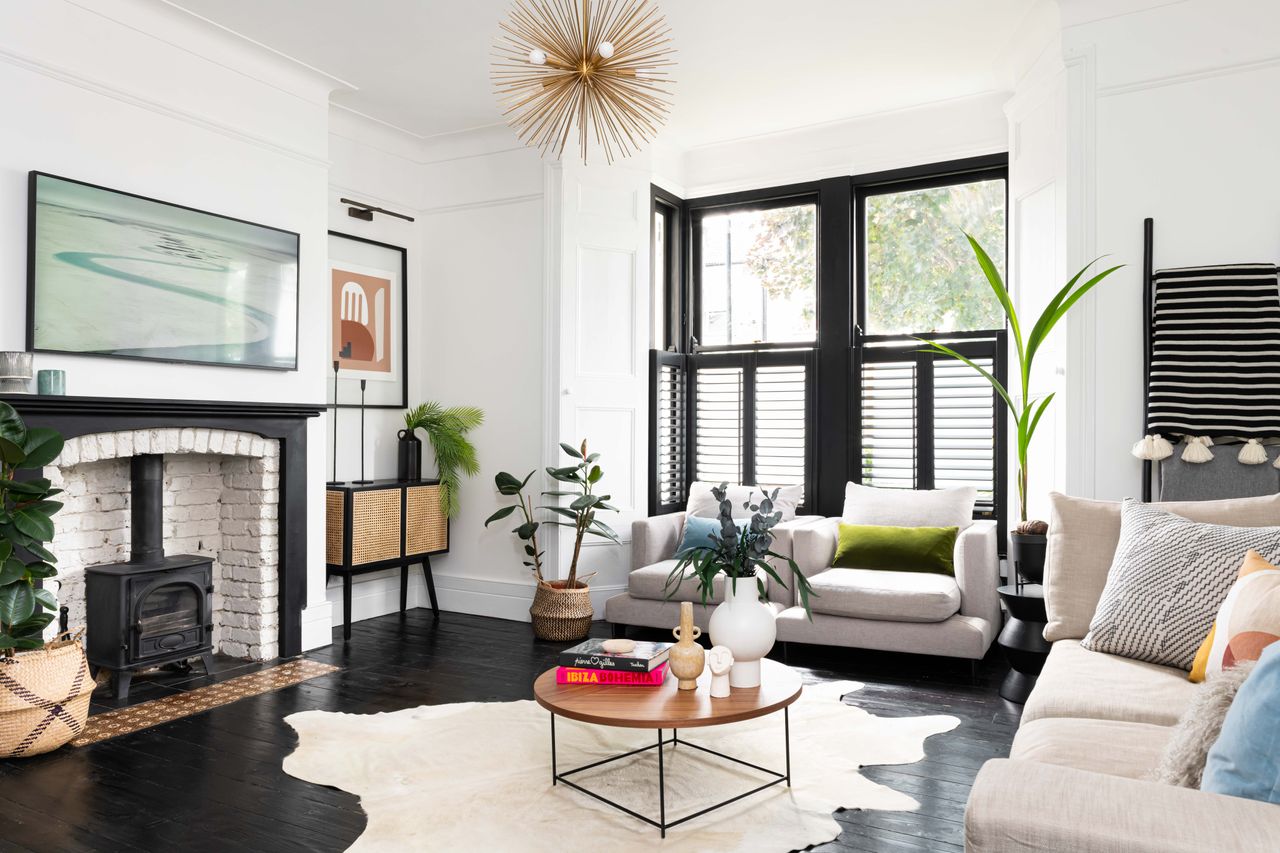 Consider using more 'separates' so one couch and two armchairs instead of two couches as Jen & Mar, co-founders of Interior Fox (opens in new tab) explain below:
'Smaller pieces of furniture are much easier to position, however versatile and less bulky items are a better option. Coffee tables are often considered as essential, when actually a side table that can be easily moved around the room could be a much better option. Alternatively, a soft ottoman footstool is another great option, pop a tray on top to balance drinks, while also using it for extra storage or for additional seating when guests visit.' 
3. Pull the couch away from the wall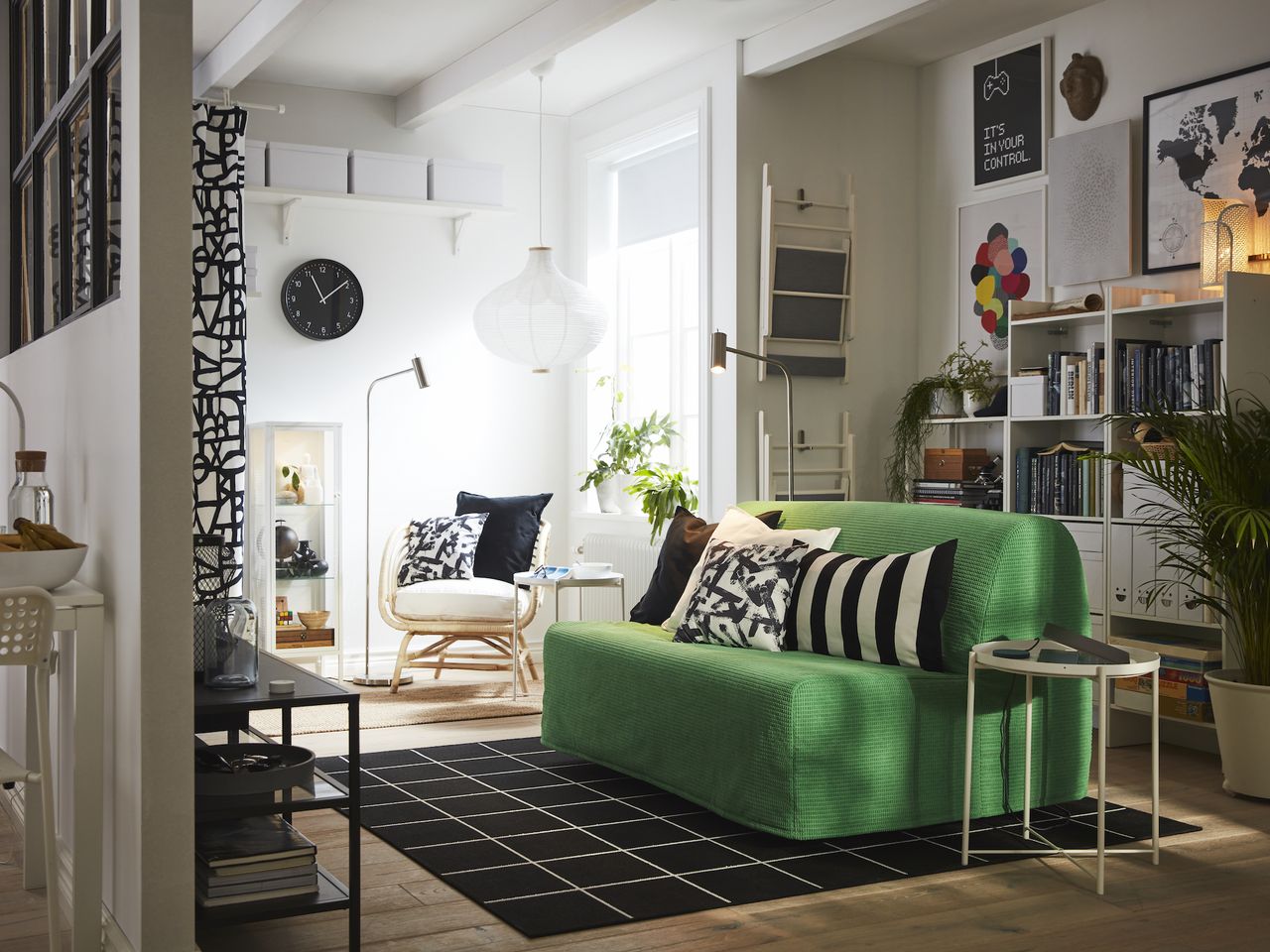 If your living space doesn't have many solid walls – like this room from Ikea, then pull the couch away from the wall and place it opposite the TV, if you have one, or window. This will create a cozier seating space in the middle and you can use the outer wall for storage. Make sure there's enough room to walk around and add a small side table. The end result will be a workable living room that feels more purposeful. 
4. Keep the flow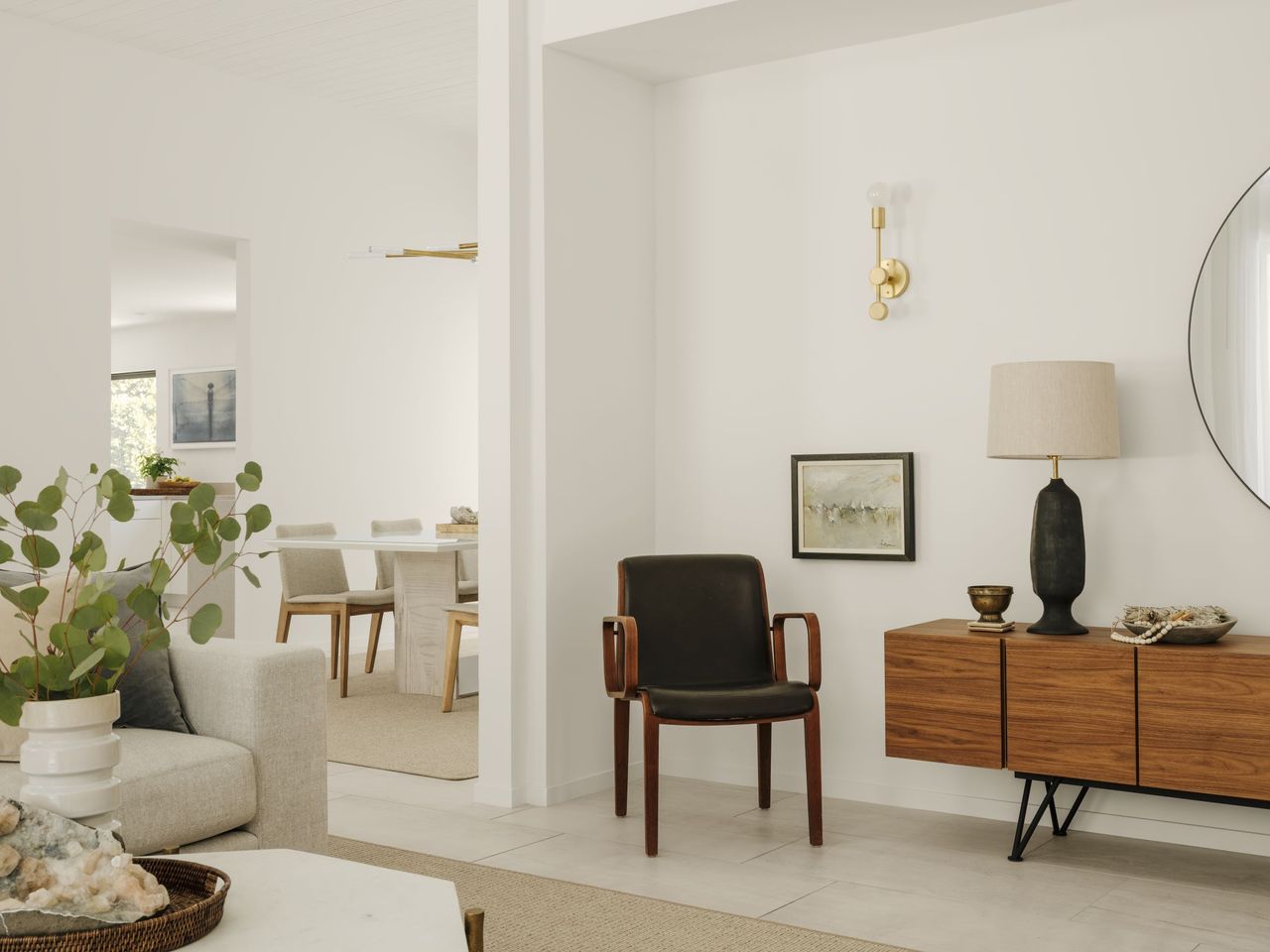 When one room flows through to the other, or at least you want it to, then follow a couple of our top tips which will also help to configure your awkward living room layout in this instance. Firstly use the same floor throughout, this will help the eye visually, and secondly keep the same wall color. 
The living room here is separate, yet there's no door so you can see the dining room, note how the couch fabric matches the dining chairs for cohesion, tricks like this will distract you from awkwardly shaped spaces too. 
'Picking smaller seating pieces will allow the room to feel more open and avoid feeling cramped. Smaller seating also allows you to tuck pieces away into odd-shaped nooks, so no space is wasted,' says Joshua Smith, principal designer and founder of Joshua Smith Inc (opens in new tab). 
5. Consider a circular layout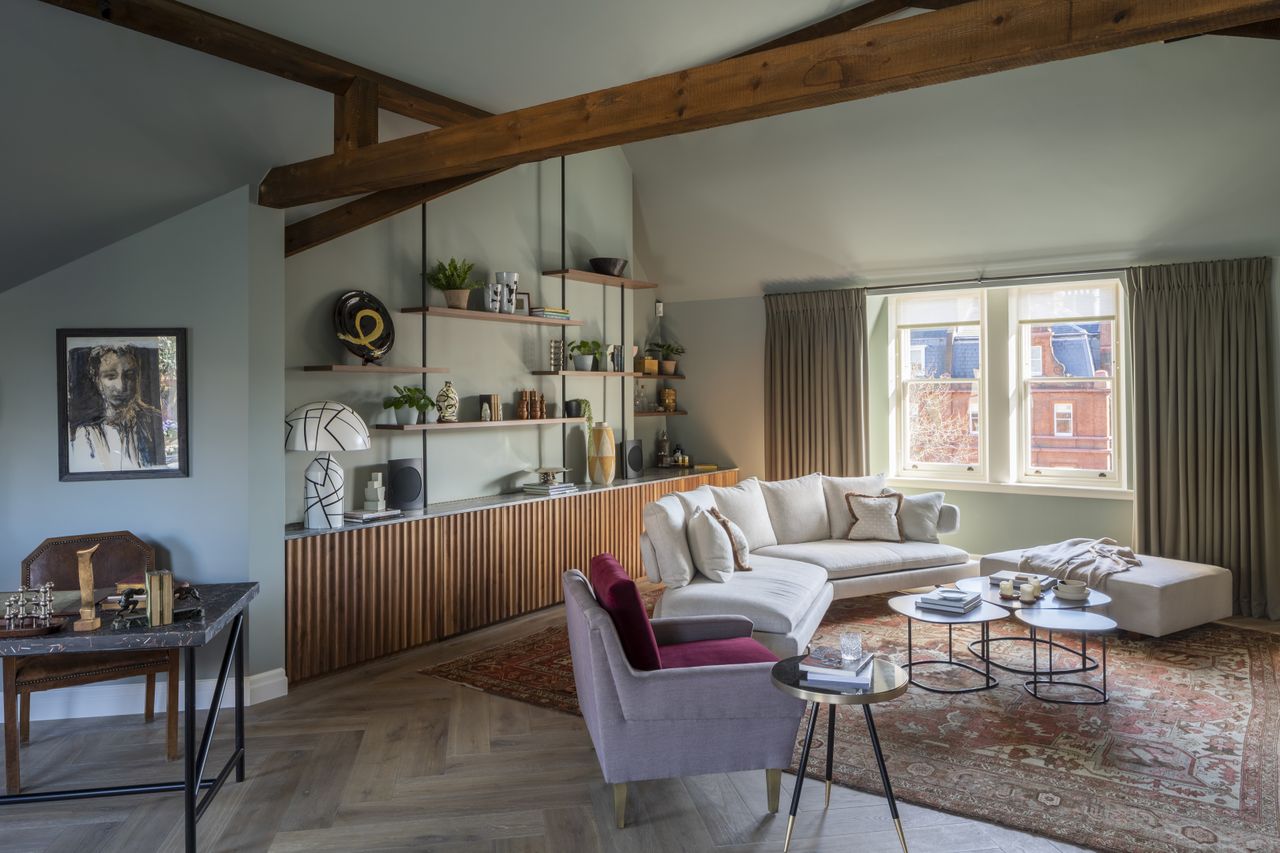 Don't be fixed with how you position your key furniture, this layout looks great in this space, the circular shape mimicked by the round tables looks stunning on the oversized vintage rug.
'Making a home feel comfortable is always a priority when designing a space, as is creating something that feels unique to each individual. Incorporating a mix of pattern, print and texture creates a space that feels layered and nuanced, allowing key pieces and features of the room to come to foreground. This can be particularly effective when curating different areas within one large open-plan living space,' says Katie Lion, senior interior designer at Kitesgrove (opens in new tab). 
6. Choose the right couch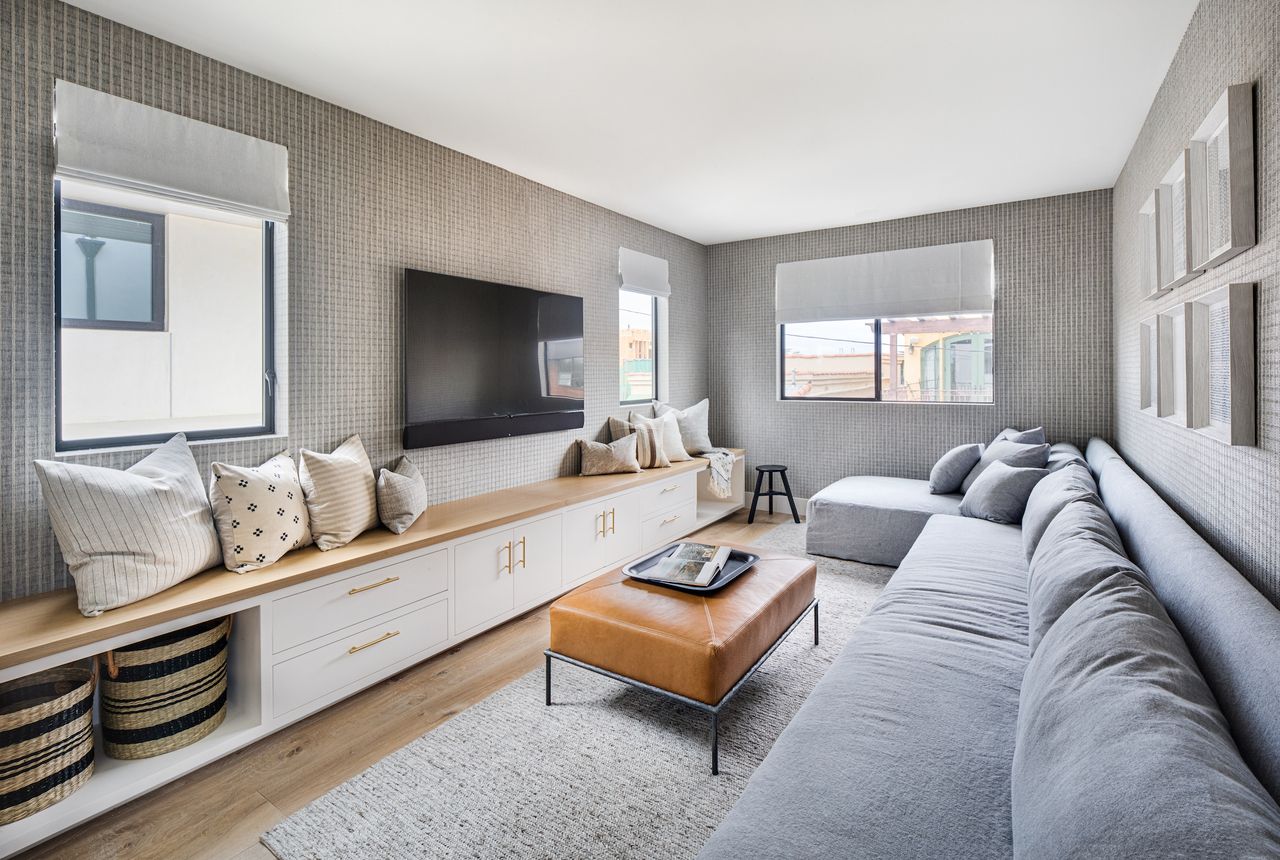 'Keeping in mind functionality, a living room is meant for gathering with guests so arranging furniture for togetherness is crucial,' says Lindye Galloway, founder and CCO of Lindye Galloway Studio + Shop (opens in new tab).
When your living room is long and narrow, a sectional is going to be your best friend. The L-shaped sectional can neatly fit into a corner and make the most of the length by running it tight to the wall. Choose a slimline rectangular-shaped coffee table and keep the rest of the furniture simple and practical.
7. Split level choices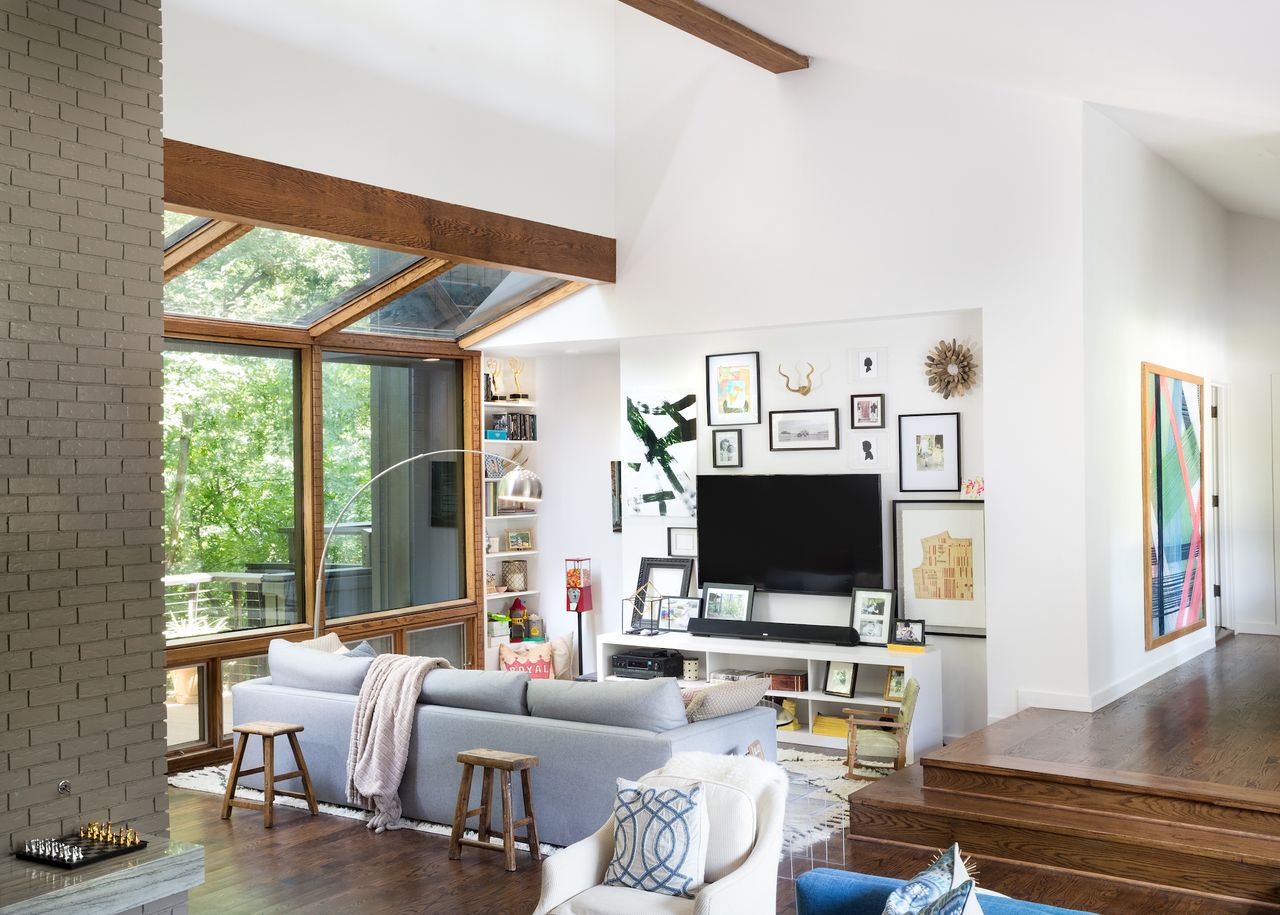 The downside to a split-level living room is that you are lacking in walls to create a solid 'back'. However, you can use your couch to create this, the upside is that it keeps the space light and airy. Keep things simple, in this area, the furniture only consists of the large couch and media center, sometimes this is all you need especially when space is tight.
8. Consider an unusual focal point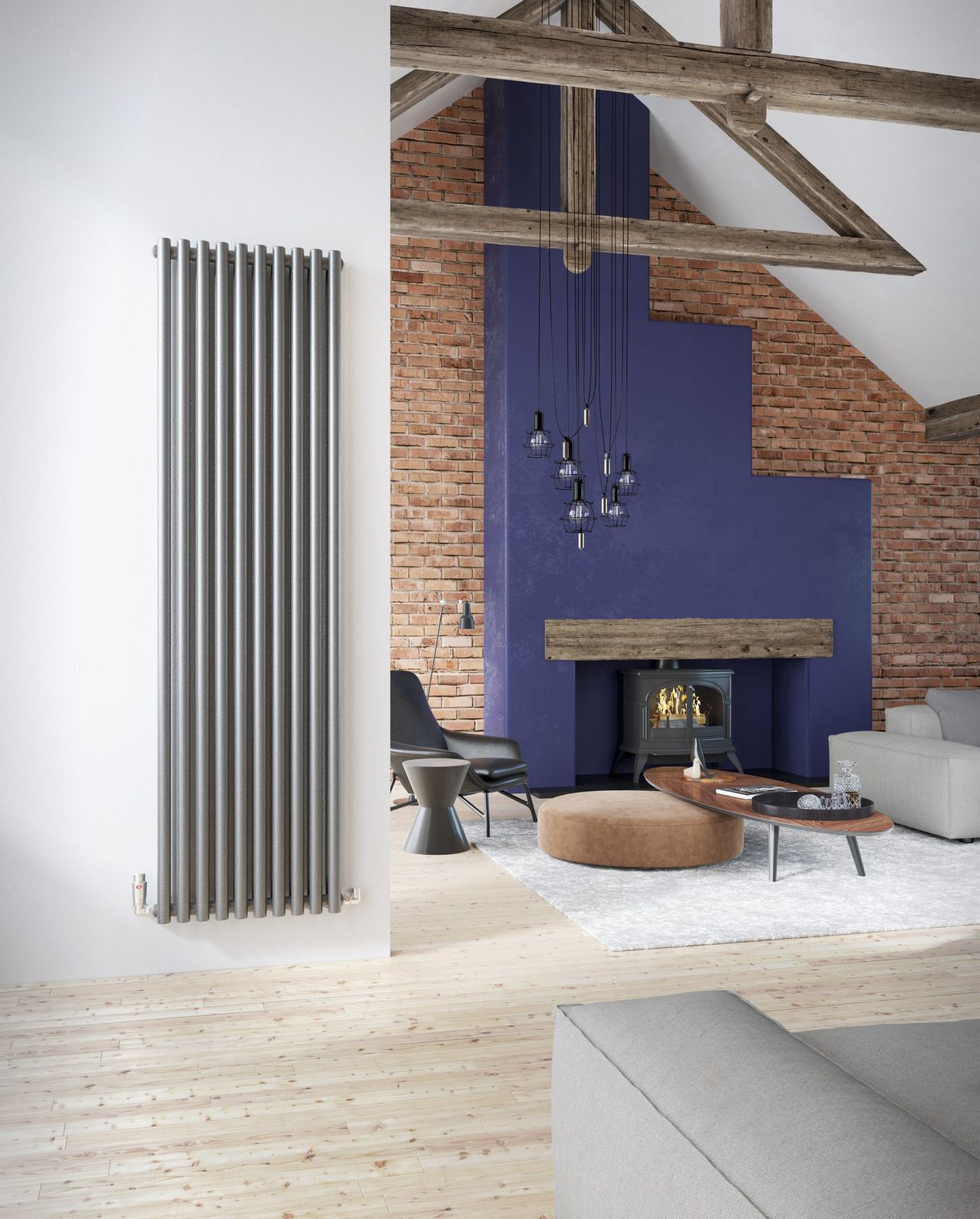 'Try emphasizing an odd-shaped part of the room by using color, artwork or a statement radiator. Such is the range and style of radiators nowadays, don't dismiss a small piece of wall because it looks like nothing will fit. There are plenty of clever designs that can take advantage of the smallest of walls. 
Rather than trying to hide the awkward shaped part, make it stand out and use it as a focal feature.  This can then be used as a starting point to arrange furniture around it,' says Nick Duggan, director of The Radiator Centre (opens in new tab).
9. Space challenged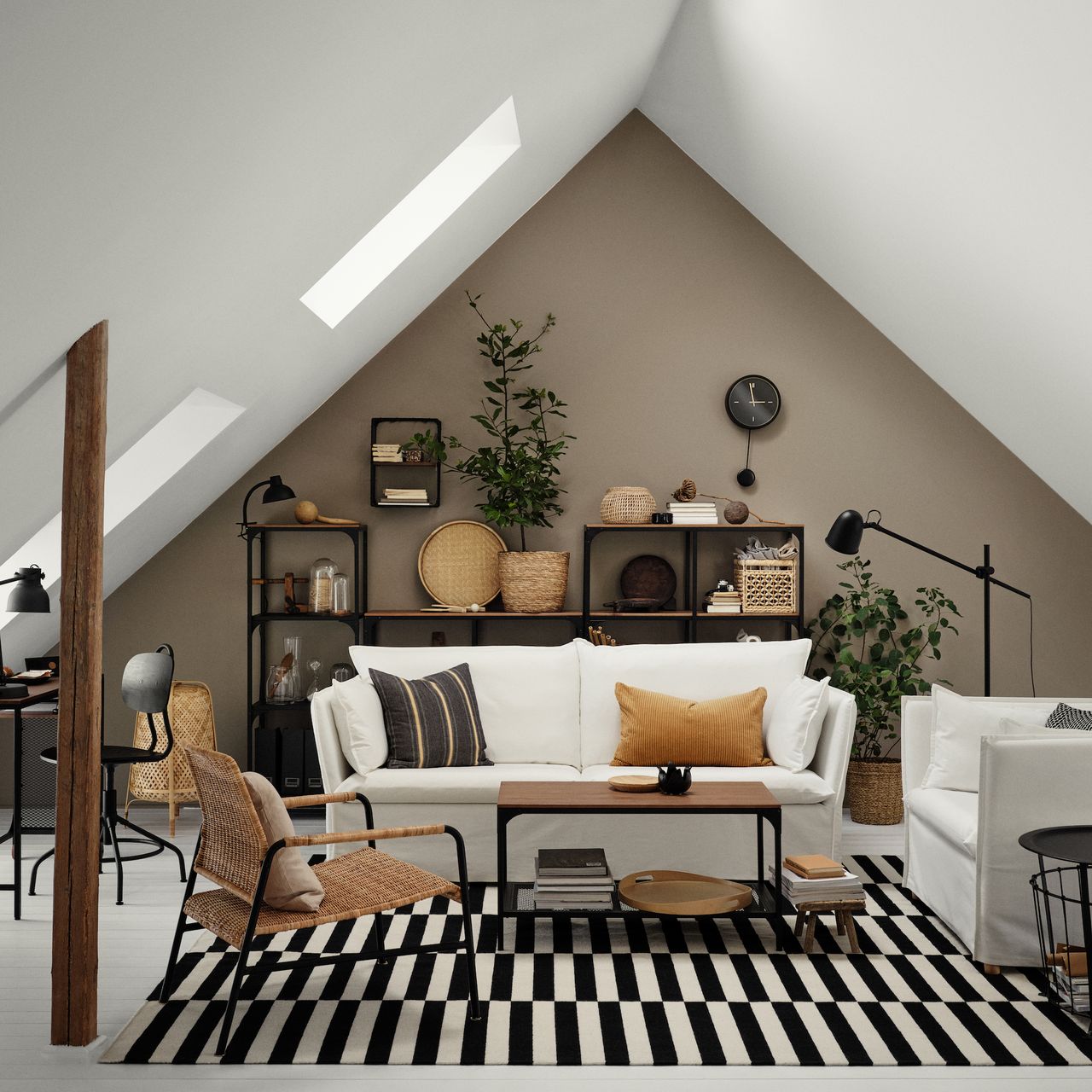 When space really is tight and awkward, there are several options. In this living room that's got a sloped ceiling, the key is to keep the area light and airy. Painting the ceiling white is your best option, and if you want to add color then use it on the far wall. 
We love the white couch and armchair in this living room by Ikea, both perfectly positioned in the center and grounded by the mushroom-colored wall. Choose living room storage such as a unit that's open-backed so that you can see the wall color through it, these tricks help to create the illusion of space. 
10. Use accents to your advantage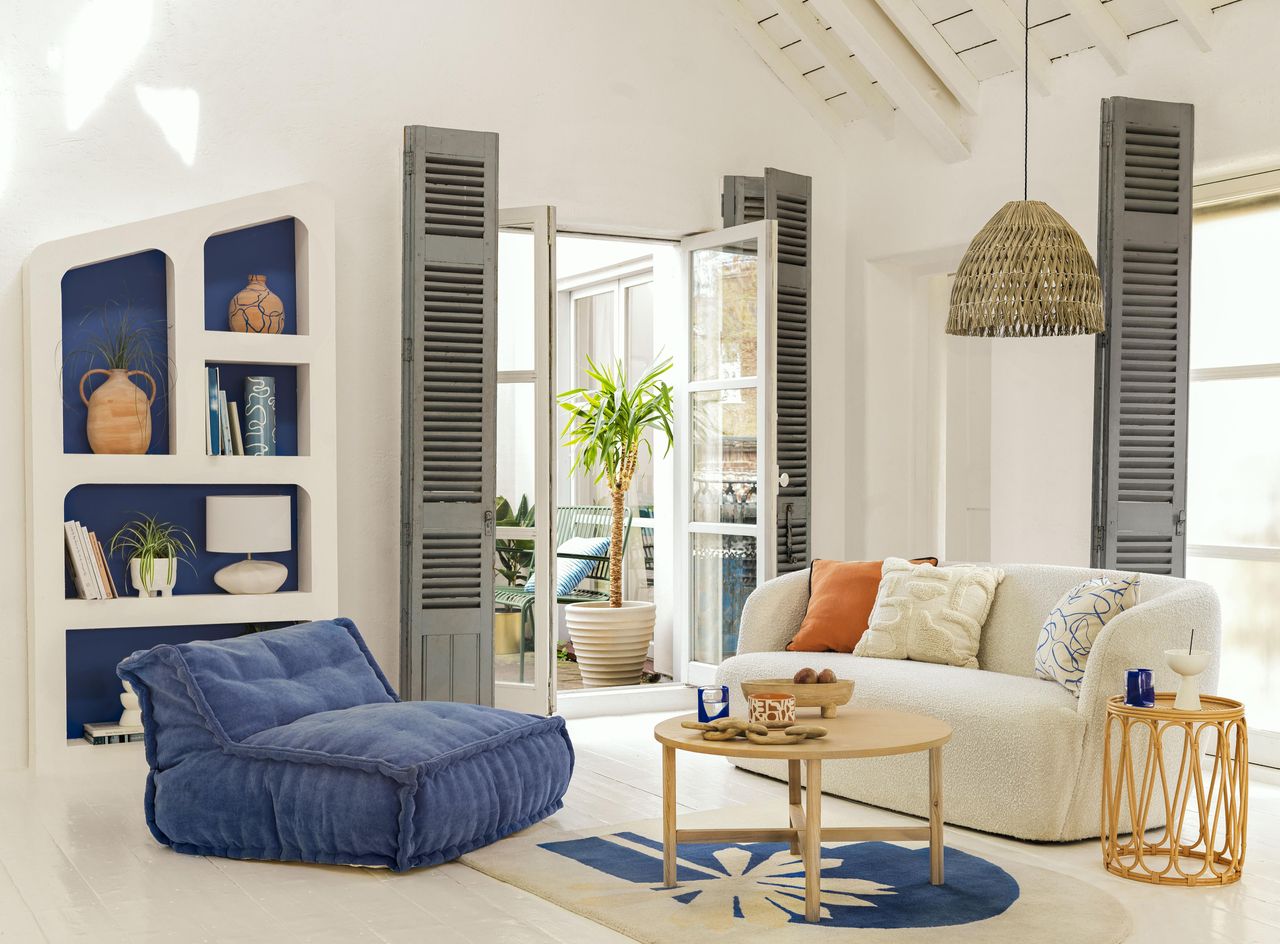 Large living rooms can be as challenging as smaller ones but in different ways. When walls in one room have various heights it can be hard to know where to start and vaulted ceilings can create a cavernous feel. 
Focus your furniture around the center of the room and if you have a color scheme or an accent color, as is the case in this Habitat living room, use it there to tie it all together.
11. Keep your furniture light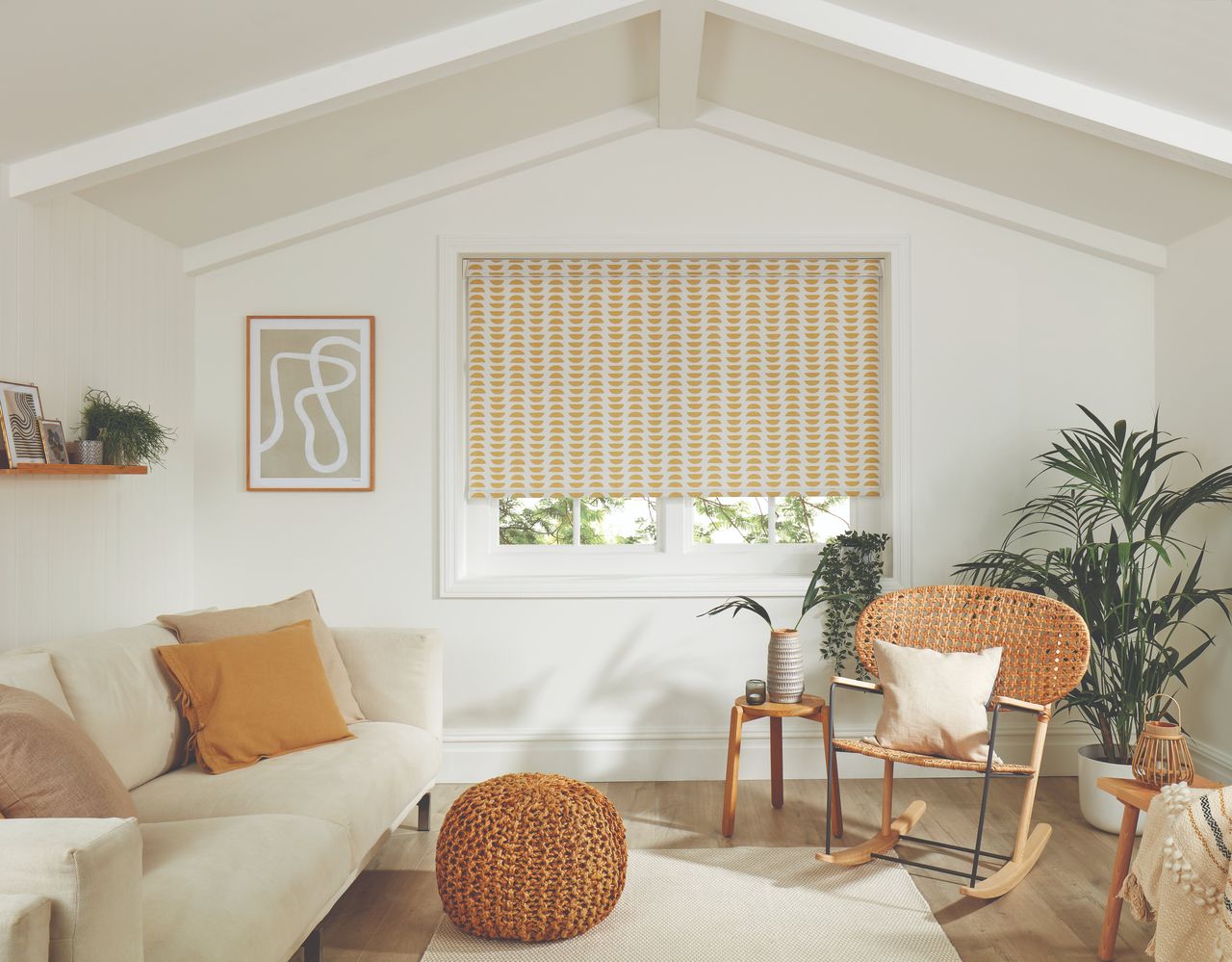 In an awkward living room layout, it can be worth keeping the furniture light in color, this can help to distract the eye a little and if the room is dark, as David Mason, home solution expert and owner of The Knobs Company (opens in new tab) explains:
'Another tip is to use light-colored paint or wallpaper to make the room feel more spacious. And finally, don't be afraid to experiment with different arrangements until you find one that feels right.'
12. Start from the middle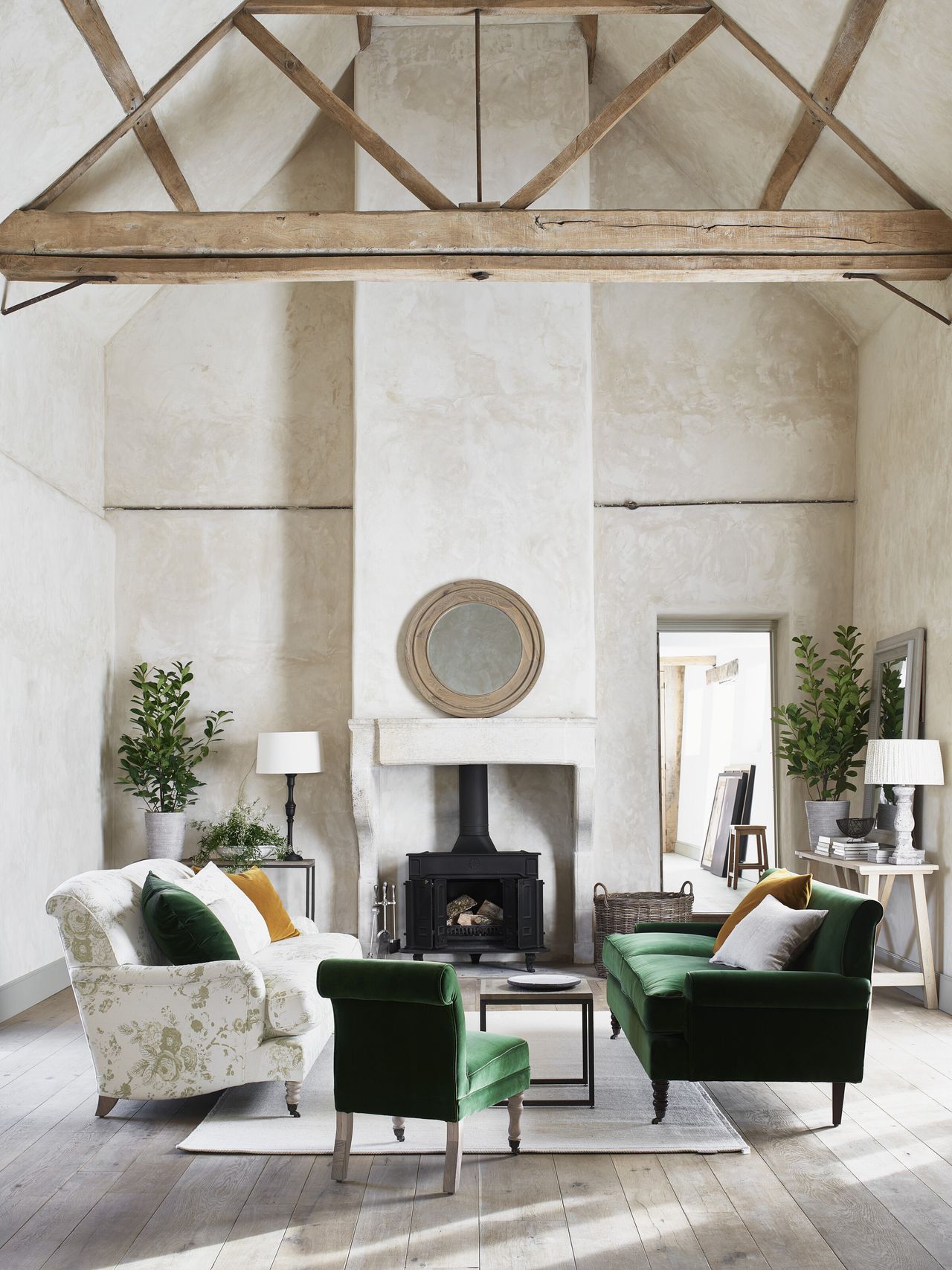 With a long rectangular-shaped living room it's best to start in the middle. Two couches opposite each other will work well and they don't have to match, add in an armchair that ties in with one of them and you'll have a cohesive and stylish look. A rug will anchor the scheme, keep it neutral if your couches are bright or patterned. Secondary furniture like the consoles can be kept to the edges and used for table lamps and plants.
How do I arrange an awkward living room?
'One of the first things to consider is what pieces of furniture are required. If your room has alcoves or a bay window, look for furniture that will fit neatly into these spaces. Consider height and depth to ensure each piece doesn't block light or protrude too far into the room, this will save on precious floor space.
If you're struggling to find a piece of furniture that fits perfectly, it's best to go bespoke. Tailored cabinetry and furniture will allow you to use every inch of space available including awkward nooks, which would otherwise be left unused,' say Jen & Mar, co-founders of Interior Fox (opens in new tab).
Where do you put the TV in an awkward living room? 
'Your TV should be situated away from direct sunlight, so ideally not opposite a window. Position where it can be seen from the comfiest spots of your living room, if this isn't possible on a TV stand try mounting it on the wall. Consider investing in a frame TV, so when it is not in use it becomes a beautiful centerpiece, showcasing your favorite art,' say Jen & Mar.
'If the sole purpose of the living room for your home or client's home is to have a cozy place to watch TV, I'd suggest putting it centered on the wall directly above the fireplace or in front of the couch for accessibility. If a TV is a secondary accessory of the space, it can be discreetly set on a sidewall,' advises Lindye Galloway, founder and CCO of Lindye Galloway Studio + Shop (opens in new tab).
How do you place furniture in a small oddly-shaped living room? 
'Bring your furniture closer together to create a cozy space,' says Aaron Lebowski, certified interior designer at Juliei Salone. (opens in new tab) 'Offer your guests seating options for chatting or relaxing by the fire. Slide a game table into the corner so it's separate from the conversation area. Use mirrors to enhance small odd-shaped areas of the room so it appears more spacious.'
Mason adds 'If you're using the space for working, you'll want to create a functional and comfortable environment. Arrange your furniture so that you have plenty of workspace and storage. And be sure to include comfortable seating so that you can take breaks and relax.'