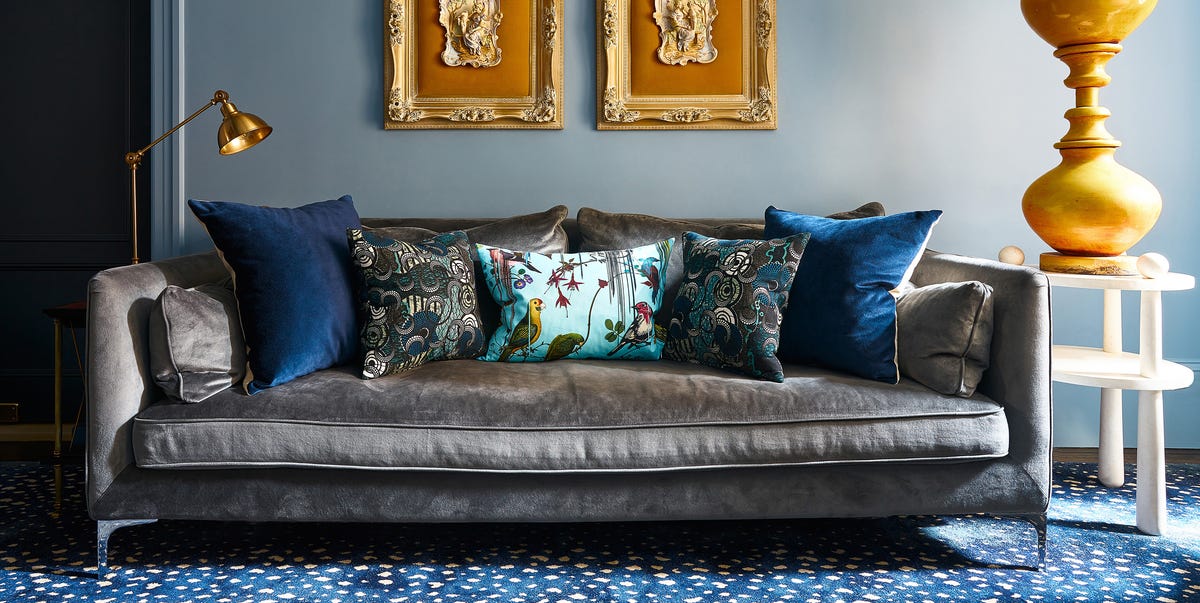 16 Sofa Styles You Should Know Before Furniture Shopping
The focal point of most lounges and living rooms, a sofa can really make or break a space. But with so many different shapes, sizes, and textures, to choose from, shopping for a new one can be grueling. To help alleviate the stress of purchasing such a big-ticket item, we've rounded up the most common types of sofas—from quaint, traditional designs that have stood the test of time, to chic, contemporary styles that are gaining popularity.
Tuxedo
Named after Tuxedo Park—an exclusive town in upstate New York where likes of William Astor and J.P. Morgan once had homes—this three-seat silhouette features clean lines coupled with a back that's the same height as its front.
Above, Keren Richter adds a playful pop of color to the living room of a Brooklyn townhouse she designed with a turquoise velvet number from Highland House.
Modular
Extremely versatile, modular sofas are made up of several movable pieces that can be rearranged to create a number of configurations.
The cool Mario Bellini Camaleonda sofa (above, in Nettle Olive) is a paragon of the adaptable modern style.
Rolled Arm
This ubiquitous style is marked by arms that curve outward at the top, creating a comfy spot to rest your head.
Above, a chic tufted example in teal adds some oomph to an eclectic living room designed by Nick Olsen.
Chaise

Meant to accommodate a single person lying down, chaises come in all sorts of shapes, fabrics, and colors.
Kristen Peña, founder of K Interiors, chose a lovely sinuous piece (shown above) for her clients' contemporary primary suite.
Deep Seated
Whether or not a sofa can be called deep-seated depends on the depth of its cushion measured from front to back: Anything wider than 40 inches counts.
Great for dens (like this one designed by Thom Filicia), it's an especially comfortable option for taller people who need the extra leg room.
Sloped Arm
The arms of this elegant silhouette curve gently downward from back to front.
Above, a white four-seater anchors the living room of a Federal-style house in Pacific Heights designed by ABD Studio's Brittany Haines.
Pillow Back
This term is used to describe any sofa that is backed with pillows (as opposed to firm cushions covered in tightly-pulled fabric), which are usually removable.
The plush form makes any space—such as this chic space designed by Garrow Kedigian—feel extra cozy.
Sectional
Composed of multiple upholstered pieces joined together (for instance: a recliner, a three-seater, and a chaise), sectionals can be arranged in a variety of ways—from a single long seating unit to the traditional L-shaped layout.
Above, a vivid green sectional energizes the otherwise monochromatic living room of a two-bedroom New York apartment designed by Justin Charette.
Camelback
Dating back to the 18th Century, this refined sofa style—invented by English furniture maker and interior designer Thomas Chippendale—has a wooden frame with an arched back (or hump), complemented by curved arms.
Designed by Garrow Kedigian, this colorful living room features a quirky take on the old-fashioned form, upholstered in patterned pink velvet.
Daybed
Great for space saving, a daybed can serve as a loveseat and provide an extra sleeping space when guests stay over.
Designer and woodworker John Humphreys brings organic minimalism to the living room of Intelligentsia CEO Doug Zell's Texas home with this sleek made-to-order piece, inspired by the work of legendary artist and furniture maker Donald Judd.
Track Arm
Track-arm sofas are defined by their rectangular form and flat, squared-off arms (which are handy for holding drinks, snacks, or remote controls).
Designer Zoe Feldman chose a track-arm sectional for the cozy living room of Framebridge CEO Susan Tynan's Maryland residence.
Divan
Divans have a low back, no arms, and a long, cushioned seat that can double as a bed. Below, NB Design Group's James Fung creates a relaxing space featuring a minimalist divan and matching armchairs on a covered patio of a Lake Washington home.
Loveseat
Made for cuddling, loveseats—which come in all kinds of shapes and colors—have just enough room for two.
Above, the cozy and quaint corner of a 1960s Texas ranch revamped by Shannon Eddings sports a sweet vintage loveseat upholstered in Pindler leather.
Midcentury Modern
Skinny wooden peg legs, clean lines, and the low-slung silhouettes of the Mad Men era define this streamlined style.
Designer Jess Cooney juxtaposes two mid-century modern pieces from Vanguard with vintage 1970s Arne Norell leather lounge chairs in this sun-filled family home in the Berkshires.
Lawson
Built for maximum comfort, this classic silhouette—named for its first commissioner, Massachusetts financier Thomas W. Lawson—is easily identifiable due to its low arms, loose back cushions, and typically skirted bottom.
Chesterfield
Made distinct by its rolled arms, tufted back, and nailhead trim, this timeless silhouette evokes the interiors of a British gentlemen's club or library.
Below, CeCe Barfield Thompson adds warmth and coziness to the library of a New York City condo with a custom fringed Chesterfield sectional that converts into a bed.
---
Follow House Beautiful on Instagram.
This content is created and maintained by a third party, and imported onto this page to help users provide their email addresses. You may be able to find more information about this and similar content at piano.io