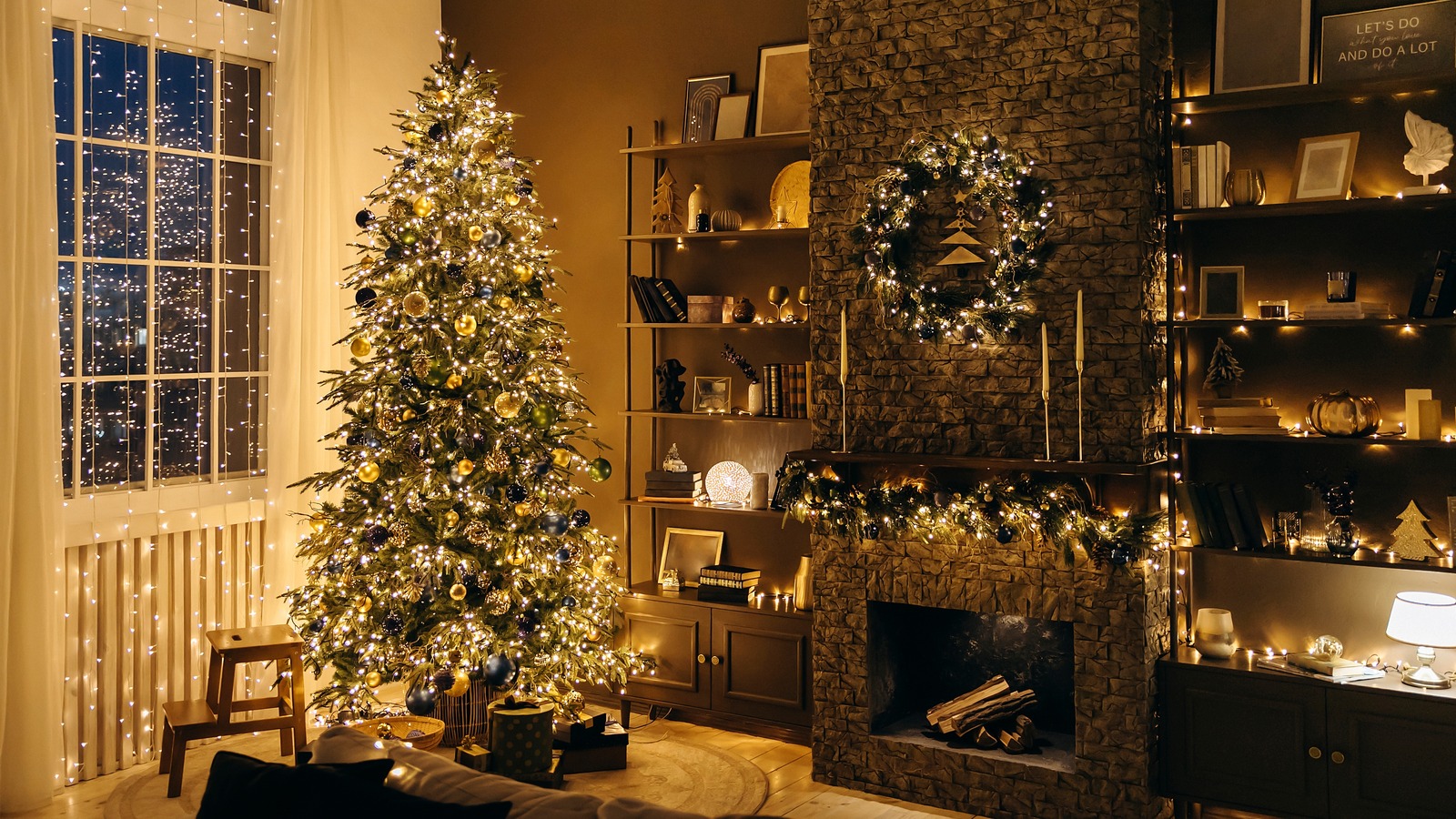 20 Festive Lighting Ideas To Help Set The Mood For The Holidays
When decorating your home for the holidays, there's one element you can't forget: warm and bright lighting. Whether you're going for a monochromatic setup or one with lots of colors, adding string lights and other bright decorations will make your space extra festive.
According to Christmas Designers, those with religious beliefs may adorn their homes with light to represent the hope and comfort of baby Jesus. For others, stringing up lights could be a fond childhood memory or a passed-down family tradition. Finally, lights could simply be hung to bring us joy and give our spaces a cheerful atmosphere.
One of the most popular ways to illuminate your home is by wrapping a Christmas tree with string lights. However, there are many other ways to bring a merry and bright atmosphere into your house. Below, you'll find 20 ways to decorate with Christmas lights to prepare your home for the holiday season.
1. Warm candlelight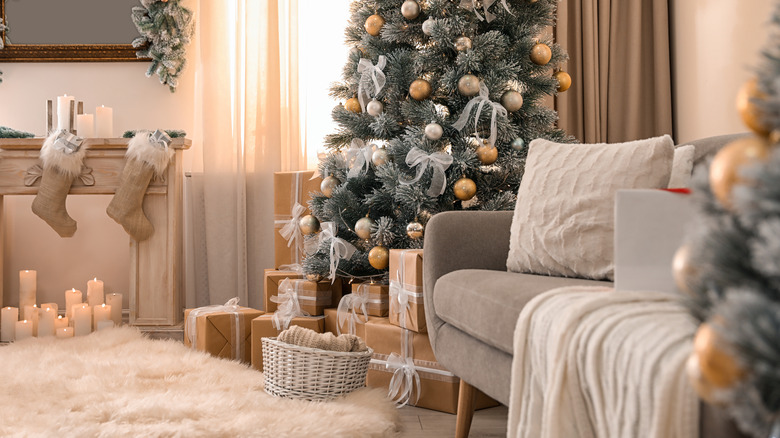 New Africa/Shutterstock
Whether real or fake, candles are a great way to illuminate your home during the holidays. They're also typically monochromatic, which could benefit those who don't love vibrant colors. 
2. Bright wall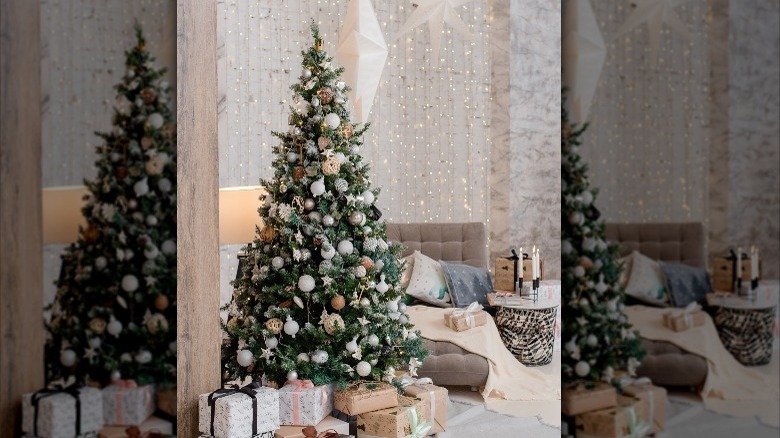 Tatyana Berdo/Shutterstock
Suspending string lights from the ceiling to cover an entire wall will greatly brighten your space. This wall could also be the perfect backdrop for all your Christmas morning photos. 
3. Illuminated garland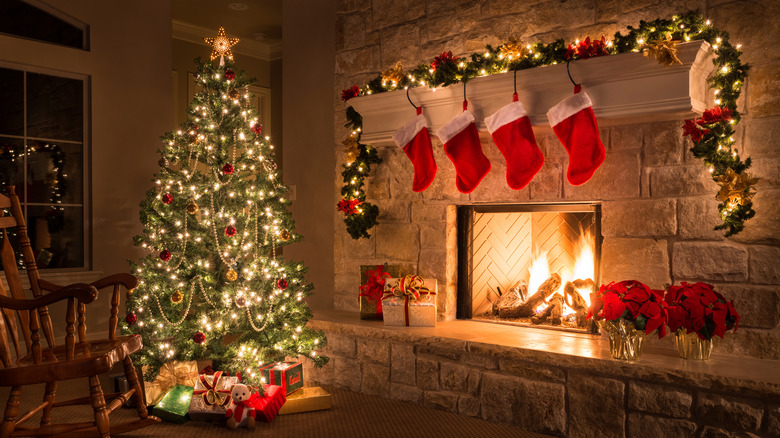 OscarDominguez/Shutterstock
To draw attention to your mantel, you could wrap your garland in string lights. If done in a room with a bright Christmas tree, this would create a more balanced design. 
4. Along the bannister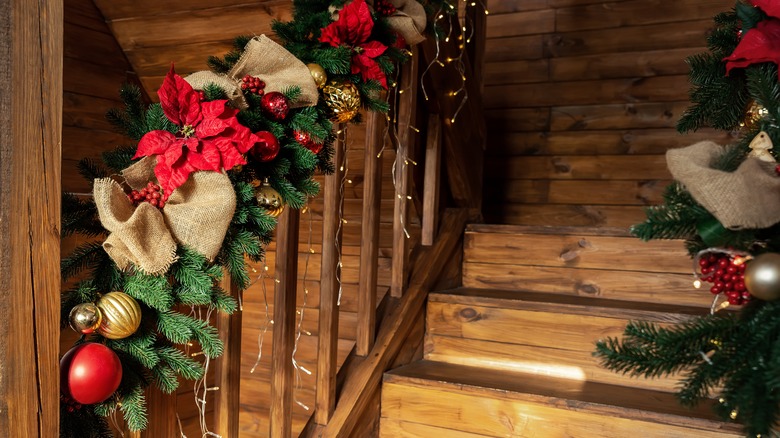 Gorloff-KV/Shutterstock
Hanging lights along the banister will brighten up a dark staircase. Lights could either be wrapped around a garland on top of the banister or strung underneath it.
5. Unique string lights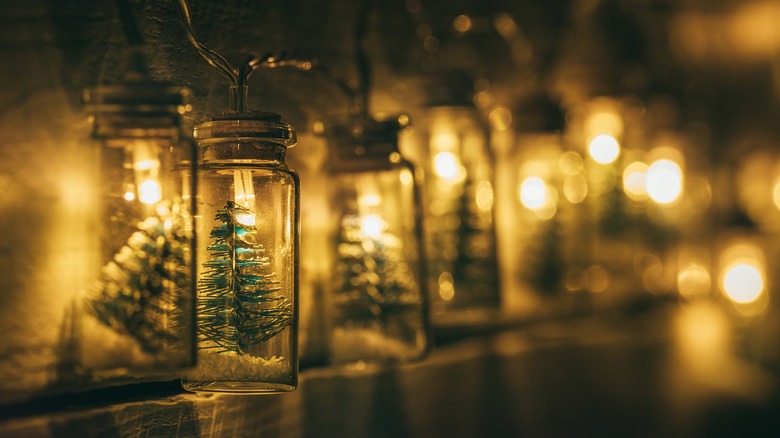 Soloviova Liudmyla/Shutterstock
For a unique appearance, you could buy or DIY string lights with a festive design, such as the small Christmas trees above. 
6. Suspended star shaped lights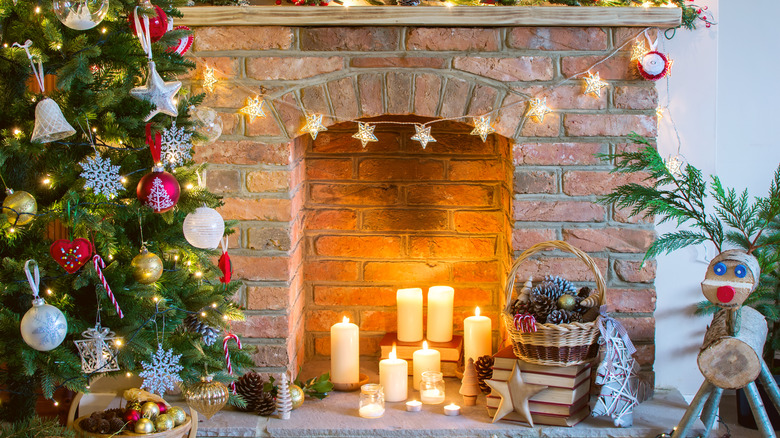 Lilly Trott/Shutterstock
Here's another example of unique string lights you could choose. These come in lots of fun designs like stars, candy canes, and snowflakes. 
7. Merry and bright centerpiece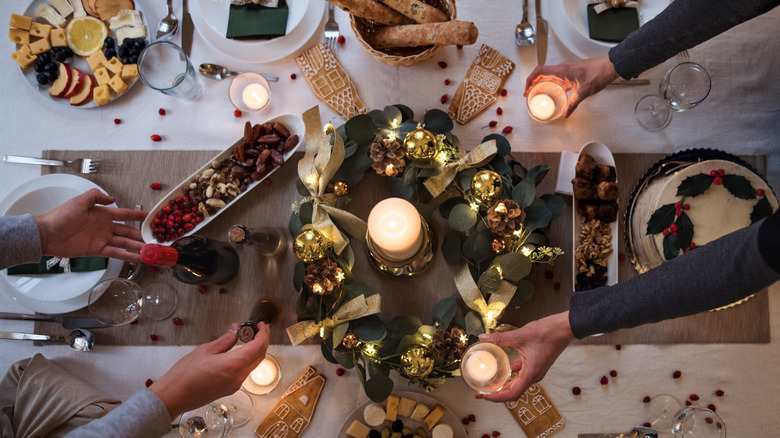 Halfpoint/Shutterstock
If you are hosting guests this holiday season, adding bright candles and a lit centerpiece to your table will bring the merry spirit into your dining room. 
8. Draped on open shelving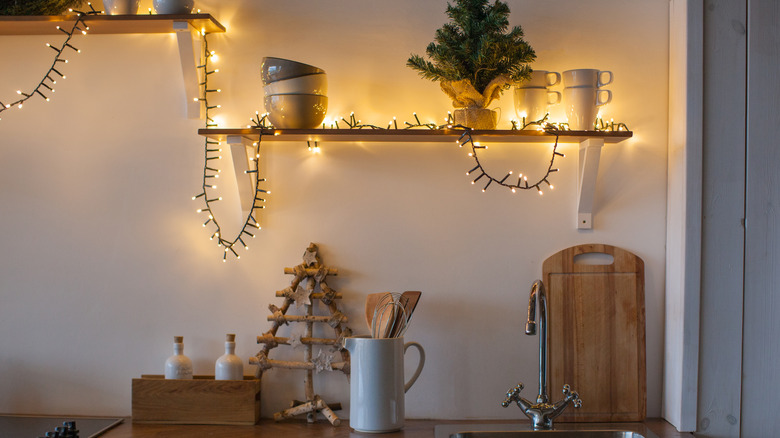 flauma/Shutterstock
To bring joy into your kitchen, you could place string lights on your open shelving. These could either be aligned behind your dishes or haphazardly draped along the shelves. 
9. On the fireplace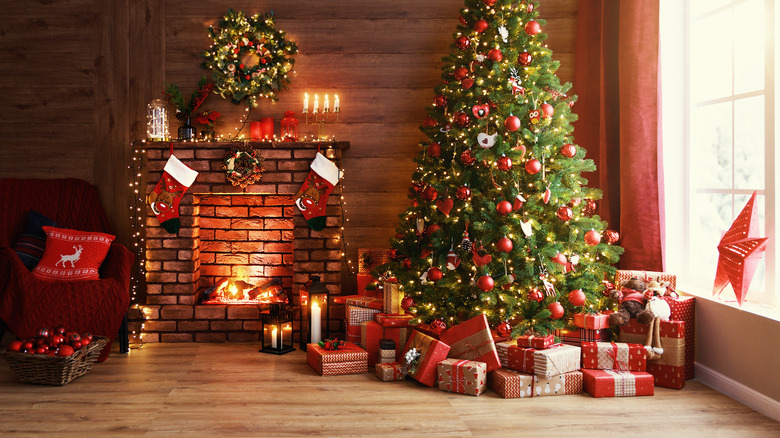 Evgeny Atamanenko/Shutterstock
If you're not a fan of a garland on the fireplace, you could simply place string lights along the mantel and have them drape off the sides. 
10. Cozy lanterns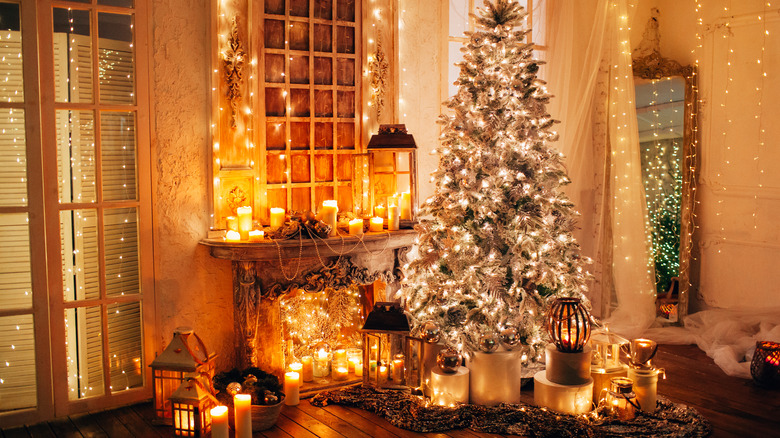 Alena Gan/Shutterstock
Lit lanterns will bring a cozy feel to your home. These could be placed underneath the tree, around the fireplace, or on the mantel. 
11. Hanging white stars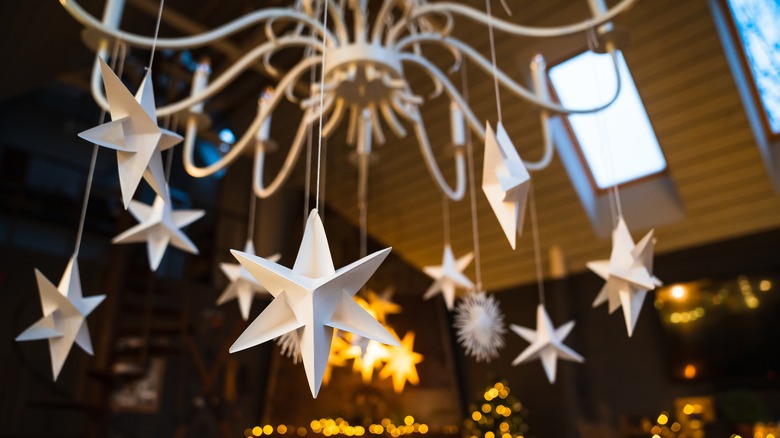 Andrey Sayfutdinov/Shutterstock
To make your chandelier appear more on-theme with the rest of your space, you could hang white stars or other small Christmas decorations from it. 
12. Shining star decoration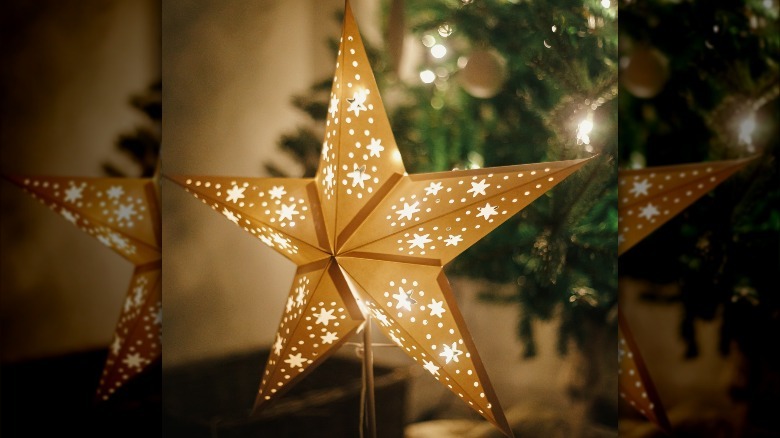 Bogdan Sonjachnyj/Shutterstock
Illuminated stars are also a great way to brighten up your space. While they could be placed on the top of the tree, they could also be used on the mantel or in a holiday vignette. 
13. With the presents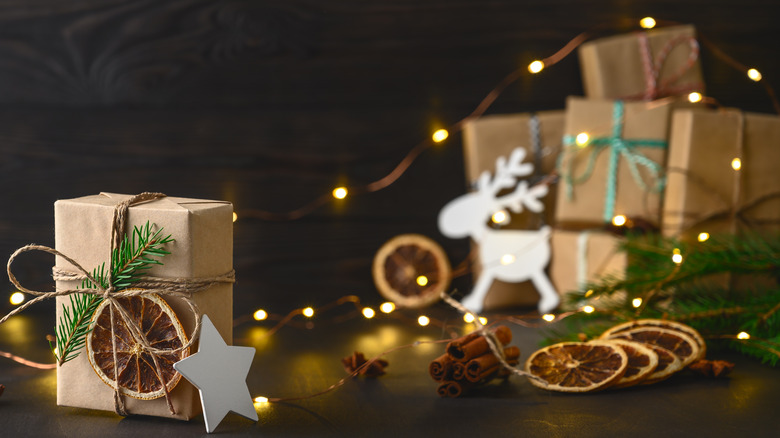 Ramil Gibadullin/Shutterstock
To bring attention to the presents under the tree, you could place string lights around them. This will draw the eye from the bright tree down to the floor. 
14. Inside eclectic jars
If you have a collection of eclectic jars, you could place twinkle lights inside them and arrange them on a mantel or a shelf. 
15. Brilliant village display
Another way to bring the festive spirit into your home is with a Christmas village. Adding lights inside the windows will make it appear as if your village has come to life.  
16. Wrapped on a branch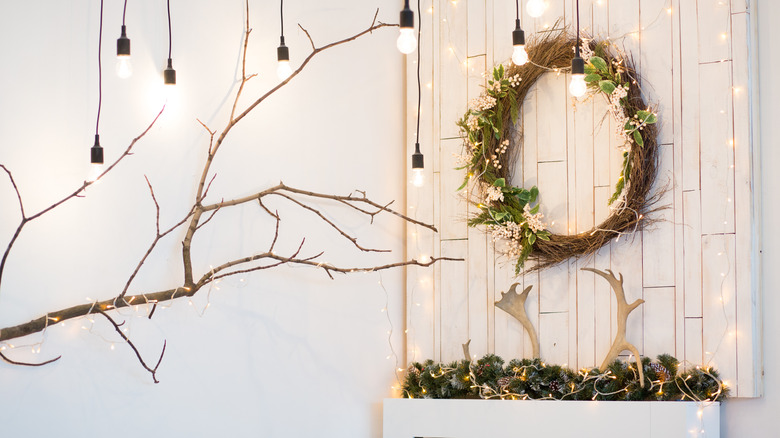 Kristina Bessolova/Shutterstock
An easy way to fill an empty wall in your home is by hanging a branch wrapped in twinkle lights. This will add an earthy element to your space. 
17. On a wreath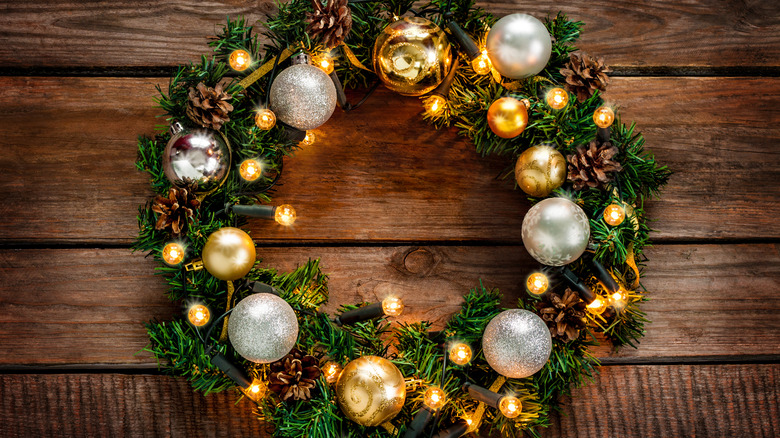 Pinkyone/Shutterstock
Wrapping a wreath in lights will draw the eye to wherever it's placed. Most commonly, wreaths are hung on doors or above fireplaces. 
18. Strung up behind a wreath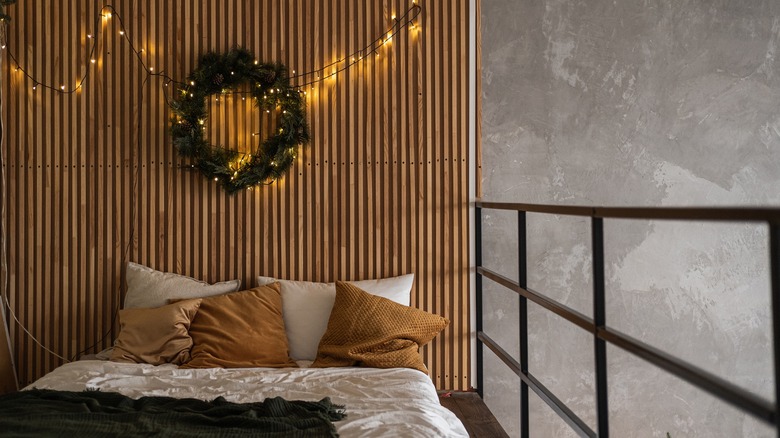 Floral Deco/Shutterstock
A wreath could also be hung above your bed in the bedroom. If desired, you could string the lights behind the wreath instead of around it. 
19. Inside mini trees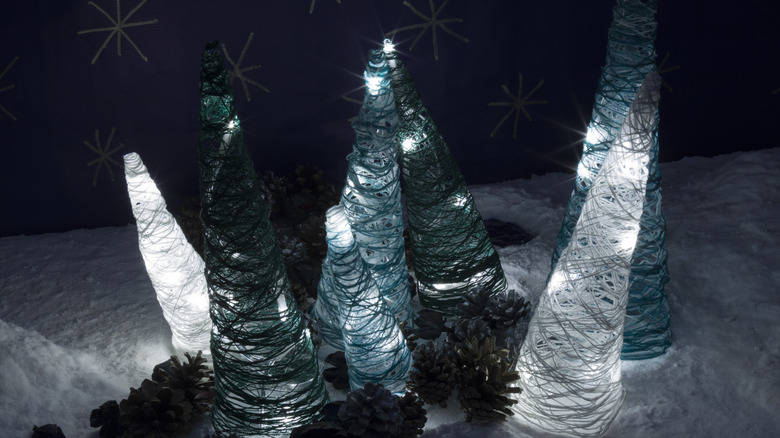 noemosu/Shutterstock
Placing lights inside small decorative items, like the above cone Christmas trees, will make them appear more festive and fun. 
20. Dazzling reindeer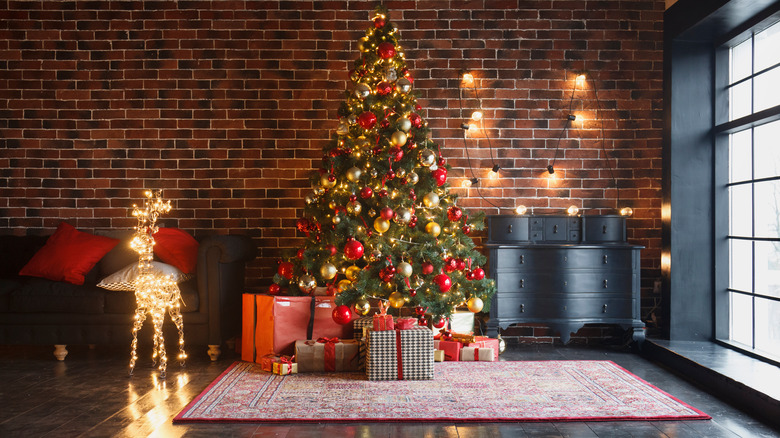 Oxik/Shutterstock
While typically used outside, a bright reindeer decoration could be added to your living room setup to bring in a playful lighting feature.