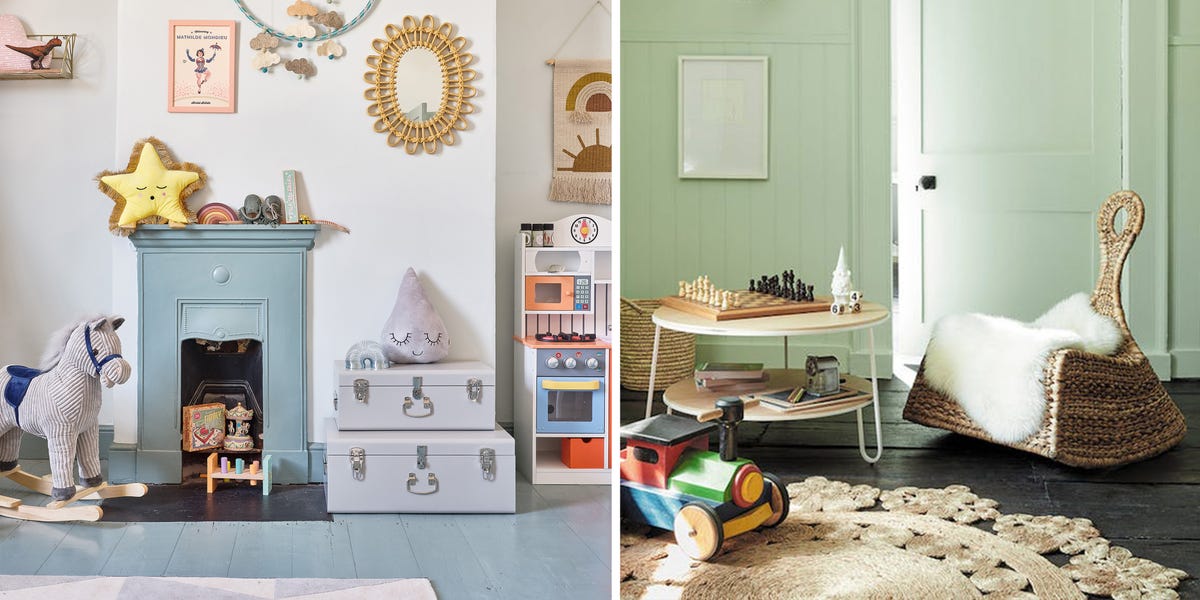 21 Creative Playroom Decorating Tips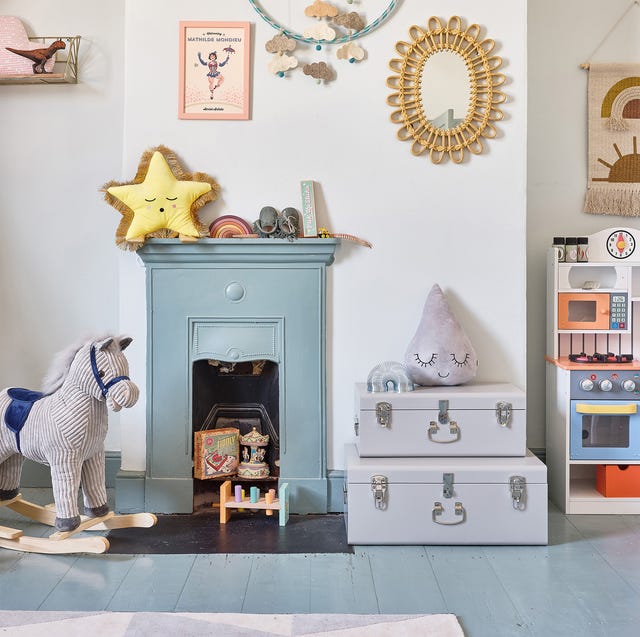 The best playroom ideas tick a number of design boxes – first and foremost they should inspire creative little minds and encourage curiosity and play, whilst also being entirely functional, easy to keep clutter-free, and ideally fit the broader design tastes of the adults in the home.
'Young minds benefit hugely from the use of colour, invention and playfulness in their rooms to stimulate their imaginations and their playtime,' says Annie Sloan, colour and paint expert.
The joy of decorating a playroom is that you can let your inner child take the reins a bit, and indulge in a bit of whimsy and unbridled creativity. Next to your space-saving storage solutions, practical and hard-wearing fabrics and finishes, and well-executed floor plan complete with craft station and reading nook, you can let colour and pattern run a bit wild.
'Any decor or furniture should be fun – bright, stimulating colours and exciting patterns can help children express themselves and their personalities at a young age – and kids' furniture definitely doesn't have to be boring,' says Jade Milne, Lead Design Specialist at The Tartan Blanket Co.
Below we look at 21 playroom ideas, with colour inspiration, the best children's furniture and accessories, and some imaginative paint projects and wall murals.
Advertisement – Continue Reading Below
1
Playroom ideas: a bit of character
It's not a given that playrooms have to be all primary colours and garish bits of plastic. You can create something bright and welcoming with more sophisticated materials – sisal, rattan and wood – as well as softer colours with lots of white undertones like mint, buttercup yellow or the palest sky blue.
Pictured: Walls painted in Hidey Hole at Little Greene
2
Playroom ideas: organisation
As most parents will attest, organisation is key in a playroom. Invest in lots of internal storage that can be pulled out easily so your shelves don't end up in disarray. Soft baskets and canvas bags are great options, especially if your little ones have access to them.
Pictured: Fiddle Leaf Fig Tree and accessories, all at Wayfair
3
Playroom ideas: playful paint
A playroom is the perfect spot to indulge in a bit of design whimsy, and you can be as over the top as you like, safe in the knowledge that playrooms do after all, hold a temporary spot in your home. If you are a stickler for plain walls, or particularly averse to wallpaper, consider the ceiling as an alternative canvas.
Pictured: Furniture and accessories, all at Wayfair
4
Playroom ideas: stackable baskets
'When it comes to organising, you want to keep it simple and make it easy for your kids to access and put away their own toys,' says Laura Allen, organisational pro and owner of Not a Boring Box. 'Sort and separate the toys into categories (trains, lego, puzzles, superheroes, dolls etc), your kids will know where to find toys and where to put them back.
'Labelling containers is another great idea that will make it easy to find toys and put them away. Use age-appropriate labels and picture labels if necessary.'
5
Playroom ideas: chairs for grown ups
6
Playroom ideas: spark creativity
Playrooms should be enriched with furniture and accessories that spark curiosity and play, and we love this sweet architect's table from Ferm Living, designed to encourage little creatives.
Pictured: Little Architect Table at Made In Design
7
Playroom ideas: encourage tidying up
Tidying up a playroom is a considerable undertaking in itself, so encourage some help by using baskets and storage that spark the imagination – like this fabulous rocket-shaped basket from Sweetpea & Willow.
Pictured: Cosmina Basket at Sweepea & Willow
8
Playroom ideas: soft furnishings
'Having soft furnishings like a blanket in a play space can promote a feeling of calm and safety,' says Jade. 'It's thought that blankets can act as a safety net for children which can increase their confidence as they grow up. The texture of lambswool is also a lovely sensory experience and I can attest to the fact they're so soft!'
Pictured: Furniture and accessories, all at Wayfair
9
Playroom ideas: whimsical lights
These imaginative hot air balloon lights are are backlit by LEDs, which provide a naturally warm and gentle glow throughout the evening and work perfectly as night lights. And what a great addition to a wall mural of a bright blue sky.
Pictured: Hot Air Balloon Wall Lights at Lights4fun
10
Playroom ideas: a playhouse
A playroom staple, and a lovely opportunity to give children some space all of their own. Playhouses certainly don't have to be standard plastic creations – this is a DIY version that takes advantage of a spare corner.
Pictured: Wall hanging and other accessories, all at Wayfair
11
Playroom ideas: storage, storage and more storage
Fitted wardrobes are a great option for playrooms, especially if they have configurable inner storage, like our Realm wardrobe at Homebase. These can be filled with a mixture of drawers, shelves and cubbies, to keep your playroom as clutter-free as possible. Perfect for small playrooms that need some clever floor planning too.
Pictured: House Beautiful Realm Fitted Wardrobe at Homebase
12
Playroom ideas: child-safe blinds
A well-designed playroom will of course put safety and security first. Child-safe blinds – Hillarys have a wonderful selection – can provide some privacy and added blackouts are great for nap time. 'No child wants a plain playroom,' says Yvonne Keal, Senior Product Manager at Hillarys. 'A playroom represents fun and excitement so you need to reflect that in the colour choices for the room.'
Pictured: Children's blinds at Hillarys
13
Playroom ideas: a traditional approach
Another great example of a sophisticated playroom that is more in tune with the broader design of a home. Soft two-tone walls are a wonderful compromise for the colour-averse, so too are the more traditional children's toys in wood and soft linen.
Pictured: Panelling painted in Green Stone at Little Greene
14
Playroom ideas: murals
A great way to spark the imagination. Wall murals can depict anything from a jungle scene to outer space, and can be inexpensively updated as your child's tastes and interests change.
Pictured: Kids Jungle Wallpaper Mural at Wallsauce
15
Playroom ideas: DIY paint
'Create a fantastical scene inspired by ancient history, fantastical fairy tale, or world travel to pique their interest in these subjects and sow the seeds for a lifelong passion,' says Annie, who created this fabulous bunkbed scheme. 'Unexpected side effects can include instilling in your child a strong sense of pride in their own environment and in some rare instances even a desire to keep their rooms tidy! Disclaimer: NO paint colour has been proven 100% effective in this area.'
Pictured: Wall Paint in Napoleonic Blue, Chalk Paint in Scandinavian Pink, Ticking and Linen Union curtains, all at Annie Sloan
16
Playroom ideas: washable rugs
A washable rug, and indeed washable cushions, play mats, sofa covers and everything else is pretty invaluable. This rug comes with a cotton tote bag to easily pack away or move about, and includes a complimentary anti-slip underlay.
Pictured: Lorena Canals Woolable Rug at Scandiborn
17
Playroom ideas: indoor/outdoor
Consider playroom furniture and accessories that can be moved outside during warmer months to save yourself doubling up, like this classic children's teepee.
Pictured: Vanilla Queen Triangular Play Tent and other accessories, all at Wayfair
18
Playroom ideas: hiding places
19
Playroom ideas: blackboard wall
If your child has a tendency to decorate your furniture or walls with their crayons, make life a bit easier for yourself and add a blackboard wall to contain some of their artistic expression.
Pictured: Kids Stackable Desk & Stools at Cuckooland
20
Playroom ideas: floor cushions
Invest in clever multifunctional furniture and accessories, like this floor cushion by Loaf that folds out into a daybed, to encourage comfy lounging and a bit of downtime post-play.
21
Playroom ideas: vintage styling
Children's styling is certainly not all garish and brightly coloured. Using toys and decorations that have been inspired by vintage designs – this knitted rocking horse and trunk set for instance – is a bit of a failsafe alternative.
Pictured: 2 Piece Accent Trunk Set, Rocking Horse, and other accessories, all at Wayfair
Advertisement – Continue Reading Below