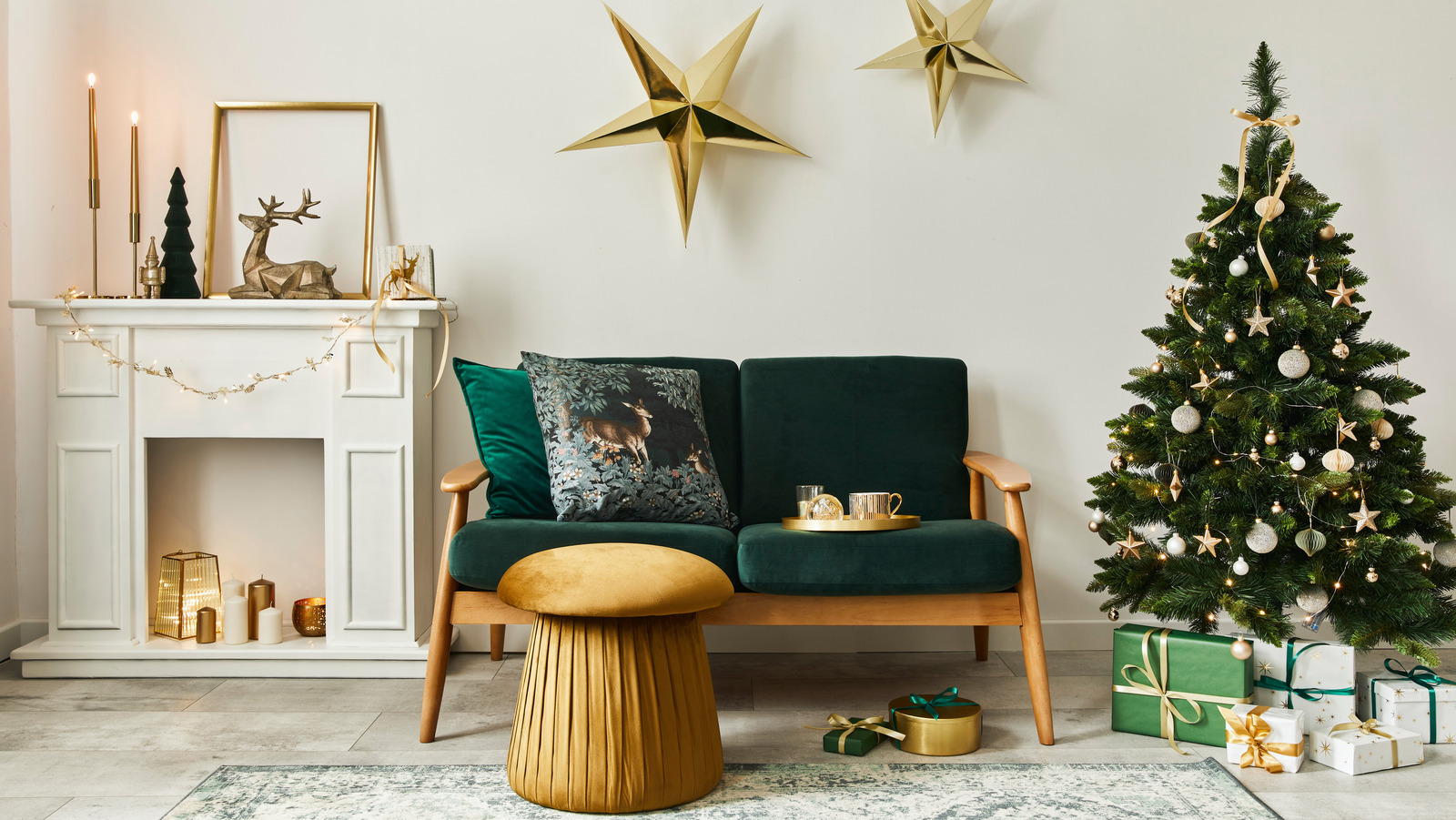 25 Holiday Decorating Ideas For Small Spaces
Followtheflow/Shutterstock
Who doesn't love scrolling through Pinterest and Instagram to see the amazing Christmas and winter holiday decorations that folks have put together? However, when you're living (and oftentimes working) in a small space, the idea of decking the halls can be more than a little overwhelming. But even with a tiny space, you can still go all out with the Christmas decorating with a few handy tips and tricks. And decorating for a small room does not mean going mini — Joanna Gaines actually recommends going bigger with pieces to make the space feel optimized, according to a piece with Real Homes. 
In addition to our fun decorating ideas, the most important thing when decorating for the holidays with limited room is prioritizing what is a must-have for you. If that means having a standard-sized Christmas tree, a dedicated area for your favorite nativity scene, or a place to show off your candle collection, be sure to make room for it, and compromise elsewhere in your decorations. 
1. Hang some paper snowflakes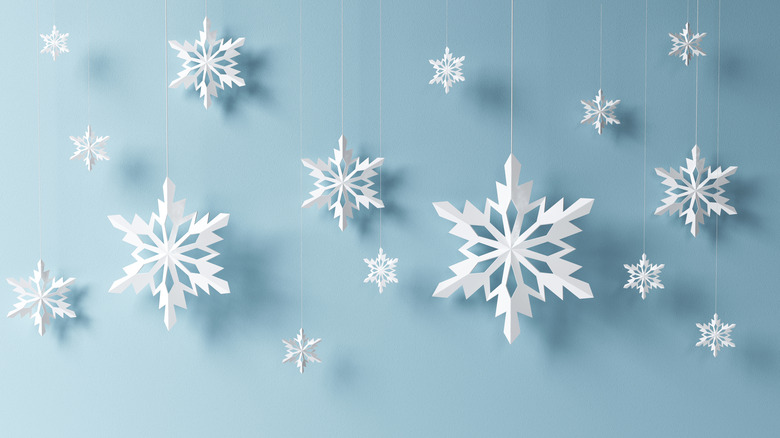 Peshkova/Getty Images
Take it back to Kindergarten class and try cutting out a few paper snowflakes. Go for a six-point snowflake or try your hand at the popular Nordic star with this helpful tutorial from Creek Wood Hill. 
2. Make a mini Christmas village
Bogdan Sonjachnyj/Shutterstock
Take a few white mini houses (or build your own from cardboard and white spray paint) and add a few mini trees and a character or two. A mini Christmas village is a darling tabletop, centerpiece, or mantel display. 
3. Stack up the garland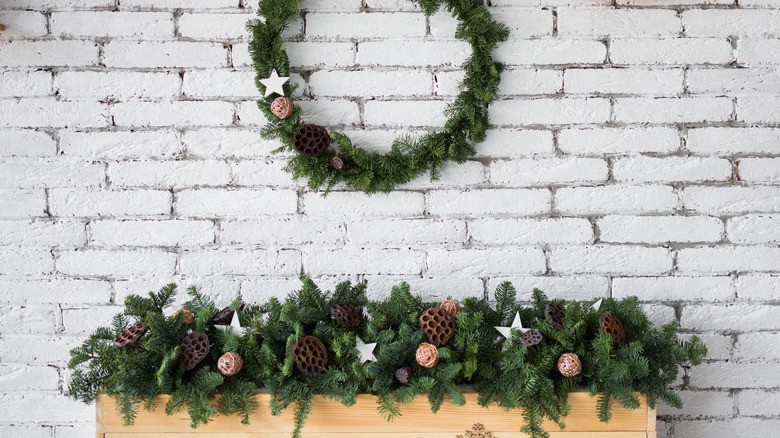 Aleandr/Getty Images
Layer garland on tables and other surfaces for a lush foresty feel, all without having to drag a Douglas Fir up to your 5th-floor walk-up. 
4. Dress up the bar cart
Bar carts are great during the holidays for drinkers and non-drinkers alike. Stock your cart with your favorite spirits or cocoa toppings, add some tinsel and a string of LED lights, and you're officially making holiday magic. 
5. Deck out the headboard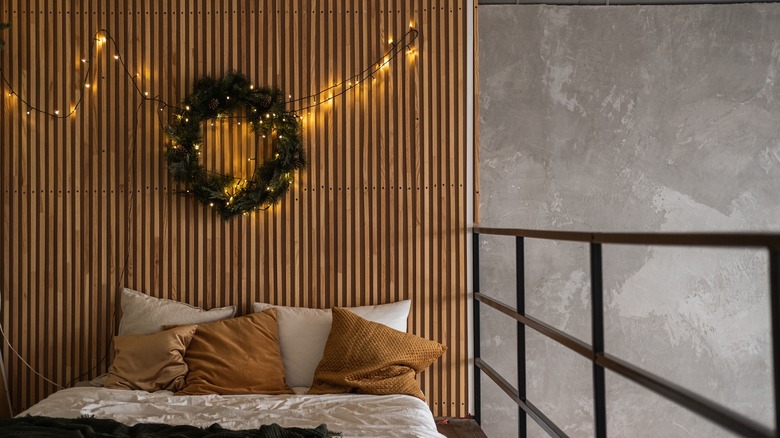 Floral Deco/Shutterstock
We recommend against adding too much clutter to the bedroom, which can be distracting when you're trying to sleep, but a garland, wreath, or even cute holiday banner can bring some festive cheer into the boudoir. 
6. Go midi, not mini
When you're decorating for Christmas in a small space, your instinct may be to grab a mini tabletop tree. However, mini trees can actually highlight a space's starkness. Instead, go for a mid-size tree, about 3 to 5 feet tall and 2 to 3 feet wide. 
7. Make a makeshift mantel with the bookshelf
No mantel? No problem? Hang a bookshelf anywhere in the house, then use hooks or stocking holders to create your own mini-mantel. If you have floor space, consider adding a few pieces of firewood to get that rustic Christmas feel. 
8. Swap flowers for pine branches
You don't need fresh cut flowers every week in the winter — instead, grab a few pine branches, or even rosemary sprigs, and put them in vases and jars around the house. These feel like tiny pieces of a Christmas tree that look great on the table. 
9. Don't neglect the light fixtures
Look up when you're decorating in a small space. It's easy to weave tinsel and garland through many light fixtures, or even hang a few ornaments with twine or ribbon. Just be sure to keep decorations away from the bulb and socket, which can create a fire hazard. 
10. Bring the magic to the windows
Adding a few strings of lights and some Christmas decorations to your windowsill not only elevates the spirit in your place but can be admired by the whole world, too. A candelabra, either with real or electric candles, is a lovely touch. 
11. Use mini wreaths liberally
Don't limit yourself to wreaths on the front door. Making mini wreaths, or buying a set, is a pretty budget-friendly way to add festive décor throughout the house. Cupboard doors, bookshelves, and even the backs of chairs are perfect spots for wreaths. 
12. Sprinkle bottle brush trees around
Bottle brush trees have become enormously popular — they're stylish in traditional green with frosted branches, but we love a hot pink bottle tree as much as the next person. Pro tip: put a cluster of mini trees under a cloche for a stunning vignette. 
13. Bust out the taper candles
Taper candles bring a certain old-world charm to Christmas decor, and best of all?  They take up hardly any room on your table or windowsill. Hit up your local thrift store to find one-of-a-kind, totally unique candle holders. 
14. Try a festive curtain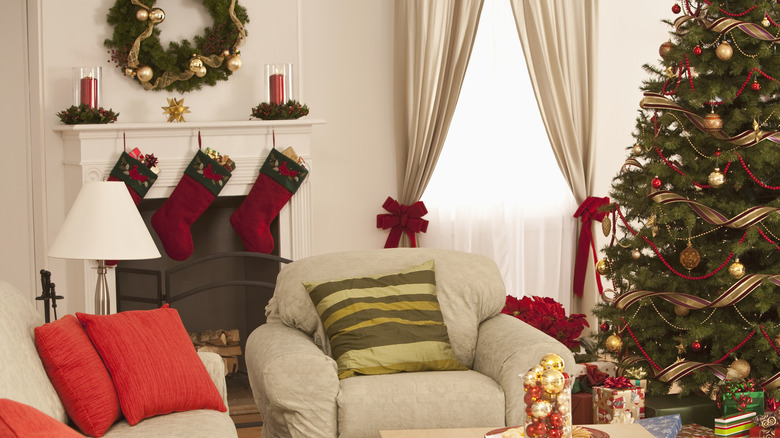 Comstock Images/Getty Images
Swapping linens out may seem daunting, but it can have a huge impact on your house, and it takes up no floor space. Look for budget options, or make your own curtains (it's not as hard as you might think!).
15. Dust off with a holiday welcome mat
A welcome mat can work outside or directly inside your front door. To make things extra cozy, consider layering a holiday mat with your favorite carol lyric over a plaid fabric rug. It has a big visual impact and doesn't add any clutter. 
16. Cozy up with couch pillows
Stack up the couch with an abundance of seasonal throw pillows to add texture and color without taking up floor space. Who doesn't love to cuddle up with a pillow and a Christmas movie? To save cash, just buy new pillow covers with zippers to slip on the pillows you already have, and swap them out after the holidays. 
17. Try an alternative Christmas tree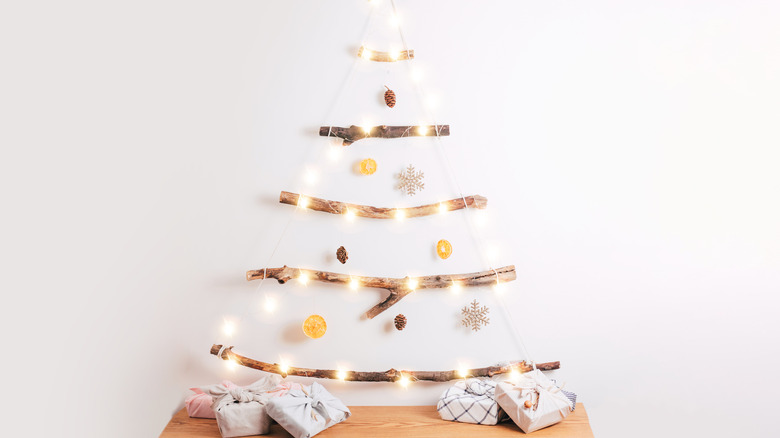 Evgeniia Siiankovskaia/Getty Images
While it can seem tough to imagine your Christmas décor without a big pine tree in the living room, alternative Christmas trees are a great way to save space and money. Wall-mounted styles are especially helpful in keeping the house clutter-free. 
18. Remember to deck the bathroom halls
Okay, hear us out. There's no reason not to extend a little Christmas cheer to the water closet. A little pine branch plant, a snowman figurine, and some wintery potpourri give this oft-neglected space a touch of holiday magic too. 
19. Don't shy away from moody colors
The advice for small spaces is often to keep things all-white and bright, but this can actually make the space feel sparse and stark. Try mixing in moodier dark colors to make the room feel a bit cozier and classic. 
20. Do keep the clutter to a minimum
While you may have a collection of mini nativities and Santa figurines, try to just display your all-time favorites while you're in a small space. Otherwise, it can feel more claustrophobic than Christmassy. 
21. Frame some festive art prints
There are a number of amazing printmakers that design gorgeous seasonal prints, or you can DIY your own with a photo editing program. Buy an array of frames from a big box home store or get a matching set of basic frames to put the prints in, and just swap them out when the holiday is over. 
22. Bling out the bookshelf
With a selection of winter holiday books, a cute little banner, a felt garland, and Christmas knick-knacks, your bookshelf can become a great opportunity for showing off your holiday spirit. 
23. Hang a few boughs of holly
It's a tradition for a reason — holly berries are the perfect symbol of the winter months. To make an especially memorable bundle, pair the holly with some other pieces, like dried orange slices, cinnamon sticks, and eucalyptus leaves. 
24. Give your artwork some display lighting
Already have artwork on the walls that you love? Drape a bit of garland and a string of LED lights around the frame to give your favorite pieces a holiday upgrade. 
25. DIY a Christmas arch
Deck out the doorway with a bundle of garland and tinsel to add those dreamy Christmas vibes. Then you can add ornaments, pine cones, orange slices, or whatever best goes with your Christmas aesthetic.