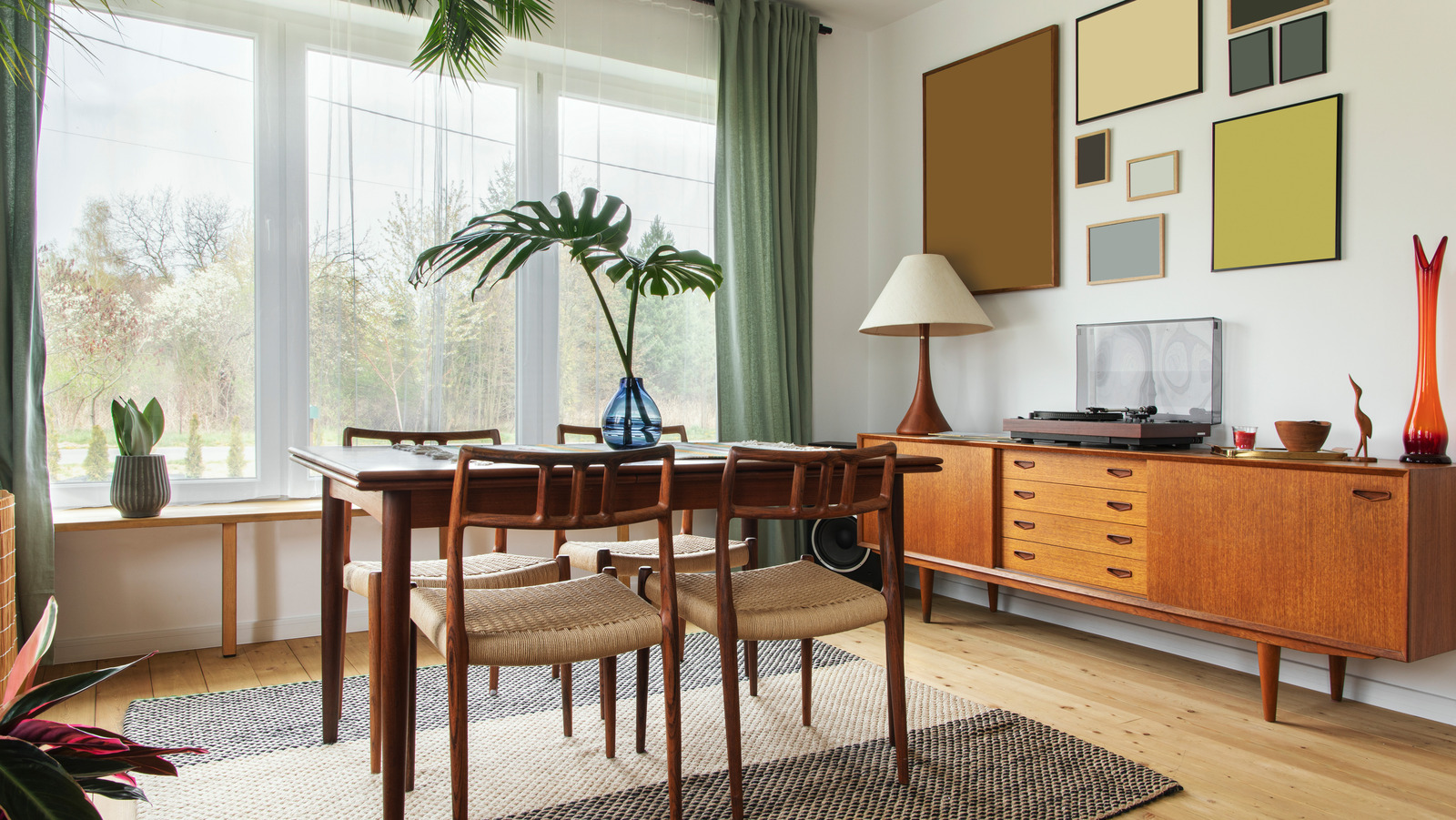 25 Home Decor Ideas To Bring Back The '50s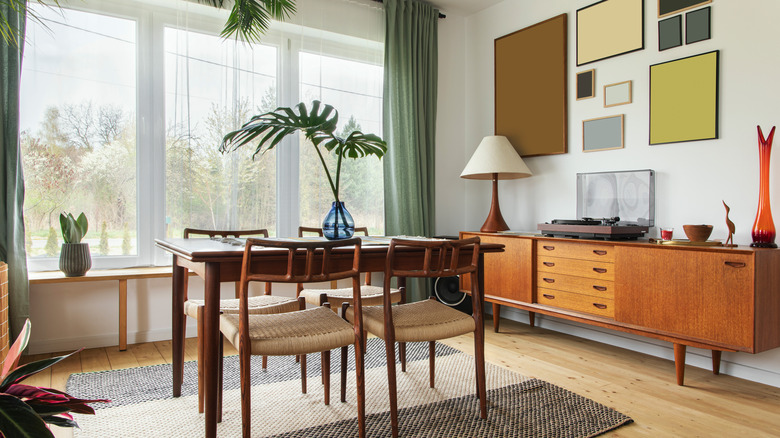 Followtheflow/Shutterstock
Known for crisp, clean lines and staid respectable interiors, 1950s era design is often considered the height of mid-century modern. Homeowners in the '50s sought to fill their spaces with sleek appliances, décor, and furniture amid newfound prosperity and available materials following the end of WWII. The rise of the nuclear family, and nuclear energy, had a great impact on American society, with the average family of four enjoying their stylish ranch house amid suburban neighborhoods marked by cul-de-sacs and picket fences, according to Retro Renovation.
On the other hand, the 1950s could also be fun and a little funky, especially as it slid toward the raucous 1960s, bringing bright pops of color to the aesthetic along with unusual tropical patterns and wild atomic-inspired details. The decade was also marked by its love of innovation and technology, adds Retro Renovation. The popular mid-century style has re-emerged as a favorite in the last decade in 21st-century homes, suiting today's minimalist and subdued interiors to a tee. There are, however, additional touches you can bring into your spaces to add a little retro flare, whatever your current design style.
1. Clean lines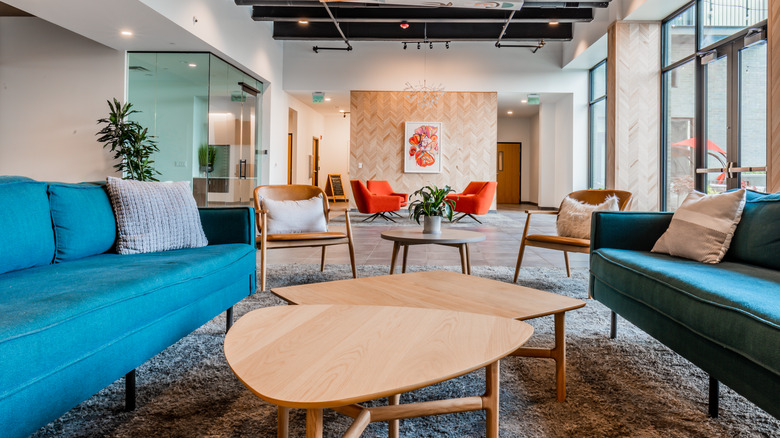 Aspects and Angles/Shutterstock
The 1950s variety of mid-century modern is straight-lined with no frills. Furniture is often simple and made of wood or chrome. While there may be some curvature in the forms of circles and ovals, baroque details are at a minimum (via The Manual). Look for pieces in neutral or bold colors and fabrics like linen and tweed to get the look.
2. Candy-colored kitchens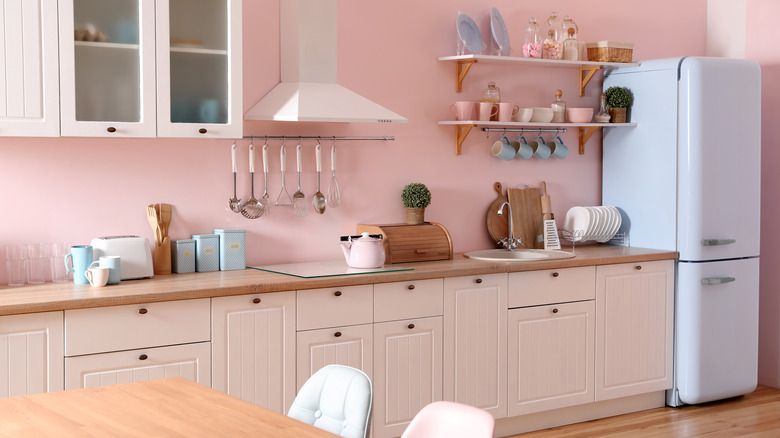 New Africa/Shutterstock
Kitchens in the 1950s were far more colorful than in previous decades. Increased availability of affordable appliances and the financial boom at the end of WWII brought state-of-the-art kitchens within reach of the middle class. Cabinets and appliances came in colors like soft blues and pinks. Counters were often stocked with candy-colored pastel kitchen gadgets and cookware. 
3. Beatnik style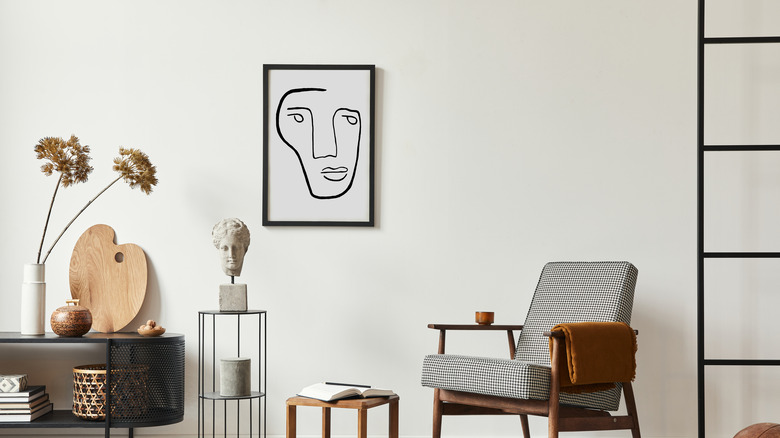 Followtheflow/Shutterstock
While the '60s would be known for its hippies, the '50s were known for their older siblings, the beatniks. As this trend filtered through artist communities and into homes worldwide, even non-creatives decorated their homes with artsy accents like the paintings, sculpture, and handmade pottery seen here. Look for boho and avant-garde details like abstract sculptures, marble busts, and beaded curtains. 
4. Vintage appliances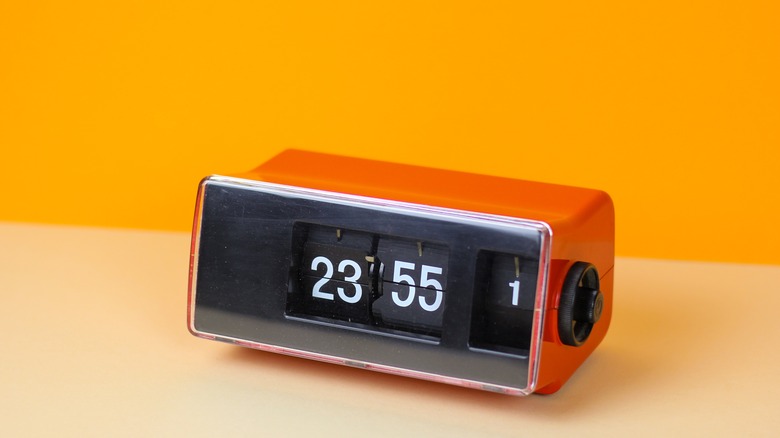 MosinGL/Shutterstock
Retro appliances can be found in thrift stores and estate sales. While they may not always be in perfect working order, they're just the thing to bring a touch of the 1950s to your décor. You can also find a number of modern appliances, including clocks, radios, and record players, that are modeled on vintage designs. 
5. Retro fridges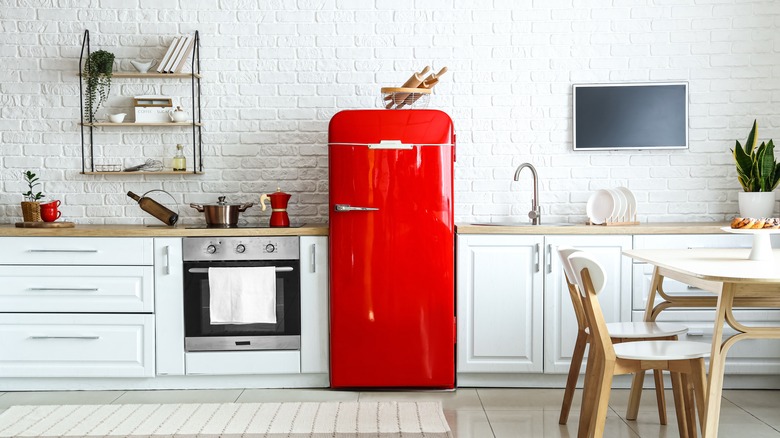 Glossy refrigerators were the must-have for any 1950s kitchen. With their rounded curves and signature latch handles, they still fit stylishly into modern kitchens today. While you can find many originals in good working order, the efficiency of most is a concern. Opt instead for a modern reproduction from a manufacturer like Frigidaire.
6. Vinyl chairs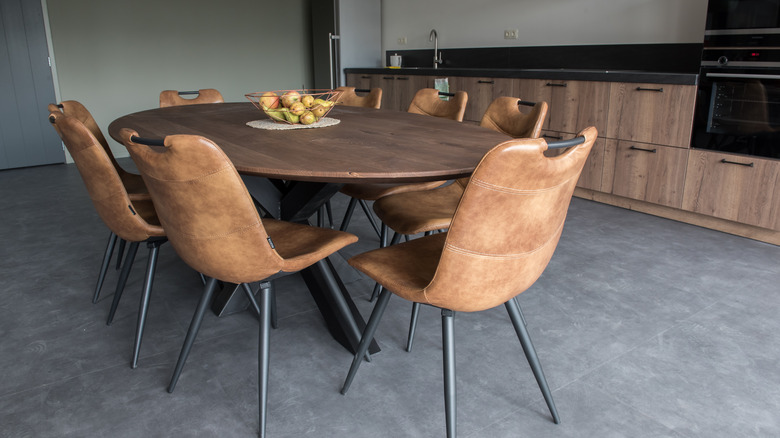 Luckeyman/Shutterstock
Dining chairs were often made of vinyl, offering a durable, washable fabric for potentially grubby children's fingers. From diner-style chrome seats with sparkly red vinyl to more natural-looking faux leather finishes, these chairs often featured the signature 1950s tapered leg. 
7. Checkerboard floors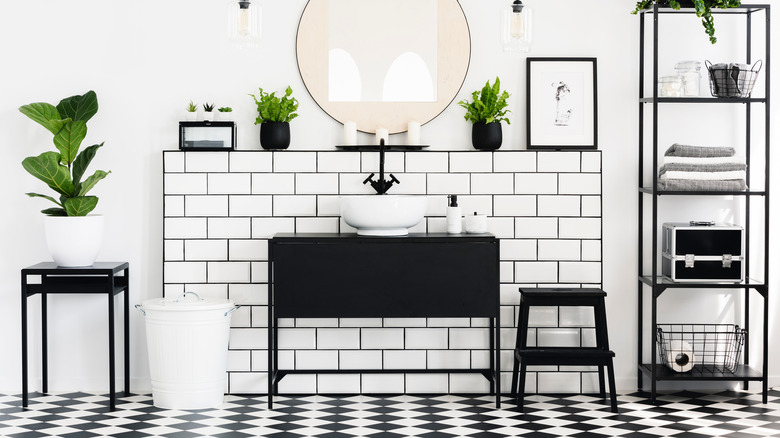 Photographee.eu/Shutterstock
Checkerboard patterns are growing in popularity, once again gracing the floors of modern kitchens and baths. While the dimensions of a large print may be overpowering for a smaller room, a scaled-down rendition or black and white diamond pattern would make a great alternative. 
8. Neutral shades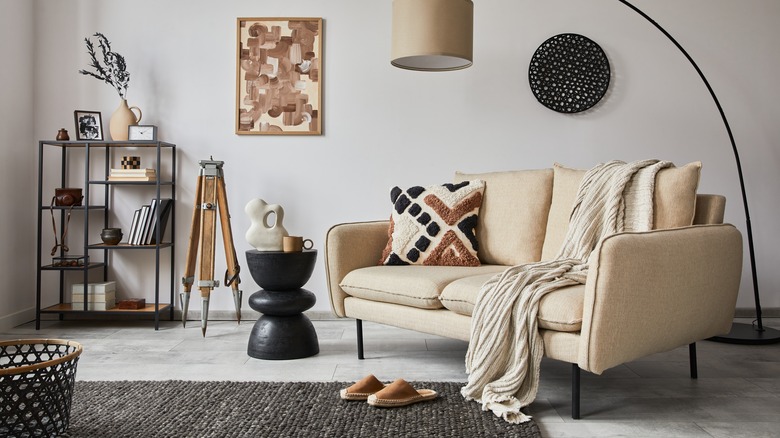 Followtheflow/Shutterstock
While 1950s kitchens were often brightly colored, many mid-century homes opted for more staid neutrals in other common areas in keeping with the clean, spare aesthetic. If you love neutrals, consider mixing shades of cream, caramel, and khaki with matte black accessories.  
9. Wood paneling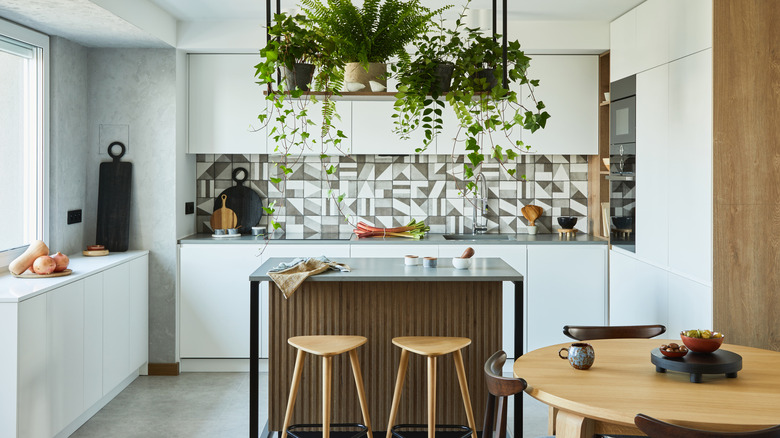 Followtheflow/Shutterstock
The wood paneling craze that persisted through much of the mid-century period in the 1970s was just beginning to get rolling in the '50s, says Retro Renovation. If a full room of knotty pine or wood paneling feels dated or claustrophobic, try using it sparingly, like on a single wall or partition, for a lighter dose of retro energy.
10. Stylish bar carts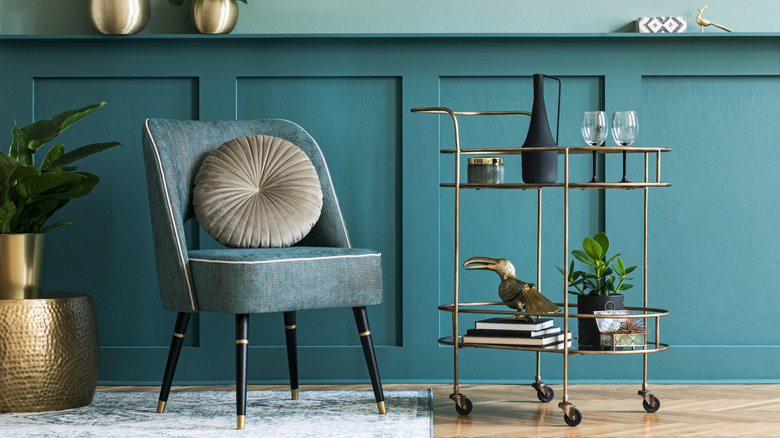 Followtheflow/Shutterstock
The 1950s were known for swanky barware and martinis-for-lunch office culture. A sleek bar cart is an excellent addition to any space that will offer both storage and display. Look for vintage carts on wheels or more modern renditions in gold and chrome. 
11. Pink bathrooms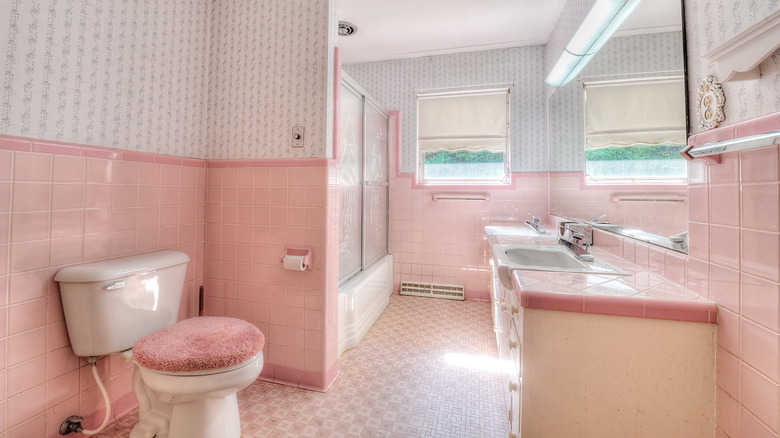 Crystal Alba/Shutterstock
Often referred to as "Mamie pink," a style popularized by First Lady Mamie Eisenhower, pink bathroom tiles, fixtures, and accents gained great popularity during Eisenhower's tenure as president. The signature glossy flamingo-hued tiles are still plentiful in many vintage homes today; sometimes combined with sinks, tubs, flooring, and toilets in a similar palette.
12. Analog game accents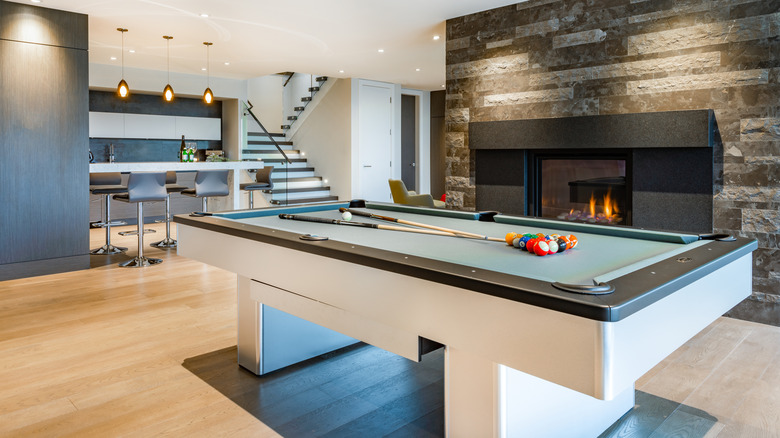 Sheila Say/Shutterstock
Denizens of 1950s homes adored their recreational activities, which often included bowling, billiards, backgammon, checkers, and board games. Consider creating your own recreation or rumpus room. Look for accents that evoke recreational and fun activities like stacks of vintage board games, dart boards, and game tables.
13. Diner details
Diner culture was big in the '50s, inspiring home kitchens across the country. With their signature red vinyl sets, vintage bar stools are a fun retro way to bring a little bit of classic diner feel into your kitchen. Who's ready for a malted milkshake?
14. Analog elements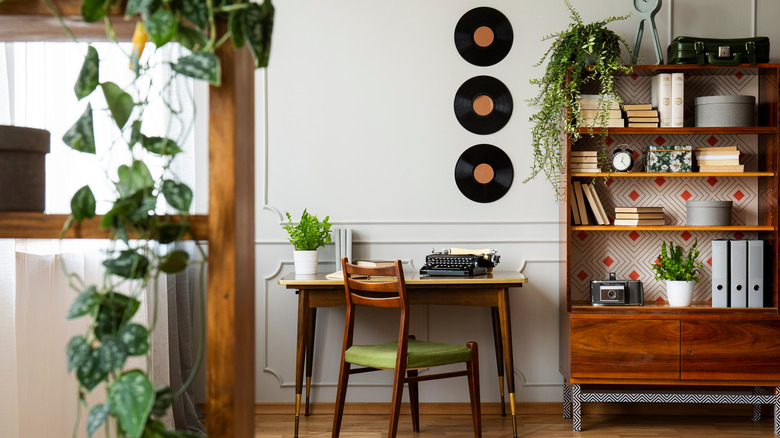 Photographee.eu/Shutterstock
There's more to analog than board games. A few more analog touches will make even modern rooms feel like they're steeped in decades past. Here, an old typewriter and record albums elevate the vintage charm. Consider adding details like tattered books, vintage office chairs, or a sweet collection of old cameras.
15. Atomic age
It seems like just about everyone who lived through the 1950s was obsessed with atomic and space age vibes, reflecting a culture on the cusp of scientific breakthroughs in both energy and warfare. This aesthetic filtered down to distinctively space-age shapes bedecking everything from dish ware and décor to outdoor fencing.
16. Starburst decor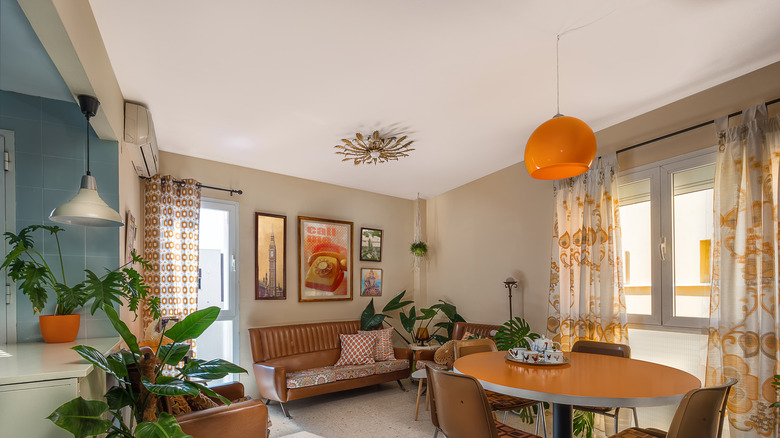 elRoce/Shutterstock
Often considered part of the atomic craze, starbursts were a popular pattern on many mid-century designs, including snazzy clocks, mirrors, and light fixtures. Here, a starburst light fixture pairs well with other mid-century furnishings. Look also for starburst patterns on soft goods like wallpaper, draperies, and bedding.
17. Robots everywhere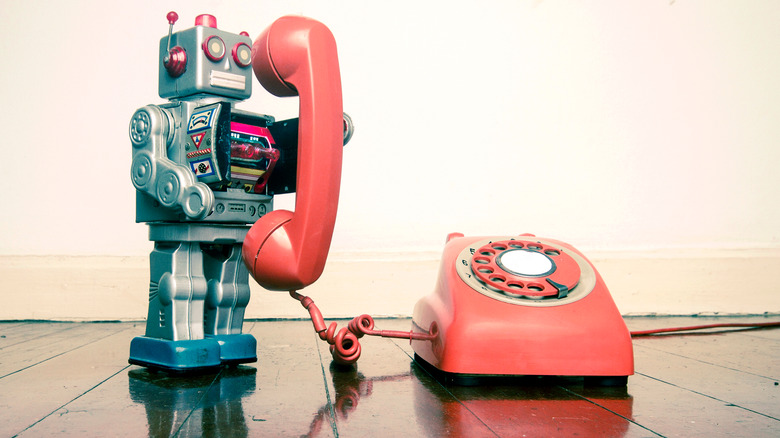 charles taylor/Shutterstock
Much as 1950s consumers were obsessed with space, they also adored the innovation of robots (via Singularity Hub). As evidenced by the instant appeal of "The Jetsons" in the early sixties, robots were a popular toy for children and many homes hosted collections of these fun metal, sometimes ambulatory, toys in the decade leading up.
18. Surf culture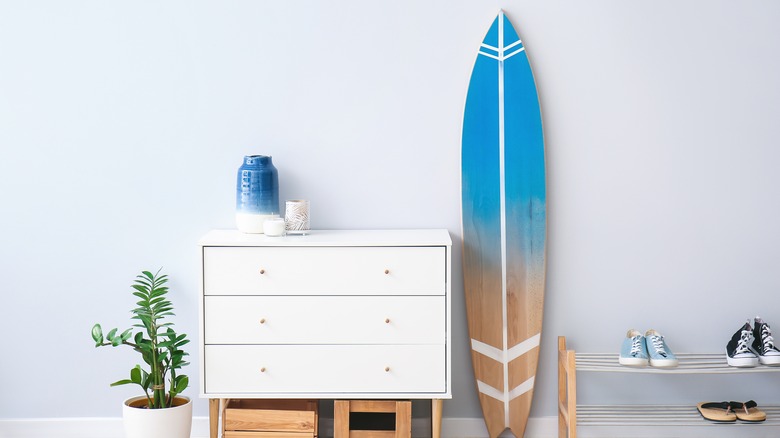 Pixel-Shot/Shutterstock
The 1950s is considered the beginning of surf culture in America. With its California roots quickly spreading east, this loose, breezy style reached its nadir in the 1960s. According to 1st Dibs, surfer style is known for its crazy Hawaiian floral prints, tropical patterns, and surfboards-as-décor carefree attitude.
19. Jukeboxes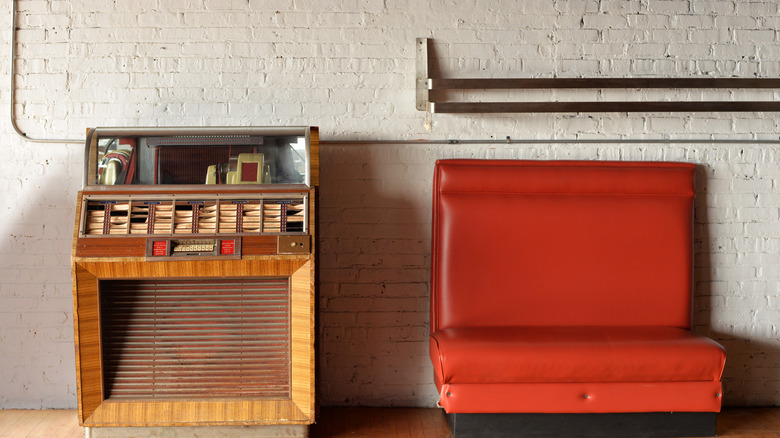 Steve Wood/Shutterstock
Nary a bar or diner could be found in most American towns that didn't have a jukebox spinning tunes in the 1950s. They're somewhat difficult to find in working order; occasionally you can snag one from an online seller or antique dealer. New, working reproductions that use modern technology are also available from retailers, though they'll run you around $1,000.
20. Smoking memorabilia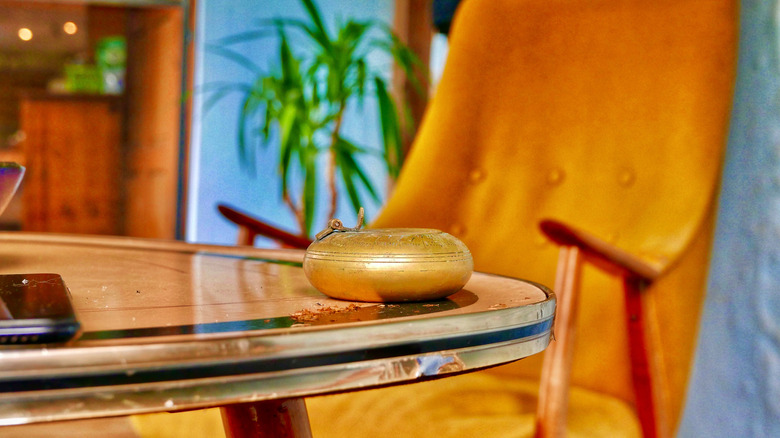 Christine8/Shutterstock
While widespread smoking culture went up in flames decades ago, lighting up in the 1950s, as evidenced by "Mad Men," was seen as the height of glamor and sophistication. While the world is much less smoky today, according to Lancaster Online, collectors still seek out smoking memorabilia from the mid-20th century, including lighters, sleek cigarette cases, and ashtrays. 
21. Vintage TVs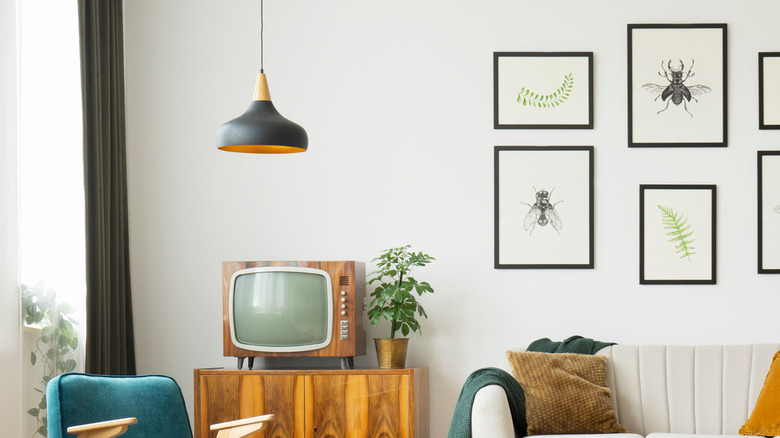 Photographee.eu/Shutterstock
The 1950s brought the magic of television into the majority of American homes. These distinctive convex-screened early machines may seem like long-dead artifacts from the past, but with a few adjustments, they can also be retrofitted into fun and functional objects like bar carts (via Oddity Mall), aquariums, and pet beds.
22. Bold lamps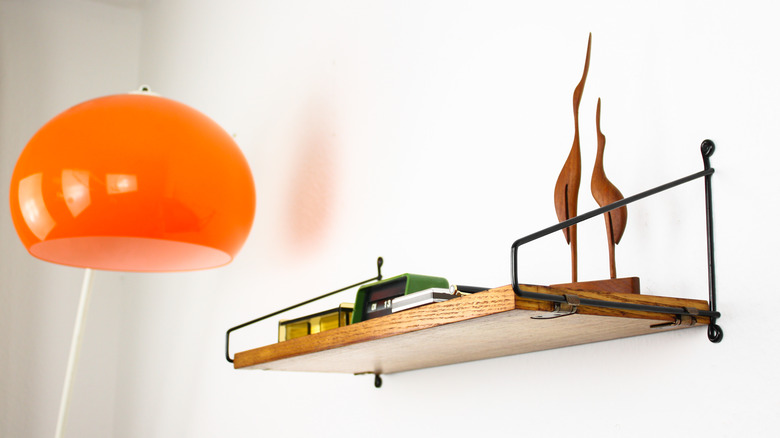 Dreamprint/Shutterstock
While mid-century furniture was often more restrained, lighting options frequently featured globes, organic curves, and almost-neon splashes of color. Adding a fun lighting piece to a minimalist room makes a bold statement that immediately ups the interest and character.
23. Tropical delights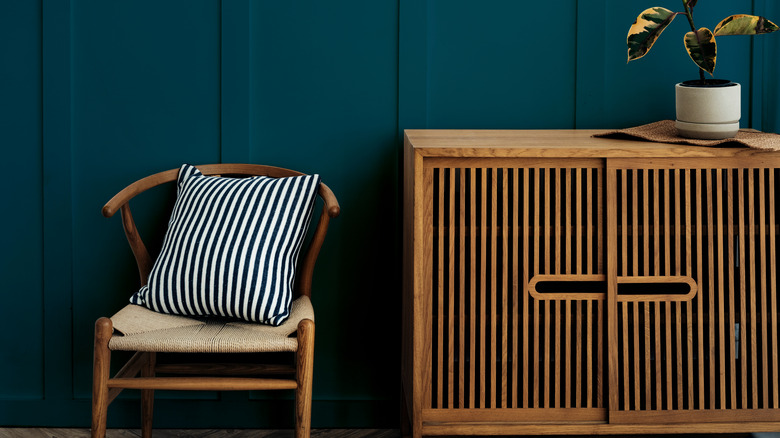 Rawpixel.com/Shutterstock
Many 1950s homes sought a hint of the tropics, often spurred by the return of servicemen from overseas locations following WWII, per Wired. The rise of tiki culture and tropical décor was evidenced by a proliferation of bamboo and rattan furniture, as well as Asian or tropical-style patterns of bark cloth used for upholstery and drapery. 
24. Sideboards and buffets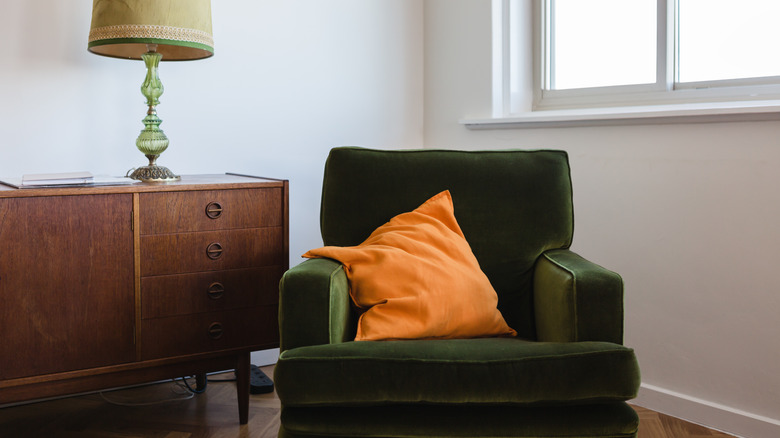 Jodie Johnson/Shutterstock
Bulky wooden sideboards and buffets, which occupied a central space in the dining room of American homes, were used to store all those beautiful mid-century dishes. These days, when traditional full-set dining rooms are not as common, large mid-century pieces make excellent storage for other rooms. Here, a vintage buffet is used as both storage and side table.
25. Arced coffee tables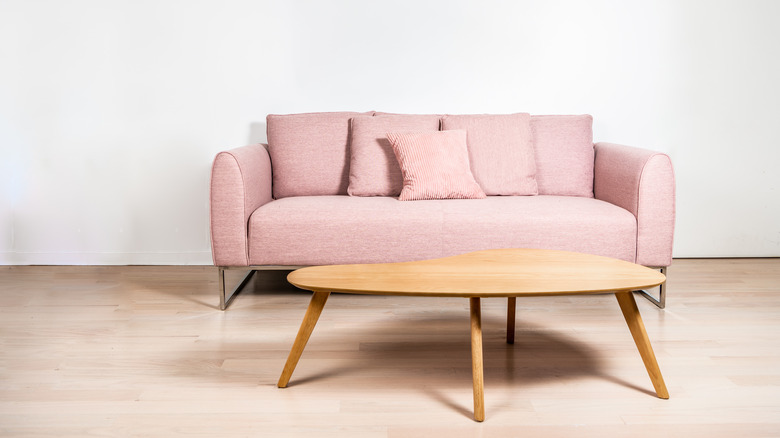 Page Light Studios/Shutterstock
Arced, curved, or boomerang-shaped coffee or end tables, very common in the 1950s, still remain popular today and include the ubiquitous Noguchi coffee table in many mid-century modern décor schemes. With lighter weight and tapered legs, these tables are often perfect for smaller areas that won't accommodate a heavier rectangular table.