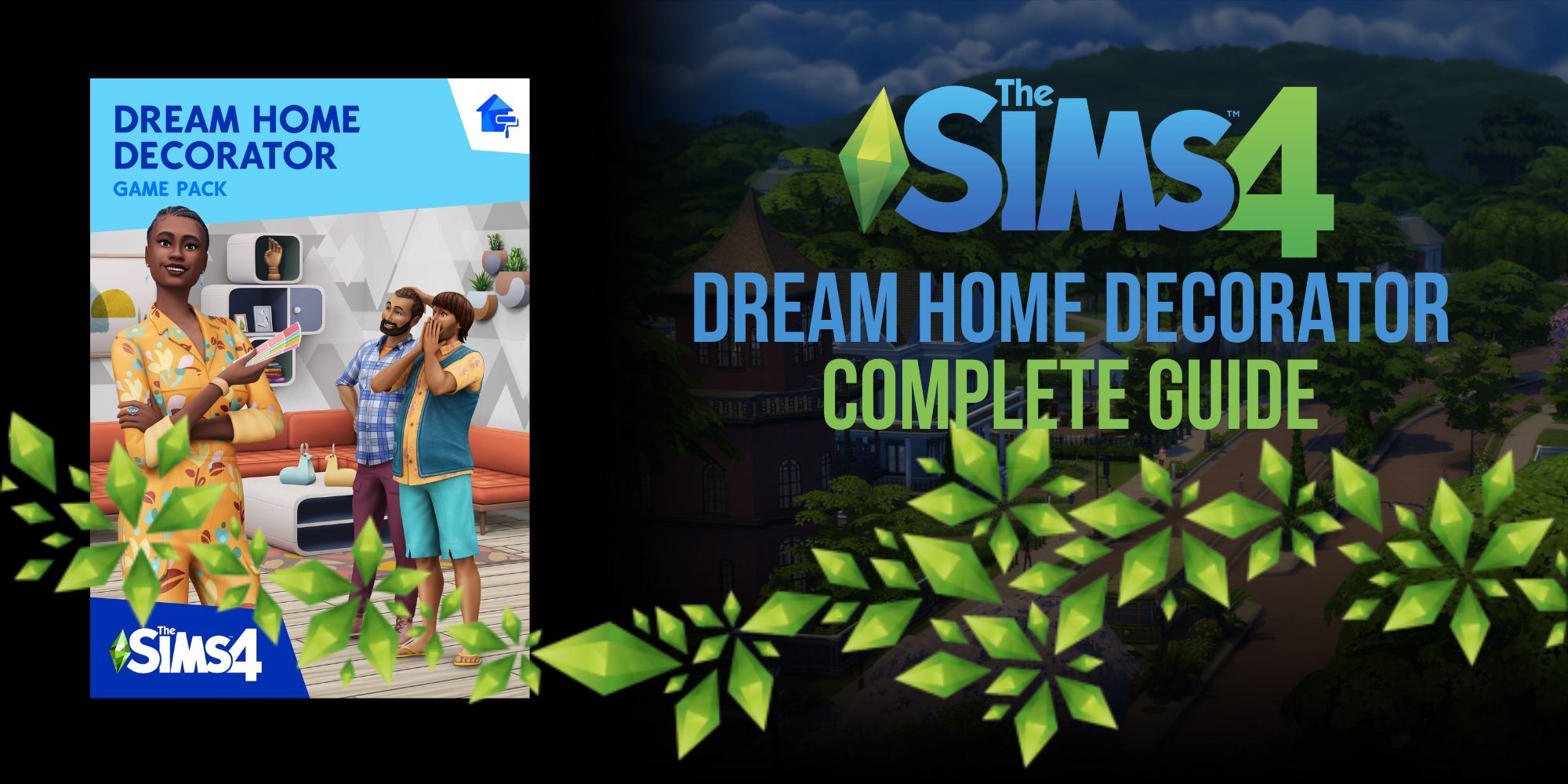 Dream Home Decorator Complete Guide
The Sims 4: Dream Home Decorator is the tenth game pack of The Sims 4 franchise and was released on June 1, 2021. It allows Sims to become interior designers and embark on a new career, offering a unique gameplay experience. Players can run their own interior design businesses and work with clients to fulfill their design needs, from renovating entire homes to adding finishing touches to specific rooms. The pack introduces new build mode items and CAS items such as furniture, decorations, and clothing, allowing players to fully express their creativity and design skills. With its new career path and emphasis on interior design, The Sims 4: Dream Home Decorator Pack offers a fresh and exciting addition to the game for players who are looking for a new challenge and more ways to customize their Sims' homes.
Related: Every The Sims 4 Game Pack, Ranked
The Sims 4: Dream Home Decorator is the perfect pack for players who enjoy building and decorating in the game. It is the first and only pack up to date that puts emphasis on the interior design aspect of the game, and it has no predecessors. With this pack, players can indulge in their creativity and design skills by becoming interior designers and running their own businesses. The pack also offers a unique and challenging gameplay experience with limitations, as players must work with clients to fulfill their design needs and build their reputations as skilled designers. The Sims 4: Dream Home Decorator is the perfect addition for players who are passionate about building and decorating in The Sims 4.
Sources for this article include official artwork from EA.com and other content creators.
Everything New In A Nutshell
New Career (Interior Decorator Career)
New Like/Dislike Category (Decor)
New CAS, Build/Buy Items
Interior Decorator Career
While The Sims 4: Dream Home Decorator Pack may not appear to offer much outside of building and decoration, a great deal of detail has been put into the main feature of the pack: the Interior Decorator Career. This career is essentially the successor of the Architecture career track in The Sims 2: FreeTime and the profession in The Sims 3: Ambitions, and it provides a unique and immersive gameplay experience. In The Sims 4, the Interior Decorator Career is considered an active career, which means that players will need to put a lot of effort into making a successful business out of it.
Related: The Sims 4: Tips For The Interior Decorator Career
This career requires players to run their own interior design business and work with clients to fulfill their design needs, from renovating entire homes to adding finishing touches to specific rooms. Paying attention to certain key points about the Interior Decorator Career can make it one of the best-paying careers in the game. Players can earn a lot of Simoleons by completing high-quality design jobs, establishing a strong reputation, and gaining new clients through word of mouth. The more successful players are in their business, the more they can charge for their services, and the more clients they can attract.
In terms of play style, the Interior Decorator Career is the most similar to the Actress career combined with some freelance career aspects. Players will need to pick gigs that suit them best and manage their time carefully to meet their client's needs while also working towards their career goals. The career provides a unique and dynamic gameplay experience that allows players to express their creativity and design skills while also running a successful business.
Choosing A Gig
The Interior Decorator career in The Sims 4's Dream Home Decorator pack offers an immersive and detailed experience for players who love building and decorating. After selecting the career from their phone or computer, the player can choose from a variety of gigs that will take place 1–2 days after acceptance. While the gig options may be limited initially, players can unlock more types of gigs as they get promoted to higher levels. These gigs range from room renovations and additions to level renovations and additions, as well as commercial renovations. Each gig lists the base pay, budget, and which household is offering the gig.
Related: The Sims 4: The Best Career For Your Sim (Based On The University They Attended)
It's important to note that a sim can only hold one gig at a time, and every gig lasts for 12 hours from 9 am to 9 pm. Although the gig lasts for 12 hours, the in-game time is primarily focused on interacting with the clients, and there are no time limitations in build mode. These long hours ensure that players have enough time for every key interaction they must perform for a good result with happy clients. Ultimately, when choosing a gig, players should focus on what they enjoy decorating the most. Whether it's working on smaller spaces or being able to unleash their creativity in larger areas with fewer limitations, the gig should align with their interests. Time is also a crucial factor to consider since creating smaller spaces that pay well can be more time-efficient if the player doesn't want to spend a lot of time in build mode.
Gig Activities
The most critical part of the Interior Decorator career is the gig hours. During this time, players must perform certain actions to ensure the success of the gig. Players should keep in mind that while the build may be beautiful, it needs to match the clients' likes and dislikes to be successful. As the player Sim arrives at the lot, they should greet the clients and understand their preferences, including decor styles, colors, and hobbies. The career panel will display a list of up to five likes or dislikes, but players can also ask clients for additional information, which will be displayed in the notifications tab. Having the observant trait can be beneficial since players can learn more about their clients.
Once the Sim has gathered information about the client's likes and dislikes, they can take pictures of the current space they want to redesign. Taking pictures from different angles is not required, but it can be helpful when compared to the after pictures for a direct comparison of the player's work. These photos will also be used in the reveal once the renovation is complete. After taking pictures, the Sim should send the clients away to start decorating. Build mode will now be enabled, and the lot trait panel will display the client's budget, preferences, and constraints for the gig.
It's important for players to keep in mind that constraints are a part of the Interior Decorator career. These constraints might include limitations such as not being able to add new tiles or not being able to touch certain areas of the lot, like the top floor. These limitations make the gameplay more realistic and challenge players to come up with unique styles for each gig. It can also be a rewarding experience, as decorated houses will remain in their newly designed state, allowing players to visit their past clients and see the work they've done.
In order to ensure success, players should pay attention to the budget, likes, and dislikes of their clients. While some gigs may have a low budget, players can sell existing objects in limited areas to earn more money and make more drastic changes. By focusing on the likes and dislikes of their clients, players can ensure that their design choices will be well-received, leading to a successful outcome. With enough attention and care, players can transform all the worlds of their playthroughs in unique and realistic ways, creating a more enjoyable and satisfying gameplay experience.
Related: The Sims 4: Things You Didn't Know You Could Do In Build Mode
Upon completing the renovations, players can exit build mode and capture photos of the redesigned space. Next, they should summon the clients back to the lot to reveal the changes. Players can choose to start a reveal event or skip to the results, though skipping is advisable if it's close to 9 pm, as failing to reveal the changes will result in a failed gig. It's recommended to experience the reveal event at least a few times. Once the clients indicate they are ready to discuss the changes, which is indicated by a green checkmark above their heads, the player's sim will greet them with various emotions, ranging from happy tears to sad crying or even angry lecturing. After the reveal event, players will be able to see their payout and how this gig affected their career reputation.
Career Reputation And Promotions
The Interior Decorator career sets itself apart from others by requiring attention to not just performance, but also reputation, which is different from the fame system in Get Famous. While performance is mostly determined by the success of a gig, reputation is based on the Sim's interactions with clients. Sims with a friendly and outgoing trait have an advantage in building relationships quickly, but all Sims must maintain professionalism during gigs to avoid damaging their reputation or even losing the gig altogether. Unprofessional behaviors such as flirting with clients, being nude, or showering or eating during a gig can lead to reputation loss.
A positive reputation can result in returning clients or referrals to new ones, leading to more opportunities to earn additional money. Sims with a positive reputation may also receive sample products and thank-you letters. Conversely, a negative reputation can lead to fewer job offers. Once a Sim reaches level 8 in the Interior Decorator career, they gain the ability to write articles about their work, which can either boost or lower their reputation further.
Likes And Dislikes
The Sims 4 introduced a new system called "Likes and Dislikes" in patch 113, just before the release of the Dream Home Decorator pack. This system determines the aesthetic and activity preferences of Sims and can be selected during Create a Sim or developed through gameplay, with up to twenty preferences available unless players use mods. Likes and dislikes have a significant impact on gameplay, as they affect Sims' moods positively or negatively depending on whether they engage in preferred activities or not.
The Dream Home Decorator pack heavily utilizes this system for the career, where performance is influenced by a Sim's preferences in activities, colors, and decor. The base game features three categories of likes and dislikes (activities, colors, and music genres), while the Dream Home Decorator pack introduces a new decor category, and The Sims 4: High School Years expansion adds fashion preferences. With the interior decorator career, decor and color preferences play a particularly significant role. To avoid mistakenly using an unpreferred item, players can filter items in Build/Buy mode based on color or decor preference.
New CAS And Build/Buy Items
There are more than sixty new CAS items in Dream Home Decorator for Sims of all ages, from toddlers to elders. The CAS items feature a broad range of styles, with a focus on modern and trendy designs that reflect a professional aesthetic with a touch of creativity. With the new CAS items, players can create unique and stylish looks for their Sims to match the interior design projects they undertake as part of their Interior Decorator career.
With a focus on interior decorating, The Sims 4 Dream Home Decorator boasts an extensive Build/Buy catalog with over 140 items, the largest of any game pack to date. The furniture styles vary widely to cater to different preferences in Sim decor. Even if players don't pursue the new career, this collection of items is perfect for creating beautiful homes that reflect players' dream home styles.
The Sims 4 is available now for PC, PS4, PS5, Xbox One, and Xbox Series X/S