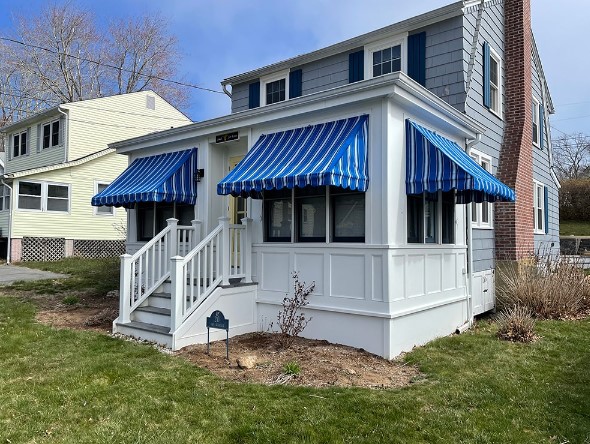 How to Choose the Perfect Door Awning or Canopy
Are you looking to spruce up the front of your home? Have you considered having an awning or canopy installed?
Designed to accentuate your home's aesthetic, an awning or canopy offers protection to your front porch from excessive heat, rain, and snow, while also adding an interesting focal point that will help your home to stand out. Great.
Yet, with so many options and designs to choose from, how can you ensure that you choose the perfect canopy or awning for your home? This simple guide aims to make the process a bit easier, so read on to learn more.
Type of Canopy
When it comes to choosing a door canopy, you may be surprised at how many types there are available.
You can opt for a bespoke, customized option, of course, but for many, this is unnecessary, as there is a wide range of features in the types of door awnings that can be purchased and fitted. Wider canopy designs included the Mono Pitch, which looks great on row houses, as does the Traditional canopy due to its slanted panels. The Greenhurst option has an arch, giving it a Georgian feel, and, of course, the Arch design is, well, arched, but is seen as more straightforward in its appearance than the Greenhurst canopy. Finally, the Vintage, which is usually made from aluminum, looks great on the majority of homes, whether they have an older or more modern aesthetic.
Material
The material that most canopies or awnings are made from is wood. Wood is a perfect accompaniment for traditional brick, but luckily, with awnings and canopies, the material will not impact the function too much. However, it does impact on the aesthetic, with glass and metal awnings looking more in place in a modern home and wooden options fitting well into rural external décor. Some materials that the awning is made from, such as metal, may also require specialist installation.
Color
Most exterior canopies for homes that you will find will come in 3 traditional hues: black, white, and grey. Why? Because these are easy to pair with most front door colors and the color of the overall house. However, if you are looking for a canopy that is a bit more modern, you can find companies that offer them in a range of colors, or you can even get canopies made from glass, if you wish.
Design
Suppose you live in a rural area and want to have an awning placed outside your front door – is a glass one going to look right?
As mentioned before, there are numerous types of canopies available, but it is worth carefully considering the design of the awning that you have fitted, as choosing a contemporary option in a home that has an older design is going to look misplaced, and vice versa.
Function
This may seem unusual to consider, especially when the purpose is simply to provide a framing feature for your front door.
However, consider the other purposes that it may have throughout the year. Are you going to be hanging Christmas lights from it come December? Or, will you want to attach hanging baskets for flowers? If so, you will need to choose a material that will allow you to do so with ease, such as wood.