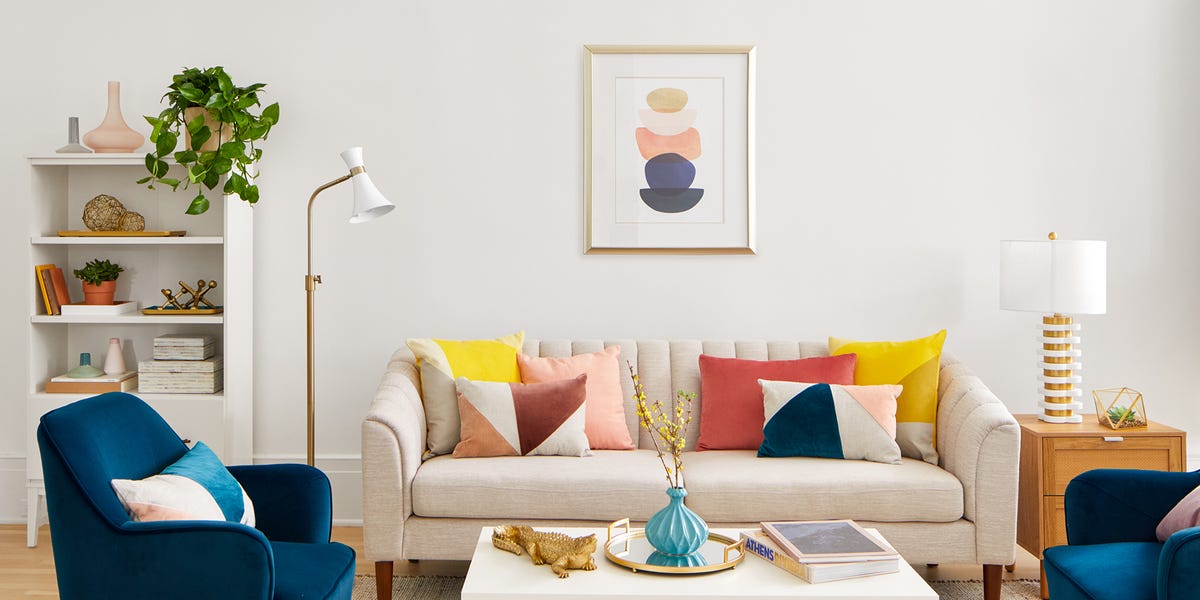 How to Style a Family-Friendly Living Room That's Still So Chic
A kids-zone room and a stylish space can sometimes seem mutually exclusive. Decorating a room that's overflowing with toys or has pets climbing everywhere can feel daunting, but you don't have to sacrifice form in the name of function. With a few styling tricks and design-forward yet practical furnishings from The Home Depot, you can create a welcoming room that fulfills the promise of your moodboard without being off-limits to anyone in your home. These strategies will help you create a lounge spot everyone will love.
Anchor the area with a shapely sofa
The couch is the heart of the living room. And since all of your family members need to fit comfortably at the same time, it's often necessary to go big. But too much couch and cushion can quickly become a giant eyesore (think poofy recliner vibes).
An extra-deep sofa in a low profile style delivers chicness with room for a watch party, in a streamlined fashion that doesn't scream "family couch." If you're drawn to a more traditional, shabby-chic touch, go for a classic Chesterfield fashioned from creamy tweed, which delivers the gravitas of its traditional leather with added durability.
Look to layering

Keep the room from feeling stiff by mastering the art of layering, which involves mixing materials, tones, and textures. Done right, the zone becomes warm and multi-dimensional. For example, a natural knotted jute rug and woven accessories like seagrass storage baskets and fringed pillows in soft neutrals complement each other and add depth to a mid century sofa, which stays plush thanks to channel tufting. Textured pillows and rugs can also hide the inevitable light wear and tear that comes from hosting sleepovers and movie nights, without interrupting your sophisticated pale palette.
If bright colors are more your speed, combine them for a color-blocked effect that's truly original. Adding rich jewel-toned furnishings, such as navy side chairs and intersecting-hued pillows in a lush material like velvet, can add that wow factor without sacrificing comfort.
Keep it flexible

Depending on the function (or the day) you may need to rearrange furniture to accommodate guests or create extra footage for the kids' latest pillow fort. Opting for seating, tables, and lamps that are easily movable means less work when it comes time to reconfigure.
A standing lamp adds style and can be easily relocated when you need it to shed light on a new corner or make room for your book club. Lightweight, leather-look accent chairs with slim legs can be easily shifted to provide seating anywhere, and look charming grouped in a corner when not in use. Totable baskets with handles are a must for clearing visible clutter and hauling it to another area and they lend a coastal-chic note worthy of your favorite rom-com heroine's house.
Turn essentials into style statements
Putting your own stamp on the space means incorporating a few pieces that steal the show — but don't clutter the room. Placing a single large-scale piece of artwork, like this matted abstract print, over your sofa pulls the room together and drives home your style.
Pillows in bold geometrics or complementary angles bring art into the space, no frame necessary! A sculptural table lamp can become a pièce de résistance, and using a bookcase to create an inspired tableau lets decorative objects take center stage in a contained way, high enough up that small children won't be able to use them to create their own, unsanctioned artworks.
Sneak in extra storage
Instead of cluttering up an already-full space with bins lining every available floor surface, opt for furniture that doubles as storage with clever compartments to hide blankets, magazines, or toys in plain sight.
A coffee table with two drawers provides a home for remotes and magazines. Or go for something that's both funky and functional, like a chic hammered metal coffee table with a removable top that conceals a deep cavity for stashing all those oversized throw pillows. And an end table needn't be a traditional table at all; instead, use a nightstand to do the job, which still affords surface area for a lamp and beverages — along with deep drawers that can fit books and coasters.
This content is created and maintained by a third party, and imported onto this page to help users provide their email addresses. You may be able to find more information about this and similar content at piano.io