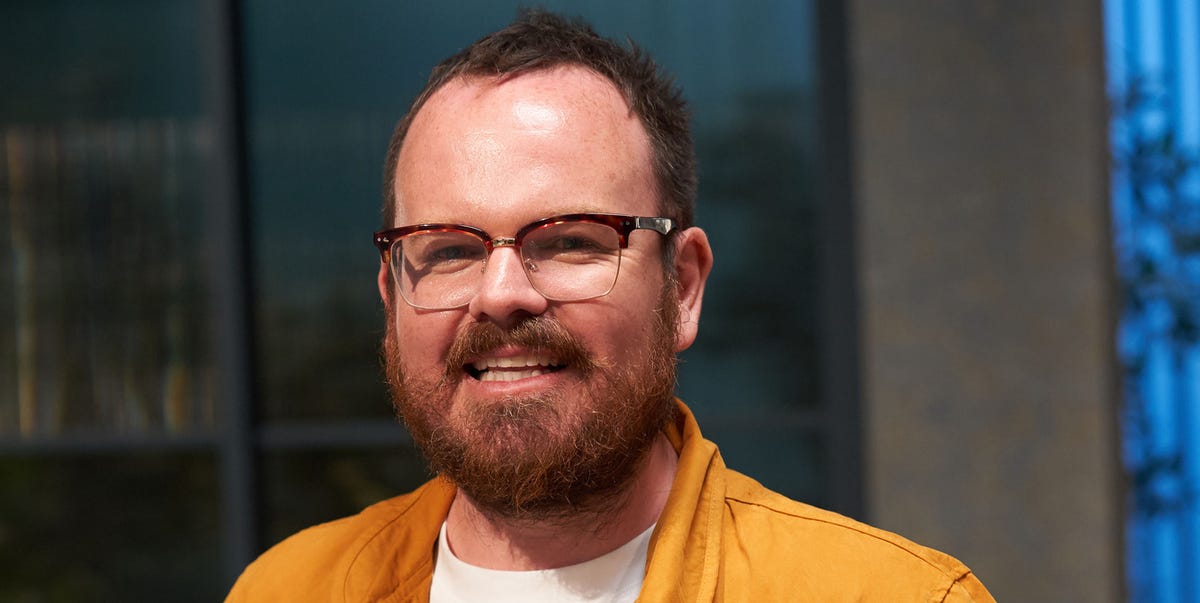 Interview With Interior Design Masters Winner Banjo Beale
After eight weeks of decisions, dramas and driving thousands of miles to secure those very special reclaimed and second-hand items to make his super-stylish schemes stand out, Australian-born cheesemaker, marketeer and stylist Banjo Beale, 35, who lives with his partner Ro on the Isle of Mull, Scotland, has been crowned the winner of Interior Design Masters 2022.
Head judge Michelle Ogundehin was joined by fashion and interiors designer Matthew Williamson and businesswoman and owner of the London Cocktail Club, Sarah Willingham, for the final. Banjo and his fellow finalist, Amy Davies, were each tasked with a personal project to transform two floors of their own bar in Soho, central London, both in desperate need of a style refresh.
Banjo's client wanted a sleek 'British members' club' vibe. Banjo admitted that he'd never been in such an establishment in his life. The winning result? Elegant, understated and so impressive, the bar's owner has now asked Banjo to restyle his own apartment.
House Beautiful was delighted to speak to Banjo – nicknamed by partner Ro, because 'he's highly-strung' – when he came back down to earth after taking the winner's crown.
Hi Banjo, many, many congratulations! How did you feel when Michelle announced you as the winner?
I couldn't quite believe it. I love Amy, and I really think that it could have been both of us to win. I was genuinely, really surprised and overwhelmed and speechless. It was such a long rollercoaster, the whole process, and to be standing at the end an absolute winner, well I did cry.
Yet again?
I know, I'm a crier – happy tears, sad tears, overwhelmed tears, every kind of tears – and at the end, it was probably tears of exhaustion.
Where did you watch the final and how did you feel?
We were actually in 'my' bar in Soho, with Alan and and the rest of the nine other guys [10 designers took part in the competition], and the production crew and some others. Watching it with 30 rowdy A type personalities in a Soho bar was all a bit mad for me. It wasn't like watching it in the little hotel room in London I'm normally staying in.
Where are you now?
I'm staying with my friend in Herne Hill, south London. Before the show started I only had one friend in London. And I have nine friends in London now…
Do you get recognised in public now?
It's really funny, I've definitely been recognised more than a couple of times now. The most surprising ones are the straight middle-aged men. They say, 'oh, my wife loves you,' which as a gay man on an interior design show I find quite amusing.
Your winning scheme – especially the downstairs space, was quite masculine?
I wouldn't say it's masculine, really, I like the word handsome, I love that kind of juxtaposition. You can have a really kind of floral wallpaper – William Morris, of course – and be able to craft a little handsome room, using the right colours to make it a bit moodier.
Sarah said it needed mirrors? Have any been added?
No. The owner hasn't changed a thing. It's exactly as it was. They love it. One of the owners even wants me to do his own apartment in London.
Tell us one thing that the viewers don't see…
The intense pressure that goes on behind the scenes. I think I just lived and breathed the competition and each design. I'd go to sleep thinking about it and wake up thinking about it.
The entire process is exhausting, don't underestimate that. I don't shop in big bucks stores, so it involved a lot of driving. It wasn't unusual for me to drive to Grimsby, then back to London, then to Bristol or somewhere, then back, just to collect that piece of treasure. I'm Australian, so driving is just natural to me, but it was hard because I couldn't go home and decompress every week. I spent lots of time on the road and lots of time in hotels.
Doing two storeys of a Soho bar – some challenge! How did you even start to come up with an idea for a scheme?
I was overwhelmed with the scale of it, not only the bar downstairs, but upstairs and a café to the side that was a little bit glossed over to be honest. So three really big spaces. The hardest part was how to make the downstairs space multi-function for both a bar and a comedy club. That's why I had to put fold-out chairs in. Everything had to be modular, but how to create a luxe kind of bar with modular was quite difficult. I love that I landed on the cinema chairs because they could be folded up and put away when not in use. I found them at Ardingly Antiques Fair in Sussex.
You love an interesting light fitting, don't you? What can a strong shape do for a room or space?
I never mentioned why I like a light fitting on the show, and perhaps I should. It's a big like this. You know if you put on a few extra pounds, you might buy yourself a nice pair of shoes to give yourself an instant boost? A light fitting is like that, it's the fastest way to get a really easy result, a nice big result in a room.
The judges praised your 'intuitive' grasp of interior design – when did you first realise you might have this?

When I was a kid, my mum would let me re-arrange the furniture in our lounge room. I would always decorate my own room. And I would do installations for my mum and relatives and neighbours to admire. I would be like, 'look, but don't touch.' I grew up in the country in Western Australia and it wasn't the done thing to go into interior design. I went a different direction, advertising. It was always in the back of my mind, but never quite happened for me. Then I watched the last series, and I thought 'gosh – this might be it.'
Out of all the schemes you've done on the show which has been your favourite, and why?
I have three. I really love the 'drunk botanist' boutique hotel room in week two. It was quintessential, moody dark green. I love a nook anywhere you can curl up in. I really loved my shepherd's hut as well (week five) – it was full of little collections. But absolutely without a doubt, the café in Margate (week eight), with the shutters and especially the owners' reaction, it was such a buzz. And I was really blown away when in the same week, the café was used in that episode of [BBC drama series] Killing Eve, also on TV.
What advice would you give to anyone thinking of applying to the show in future?
I think you've got to believe in yourself and just know that you can do it. It's amazing what you can do. I don't know where I pulled it out from, but pressure makes diamonds. My friend said that to me once and I say it a lot. I love it. It's life. That sums up the show. When you're put in that position it's amazing what you can pull out.
Will you now turn to interior design full-time?
I'm kind of hoping I can find that perfect balance. Doing the winner's project, [to transform a self-catering beach retreat in Watergate Bay in Cornwall], taught me a lot. I was almost an apprentice. After turning something around in two days on the show, it was quite different to do a four-month project, with an entire production team and a hefty budget. I'm really pleased with the result – it's just a space that's Banjo, sustainable and natural and reflective of the environment.
I'm interested in pursuing more interior design opportunities, collecting things and repurposing unusual objects. I love trawling antique fares and that kind of stuff. I've decided that interior design is 99 per cent logistics and one per cent design. And I'm not naturally organised.
And what next?
Now it's back to the farm to build a whisky bar! Chris Reade, who's 80, is the owner of the farm on Mull where we have the cheesemaking, farm shop and cafe, and we're her adopted sons. I go wild when I'm with her and we get up to all kinds of mischief.
• Follow Banjo on Instagram @banjo.beale.
Follow House Beautiful on Instagram.
---
This content is created and maintained by a third party, and imported onto this page to help users provide their email addresses. You may be able to find more information about this and similar content at piano.io