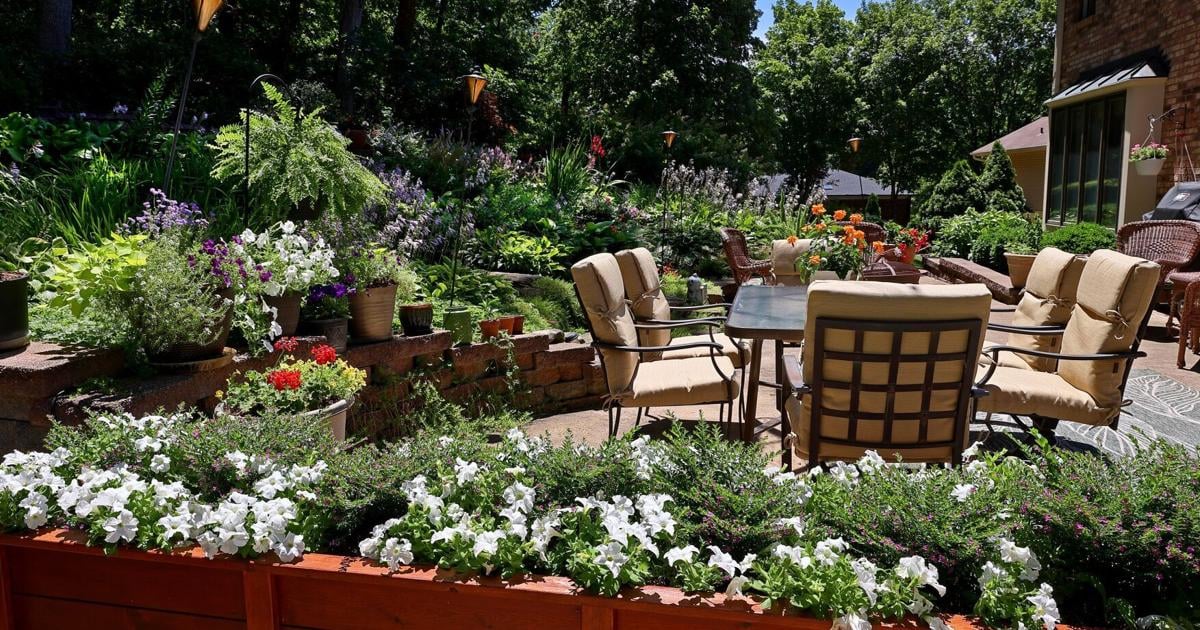 Oh, how their gardens grow! Meet our contest winners | Home & Garden
Growing a successful garden takes a lot of work, a clear vision, some trial and error, a fair bit of research and a little bit of luck. That's the lesson our winners in this year's Great Garden Contest have for us. 
Nearly 150 people entered our contest. First we narrowed the field to 14 finalists. Then expert gardening judges picked the first- and second-place finishers as well as five runners-up. The top two winners will receive a Friends and Family membership to the Missouri Botanical Garden (valued at $125).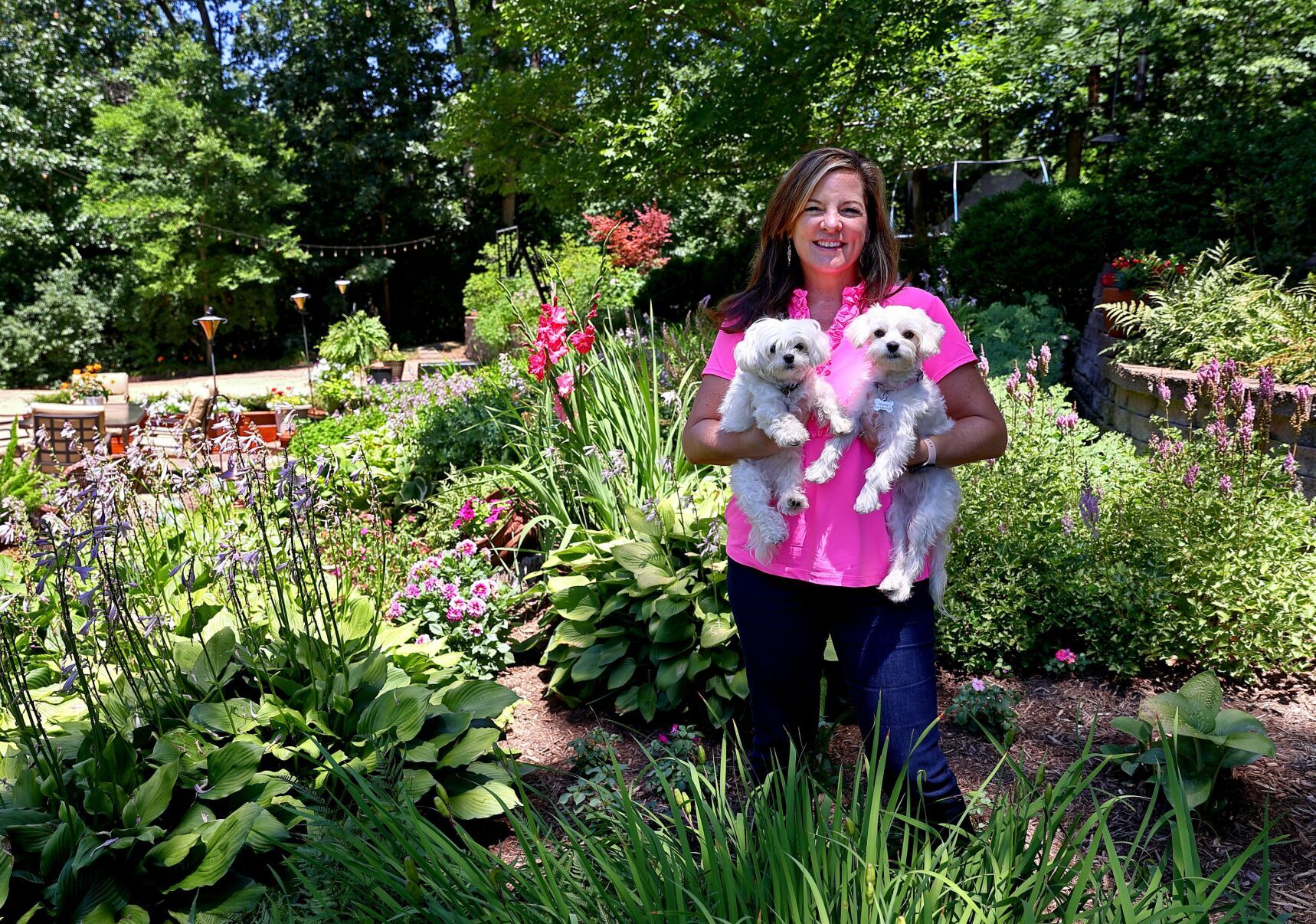 First place: Marks' Backyard Bliss 
Kathleen McGowan Marks, 52, of Sunset Hills 
Kathleen McGowan Marks has entered our garden contest for at least the past four years. In 2019 her garden was a finalist. It was a runner-up last year, and this year, Marks gets her due with a first-place finish.
"I just can't believe it," she says. "It's like, all this hard work pays off."
And make no mistake, it's a lot of work — the planting, the weeding, the figuring out what goes where. She does it all herself (except the mowing and weed-eating, which her husband does), on nights and weekends when she's off from her job as an account executive.
Michael and Kathleen Marks bought their Sunset Hills home in 2016, and that's when her garden adventures began.  
"I think I learned a lot by trial and error," she says. "I'd plant something that maybe said it needed full sun and then plant it in an area that was a little shady, so I'd have to dig it up and move it. I just wanted to make it work and want to see it succeed." 
Though hostas and planters filled with colorful blooms rim her entire 1-acre property, it's the back area, on a hill off the back of the house, that is the pièce de résistance. She inherited the small waterfall and pond (filled with tiny fish) from the home's previous owners, but the plantings, where herbs and vegetables mix with impatiens, hostas and gladiolus, are all hers. 
One of our judges, Justine Kandra, a horticulturist with the Missouri Botanical Garden, was impressed with the hillside display. "The shrubs are well-positioned to soften the vertical accents of the tree trunks as well as the horizonal retaining wall. The mixture of perennials creates a pleasing blend of textures," she wrote in her review.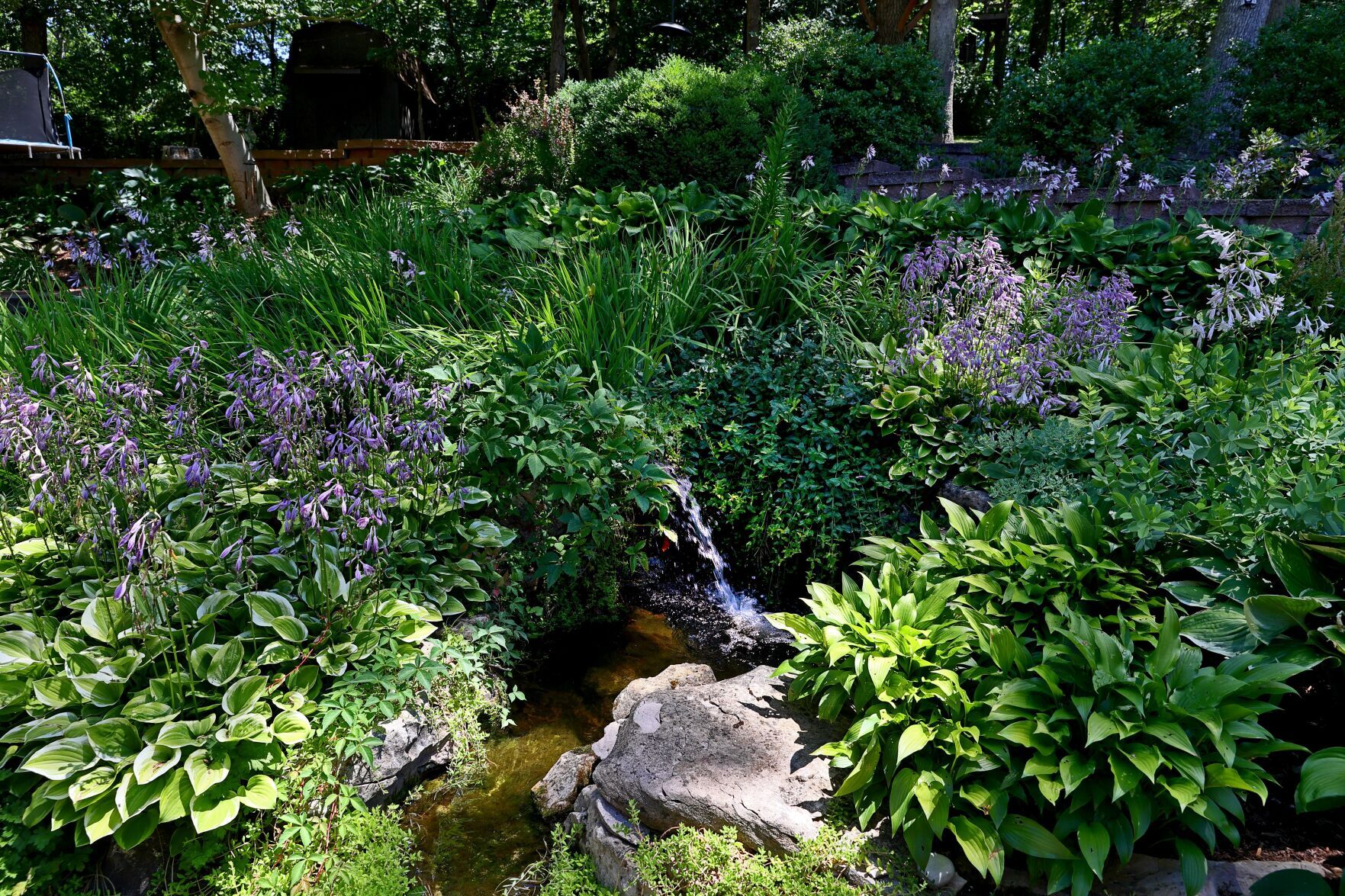 Marks spaces her flowers and plants so they bloom at different times of the year. Ground cover in spring. Early June brings orange daylilies, and later yellow daylilies.
"So there are just all these different flowers at different times. And all these hostas even that bloom at different times," she says. "It's a lot of work, but it makes it look really good. It really, truly is like a symphony, different colors at different times."
Above the hillside is an area that's relatively flat, where a fire pit, chairs and a treehouse with a zip line sit. Michael built that for his kids when they moved in. In the wooded part, Kathleen built a small Zen garden.
She calls the whole thing her "labor of love and work of art. … If I didn't do it, it would be a mess of weeds. … I just love the tranquility of it all. I love to read a book out here, drink wine, even work, have friends over. It's really like an extension of our house."
And with the string lights across the back patio and upper yard with zip line, fire pits and tiki torches, "this place is stunning at night."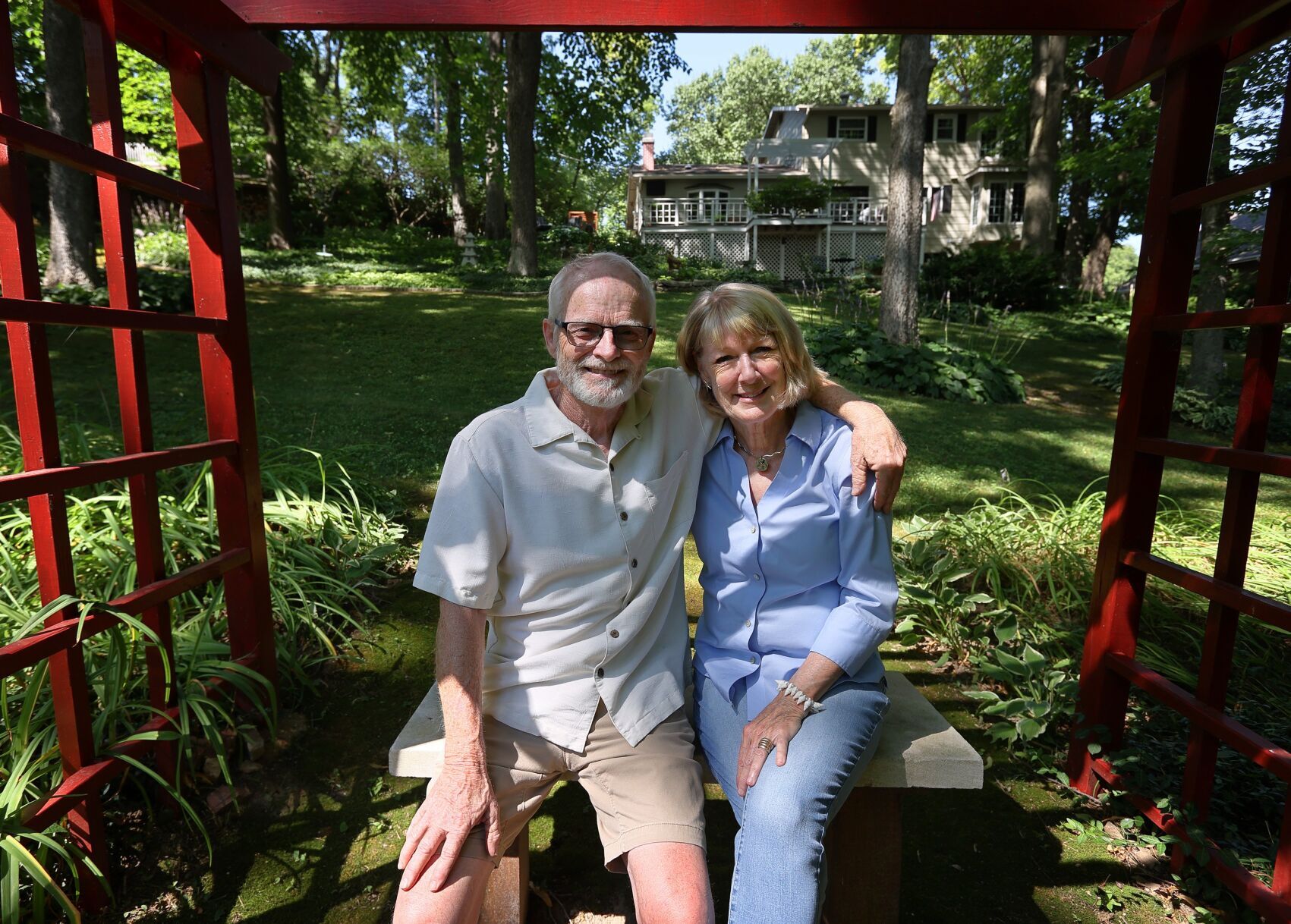 Labor of Leisure 
Karen Utt, 72, and Bob Utt, 73, of St. Charles
The Utts have a number of things in common with Kathleen Marks: their love of gardening, of course; a self-built playhouse in their yard; and that they'd entered our contest several times in the past. 
But the Utts' garden had never even been named a finalist. "I think it was the kind of pictures I was taking," Bob Utt says. This year, he entered a composite, a better way to show the vastness of his garden paradise. 
"What intrigued me about the Labor of Leisure garden were the pathways, which seem to invite you to take a stroll through this little shaded oasis," says judge Daria McKelvey, supervisor for the Kemper Center for Home Gardening at the Missouri Botanical Garden. "With the statues, pergola and Japanese-style lanterns, the paths gave the impression that there were many little treasures or things of interest to find along the way. Also, cool greens and grays of the hostas give a sense of respite from the summer heat."
Indeed, the Utts have 10 to 15 kinds of hostas along the paths, which are made of leftover brick from nearby buildings or concrete from a neighbor's driveway. The treehouse is made from their previous deck. "I don't like to throw things away," Bob says.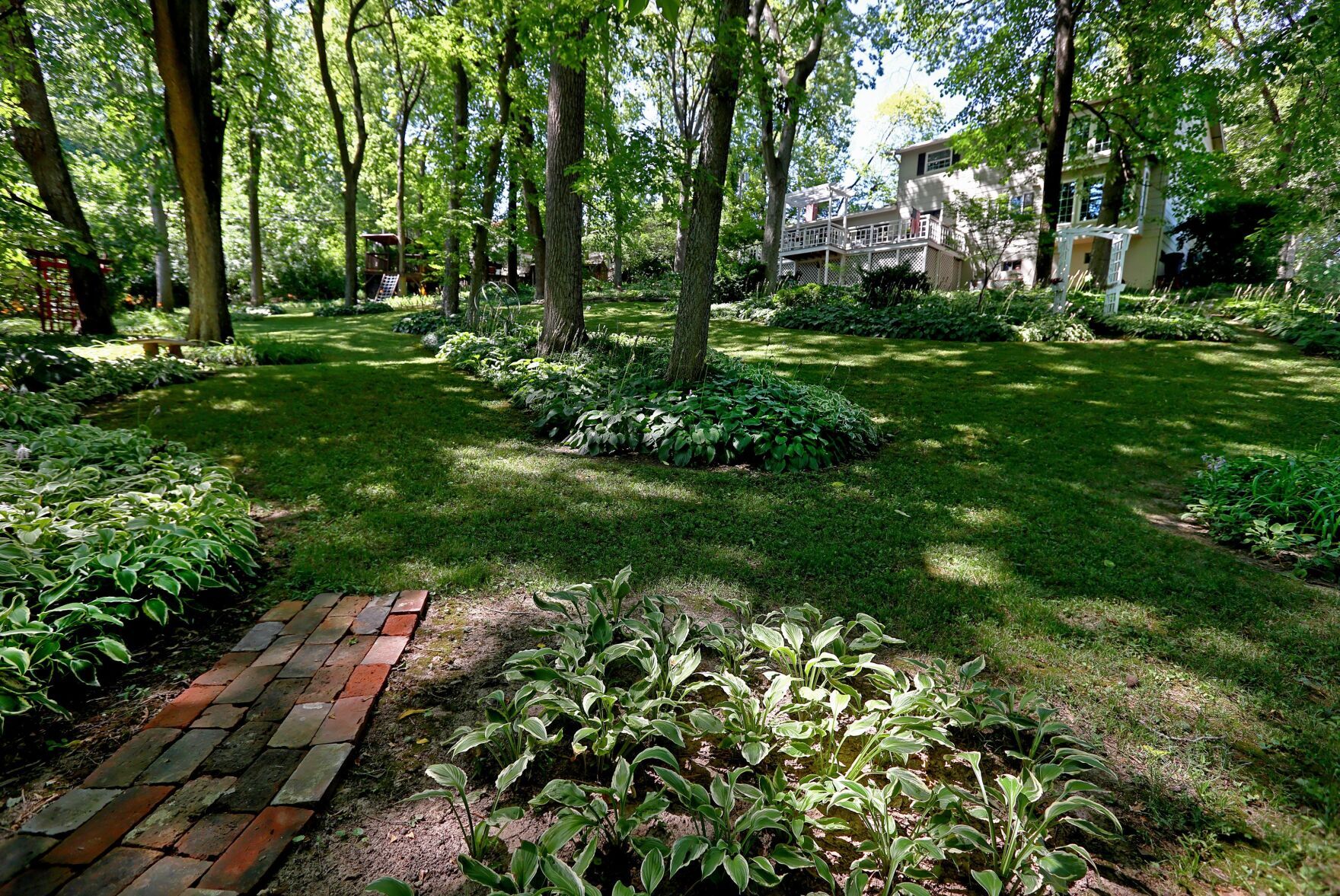 The Utts, both retired teachers, want their garden to be as low-maintenance as possible. It takes a lot of work, with the weeds in the spring and the leaves from the huge trees in the fall, but in the summer they don't even usually spend much time watering. "It would cost a fortune to water all this," says Karen, of the ⅔-acre property. 
They bought the house 34 years ago and knew the tree-covered backyard with a deck overlooking it was perfect for gardening. Karen is more the artist, the visionary for the garden, but Bob is the landscaper.
"For me this is like a gym," Bob says. "It keeps me in shape. It's also like a refuge; we site outside and drink wine." 
Nestled amid the ivy, periwinkle and daylilies you'll find statues (many from a shop in Weston, Missouri) and statues of pagodas or the Asian pergola that stands as the focal point at the back of the yard.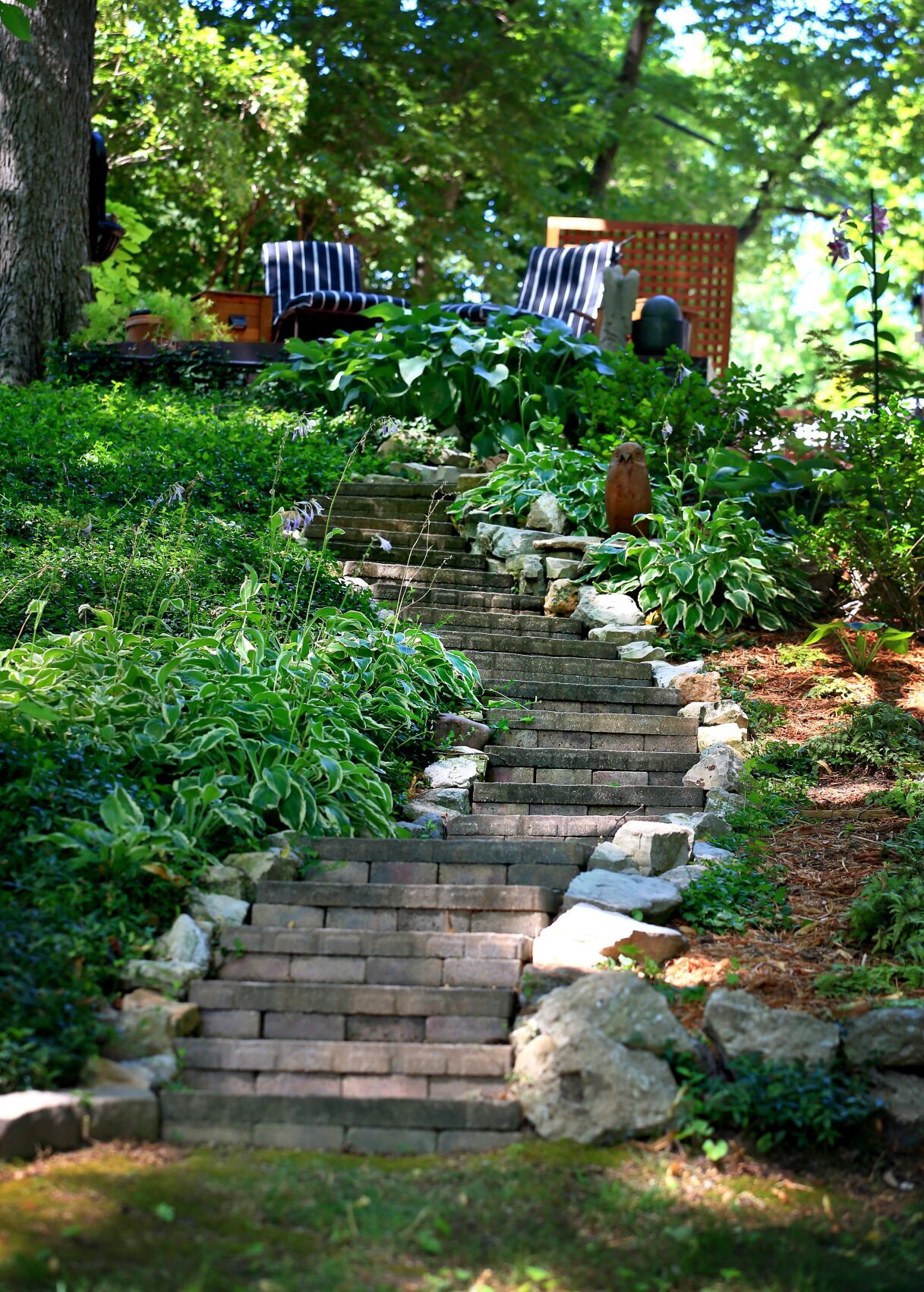 "My mother was into that Asian décor theme," Karen says. "I've always wanted to mix an Asian aesthetic with a woodland garden." 
One interesting thing about the shady yard is, when you look closely, many of the spots you might think are grass are actually patches of moss. Bob takes it out of the creek at the far end of the property and adds buttermilk and uses a paintbrush to brush it on the ground.
How did he come up with that? "I do a lot of research," Bob says. 
That research, hard work and vision paid off for the Utts. "We sit here and are just so thankful for this gift," Bob says. 
Great Garden Contest runners-up
Runner-up: Tom's Garden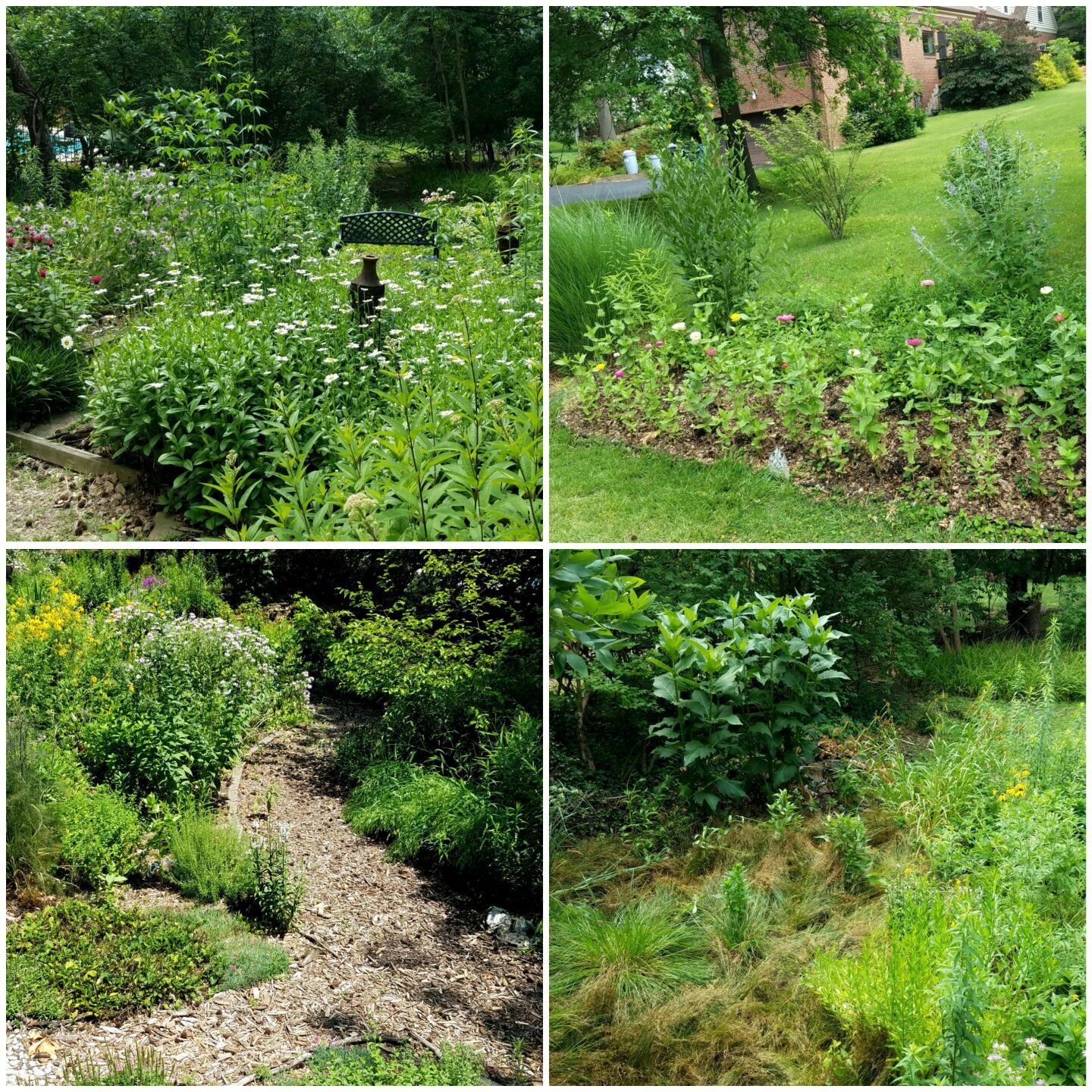 Runner-up: Soulard Beauty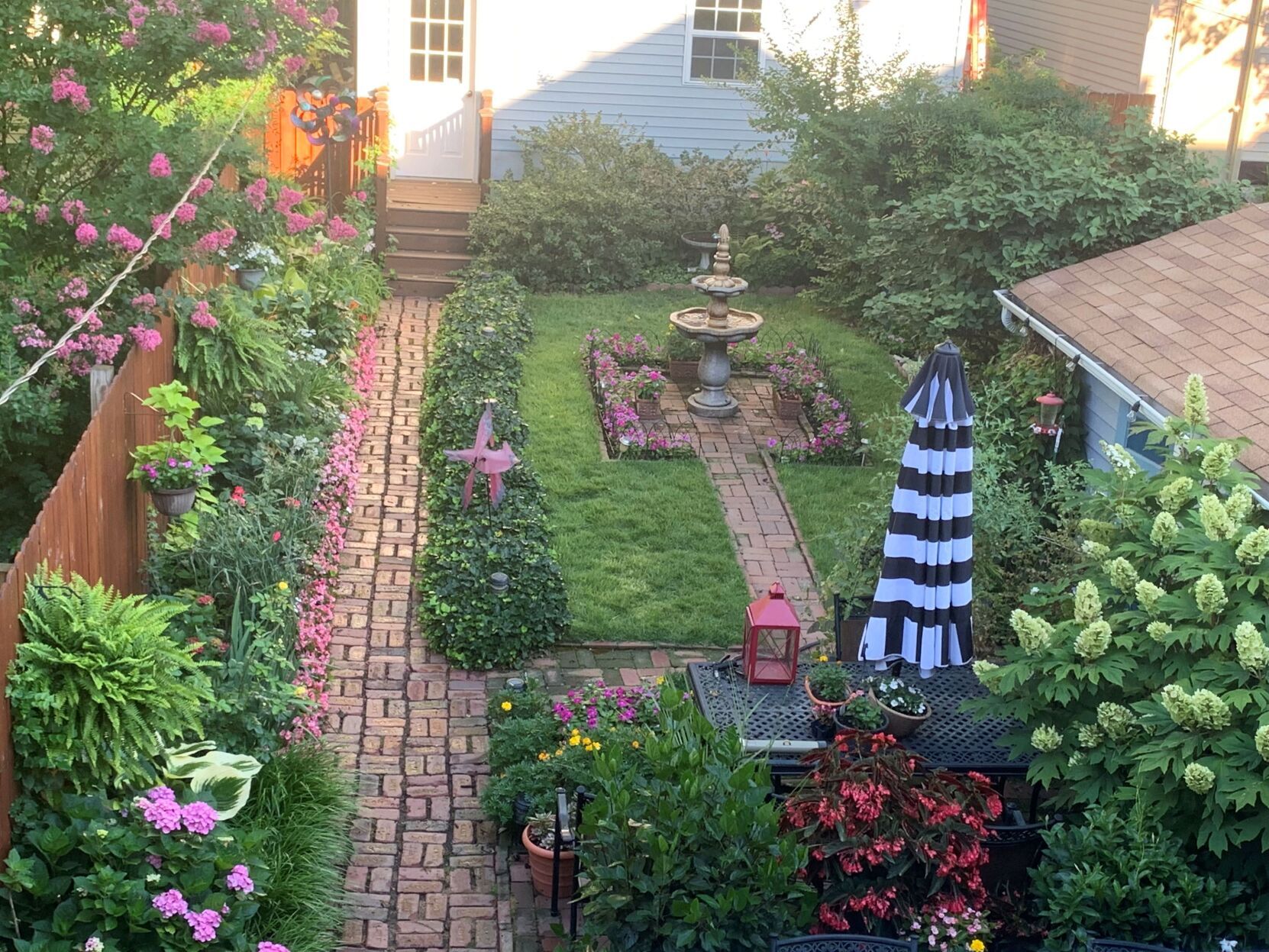 Runner-up: Heise Backyard Oasis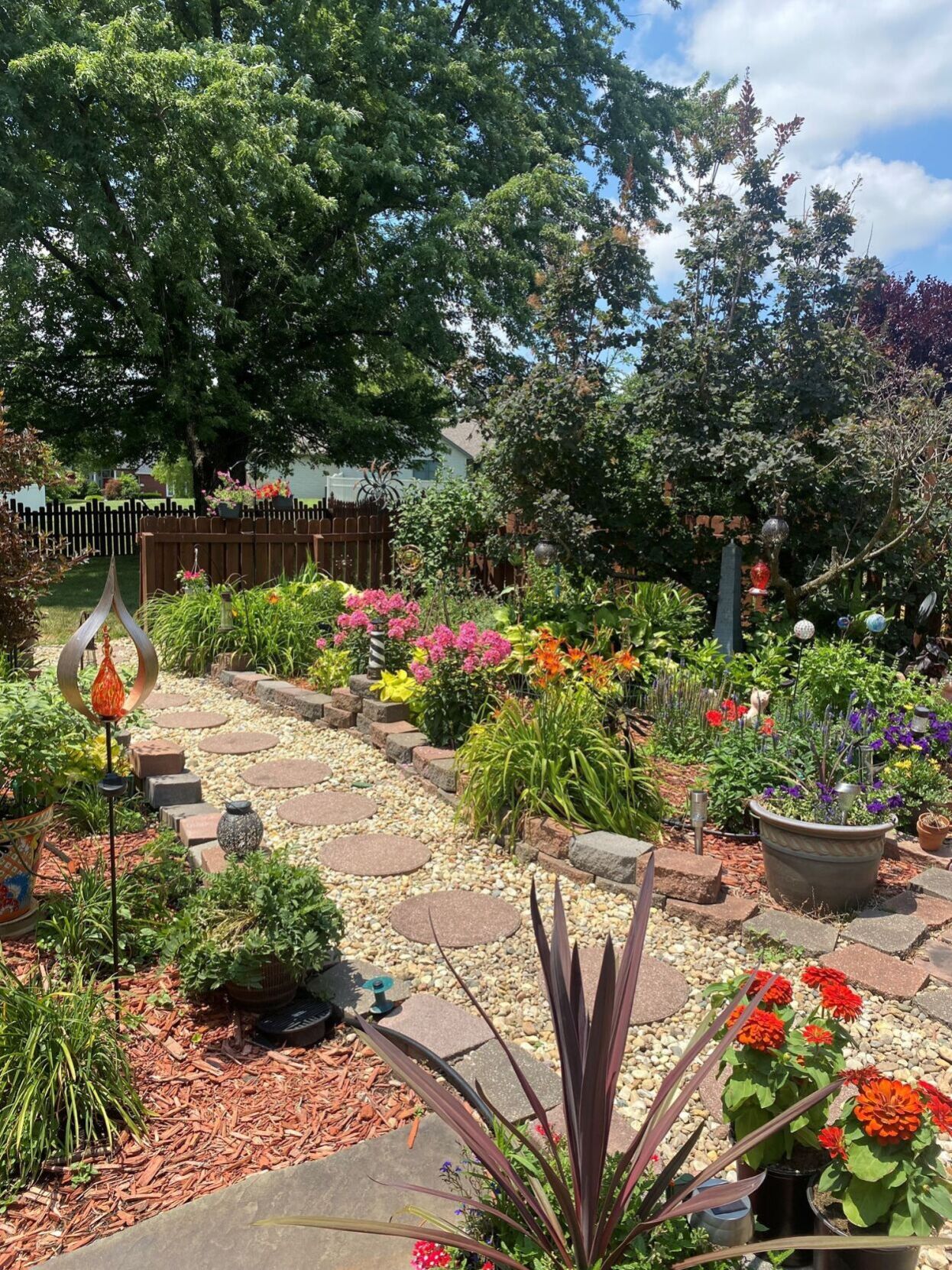 Runner-up: Peaceful Place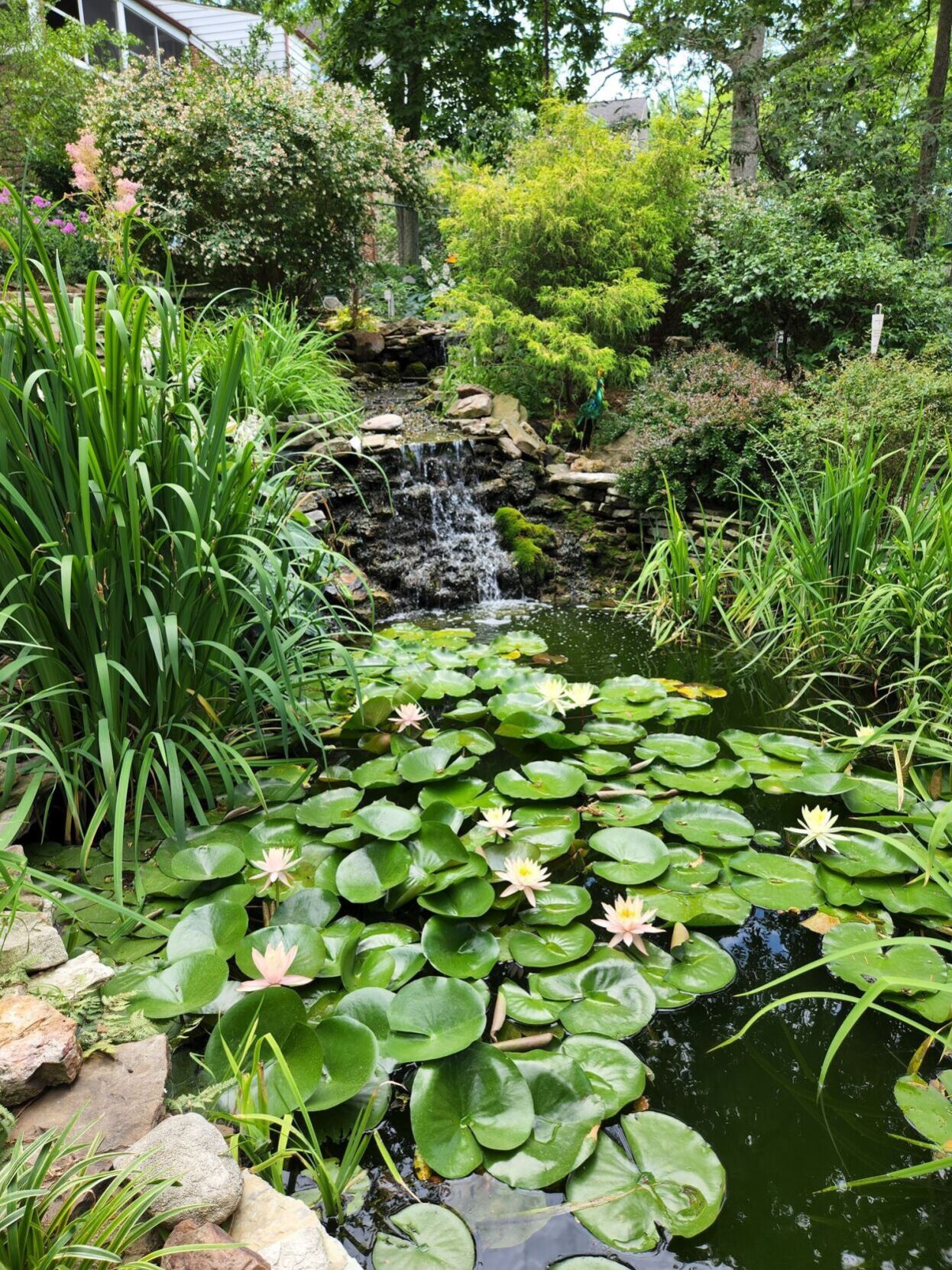 Runner-up: My Acre Sanctuary