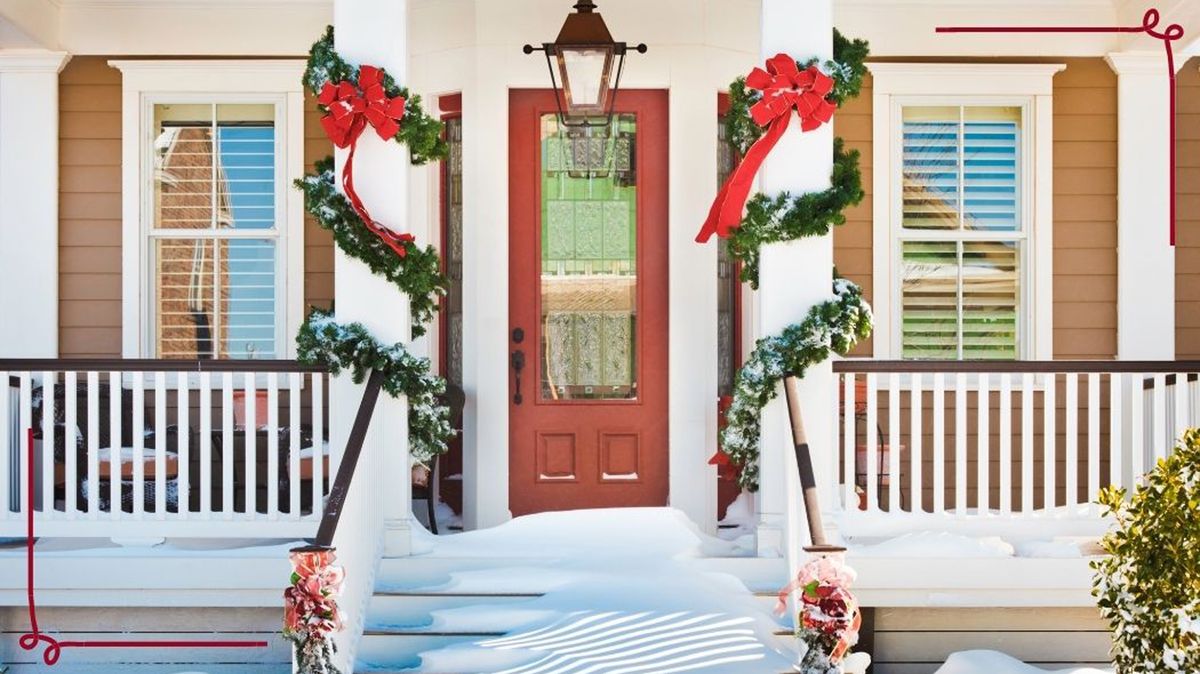 Outdoor Christmas decorating ideas for a festive touch
Christmas curb appeal has become an integral part of creating an inviting festive holiday home. From twinkling lights and decorations to foliage and festive characters, there are plenty of outdoor Christmas decorating ideas to choose from.
As we turn our attention to this year's Christmas decorating ideas, increasingly we are seeing our house exteriors playing as big a part in our festive decorating schemes as our indoor Christmas tree decorating ideas.   
There's an outdoor decoration idea to suit all, meaning that you don't need to spend a fortune on illuminations to rival landmark locations. You can keep things simple and still create a wonderful festive welcome because a little can go a long way to set the scene to greet guests in style.
10 outdoor Christmas decorating ideas to try in 2022
"Customers are utilizing all areas of their outside space, not just the front of their house for outdoor Christmas decorating ideas," explains Jason Billings-Cray, Christmas buyer at John Lewis & Partners (opens in new tab). 
"Fun walkways for friends and family are hugely popular, with large reindeer taking pride of place in the center of a display and smaller penguins offer a pleasant surprise for visitors when lining a path to the front door. Back gardens are being lit up too making the most of a space which can typically be much less used in the winter months."
Here are 10 ways to wow with the best outdoor Christmas decorations for this year's holiday season.
1. Choose a starry theme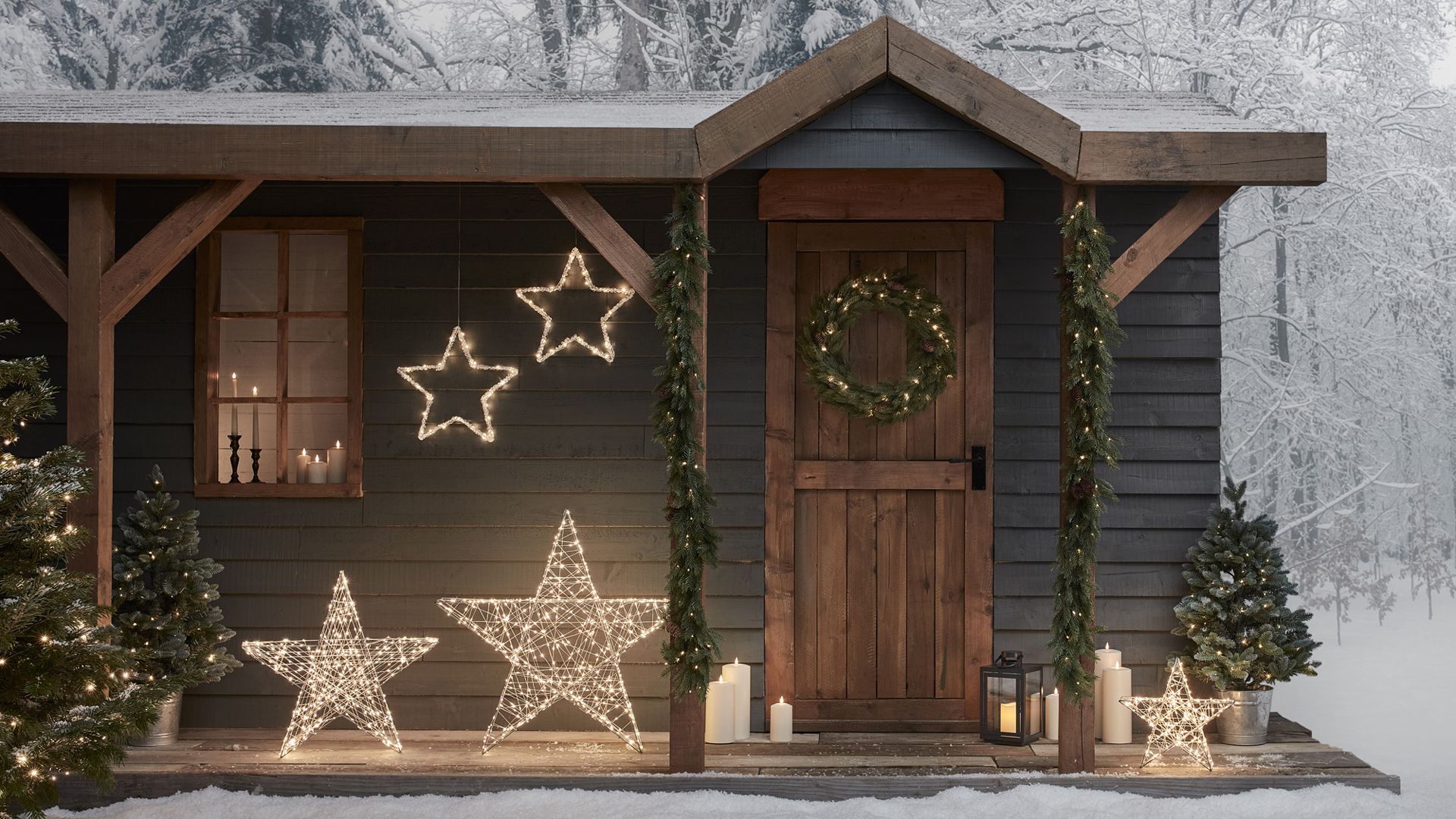 Just as your indoor Christmas look has its own theme, follow the same thought process when choosing the best outdoor Christmas decorations too. Something simple like a star silhouette works well and allows you to bring in different sizes as well as three-dimensional and flat versions of lights and decorations. 
Think about the backdrop to your outdoor lights; a darker wall, door, or fence will always make lights look extra twinkly at night than lighter colors.
2. Hang a captivating door wreath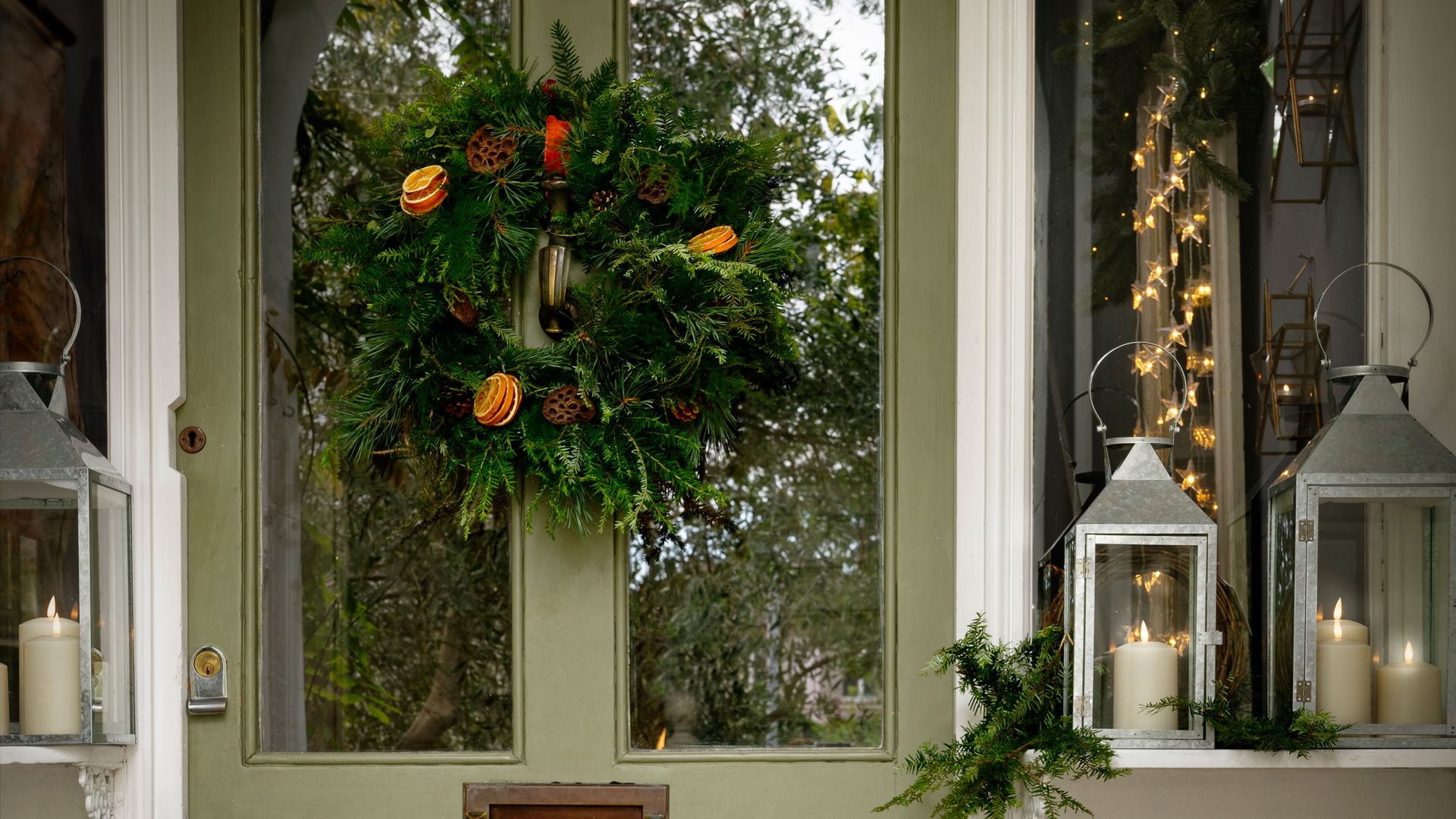 A wreath hung on the front door is the most classic way to add decoration to any home – so simple yet so effective. From a DIY Christmas wreath-making kit using fresh foliage to one of the best artificial Christmas wreath designs, all styles are sure to make a passerby smile. 
Give last year's Christmas wreath a refresh and new look for 2022 with a few hero Christmas decorations as an easy way to jazz up a plain wreath. Choose three decorations – odd numbers always work best when it comes to styling – that echo your indoor Christmas tree trend, and either attach with florist's wire to the center of your wreath or hang from the door knocker. 
An off-cut of ribbon provides the finishing touch; if you haven't enough to tie a lavish bow, keep things simple with just a tie, but don't forget to snip the ends to a 45-degree point to prevent fraying.
Look out for your local florist hosting 'make your own wreath' workshops for a fun pre-Christmas evening with friends to make the experience more sociable.
3. Dress windows for wow-factor
At this time of year, decorations appear on the windowsills of homes across Scandinavia, with paper decorations, twinkling lights, festive stickers (such as the window sticker designs (opens in new tab) shown above from Ginger Ray), and ceramic houses intertwined with foliage. Windowsills are often overlooked when it comes to how we decorate for Christmas. 
Sara Bird (opens in new tab), interior stylist, and author loves decorating windowsills for Christmas. "While they aren't strictly outside, it's important to remember that visitors and passersby will see them. Make large paper snowflakes to hang for a simple display – you could even recycle wrap or newspaper – just fold, snip into shape and hang,' she shares.
4. Create layers of light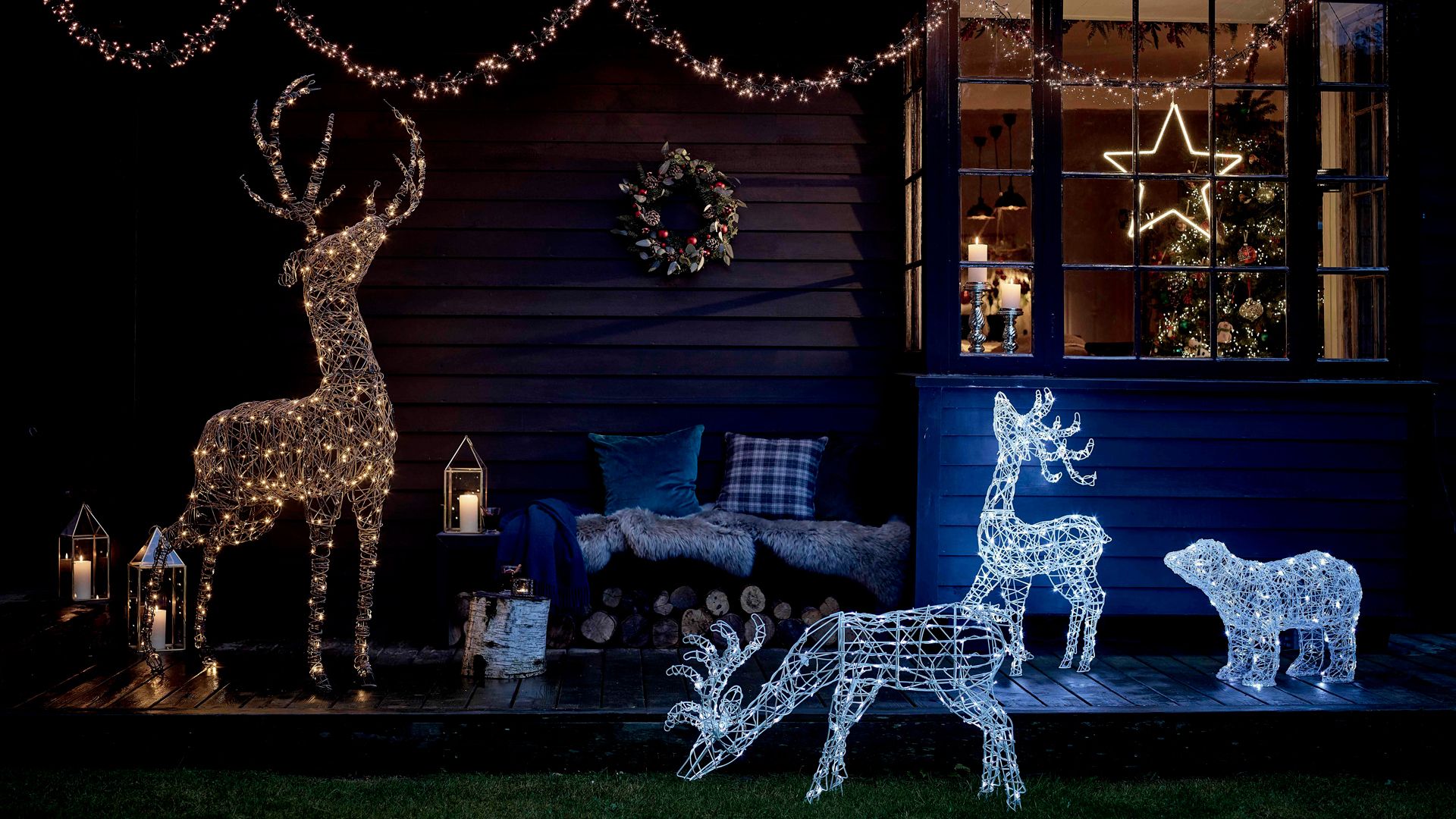 For an outdoor lighting scheme that really shines, don't just pick one light decoration. Just as you can build up layers of light inside, do the same outside. This is the holiday season to illuminate the outside of your house to a standard that Clark Griswold could be proud of.
A garland or string lights hung across the front of your home add a soft glow, while statement pieces, such as your light-up reindeer and friends, bring the light down to floor level. Candles and lanterns add to the warm atmosphere and enhance the display. 
5. Decorate outdoor trees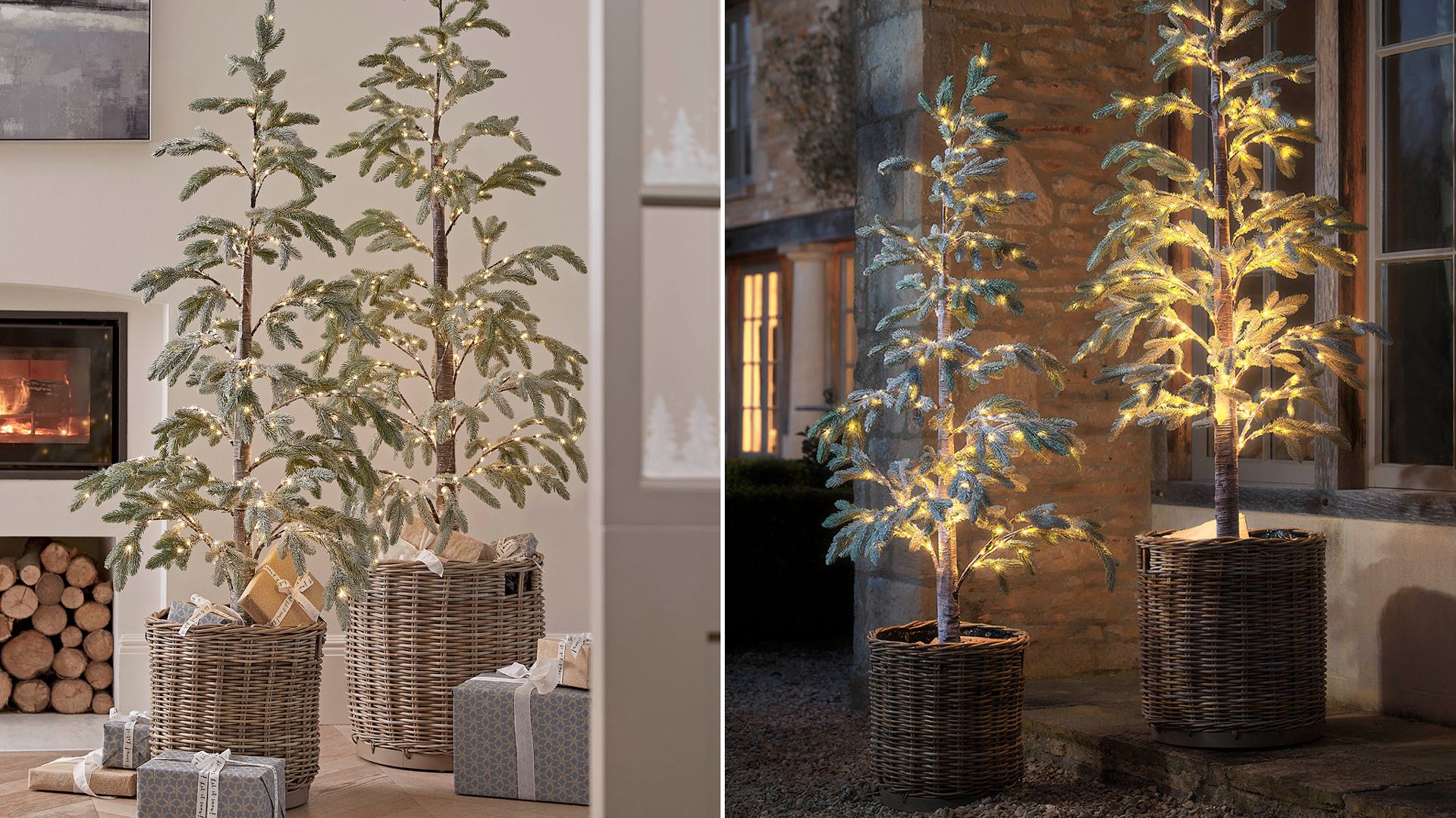 Decorating exterior trees with simple twinkling lights is an easy but wholly impactful way to dress the outside of a home. Look out for a pre-lit tree that can be used inside or out, doubling your options for Christmases to come. "Impressive indoor and outdoor pre-lit trees will create the festive-fabulous impression year after year," says Dani Taylor, creative & product director at Cox & Cox (opens in new tab). "Try positioning a pair outside either side of the door for a magical welcome as guests arrive at your home."
Choose a design with plenty of lights pre-attached, making it easy to illuminate your porch. You can add extra decorations to embrace a Christmas tree theme or color, but often the twinkle is ample.
6. Drape decorative garlands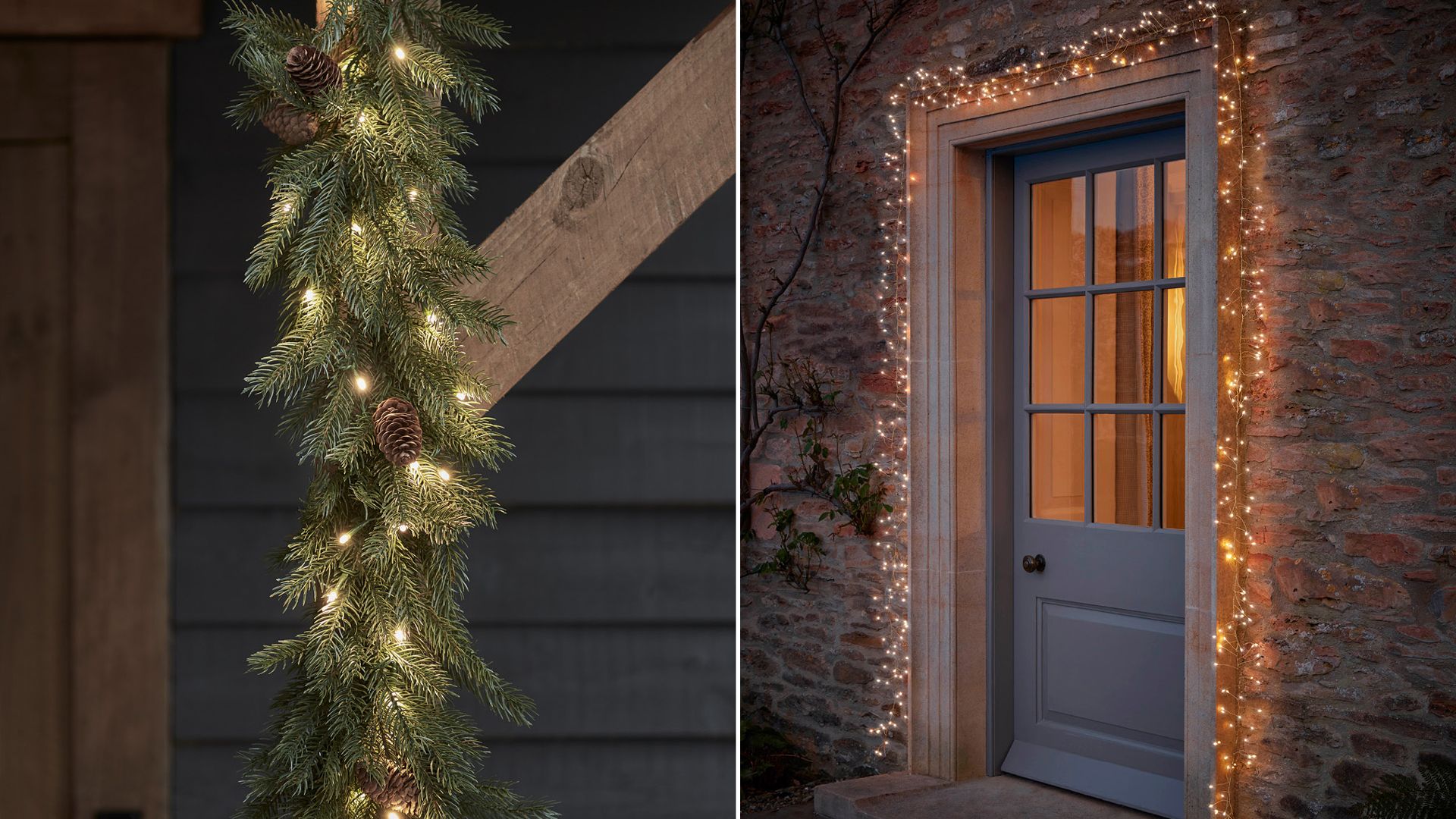 When it comes to decorating the outside of the home, there's no doubt that garlands offer the best coverage – plus they are an easy way to drape decoration around any door or porch. 
"I love the way garlands decorate the entire front of the house, starting with the fences all the way up the beautifully manicured lawn to the showstopper front door, which opens to reveal a beautifully decorated hallway and beyond," says Dani. "This year, we've introduced a front door light kit (opens in new tab) as an alternative solution to foliage, ideal for draping around the door frame with ease."
"Outdoor lights will transform the entrance into a fabulous, festive grotto that will brighten the day of anyone who has the good fortune to walk through a doorway adorned in lights," adds Dani. "Use weatherproof and battery powered for easy transportation and installation."
7. Place a blanket of twinkling lights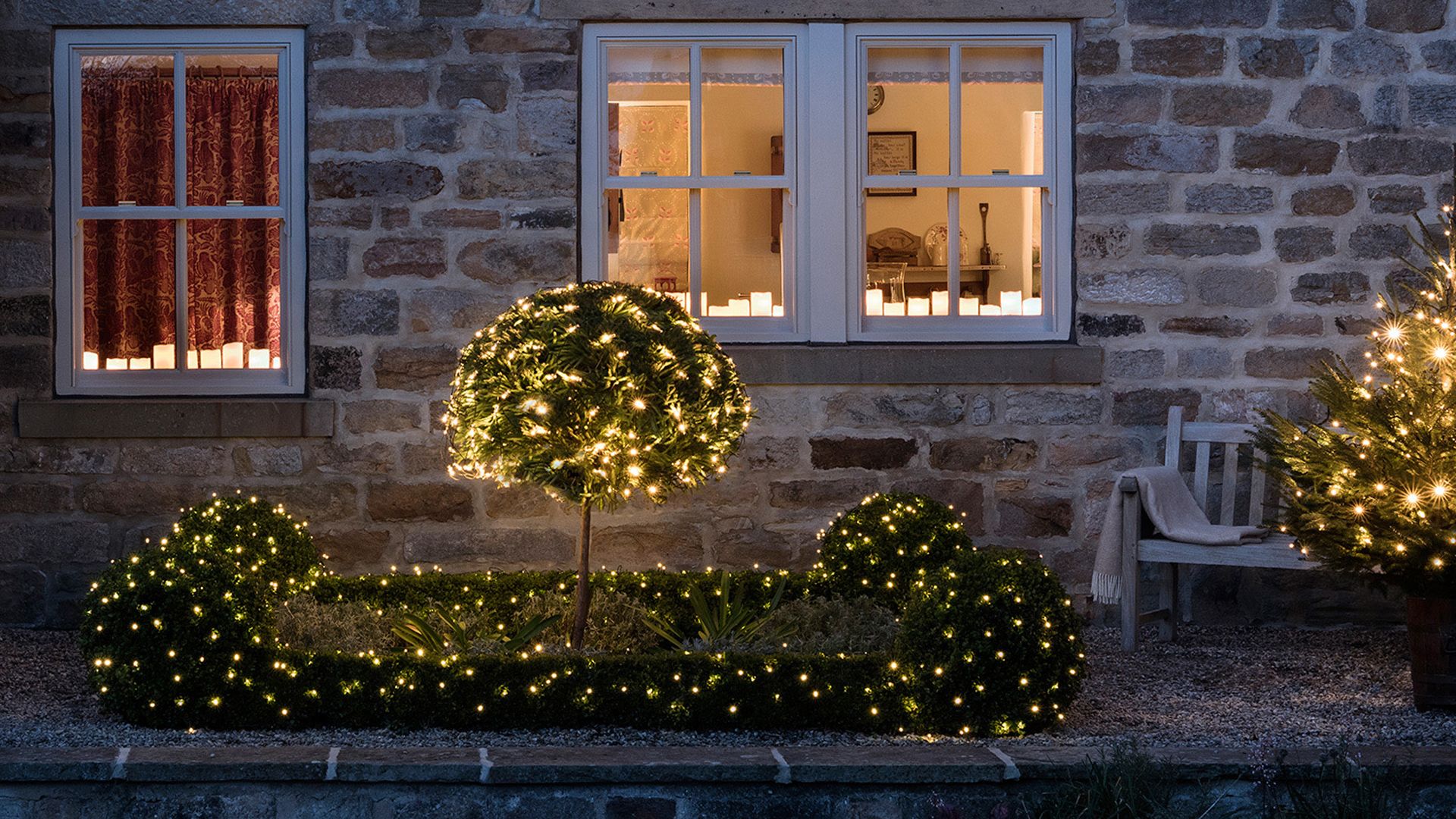 Having spent all afternoon making your indoor tree perfect dressed with the best Christmas decorations and Christmas tree lights, the last thing you want to be doing is battling with tangled sets of string lights to recreate the same festive magic outside. But fear not, for that there's an easy lighting solution by way of net lights. 
Connectable net lights are such a simple yet effective way to add a delicate glow to shrubbery and offer maximum coverage, which is vital for outdoor decorating to make maximum impact. 
Simply join together sets of lights to create your desired lighting effect. Your garden will be transformed into a magical festive haven when dusk falls and make for a glowing entrance throughout the winter months.
8. Try out new on-trend door treatments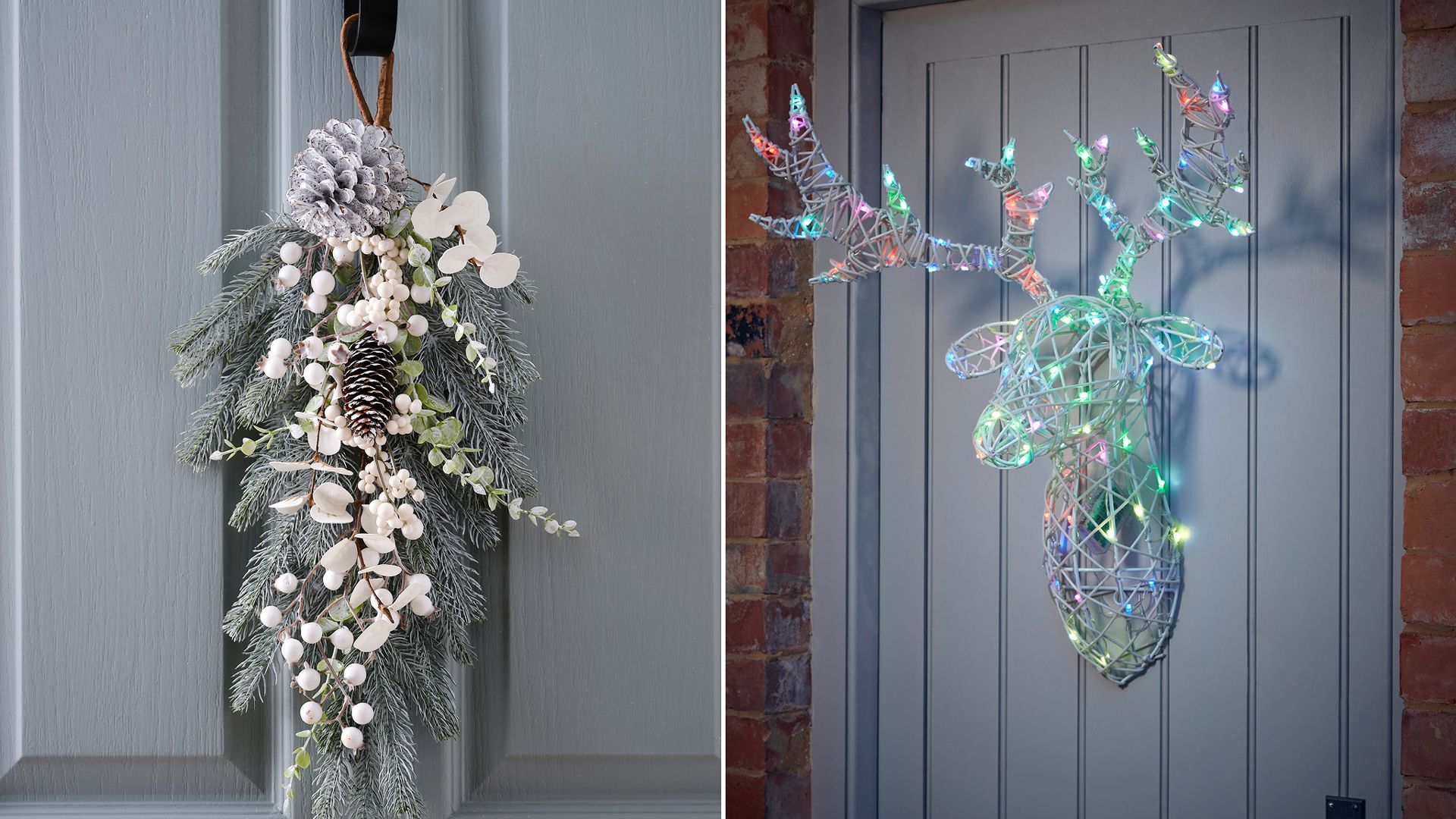 If you fancy trying a new look this year swap your traditional wreath for something different. Hanging swags, which can be bought ready-made using faux foliage swags or made from fresh greenery foraged from your own garden, are the latest trend for outdoor Christmas decorations dressing doors. 
Swags can be hung with ease from an over-the-door hook or your door knocker. They can be enhanced further with extra Christmas decorations.  
Or what about a color-change illuminated deer as a statement alternative to a wreath?  "We're seeing more and more colored lights appearing," says Dani, "like our  Light Up Stag Head (opens in new tab)." This striking stag is sure to be a great conversation starter when your festive guests come knocking. If you do use a statement multicolored piece like this, you might want to tone it down by accompanying it with neutral decorations or subtle, white lights.
9. Stage a festive scene with gifts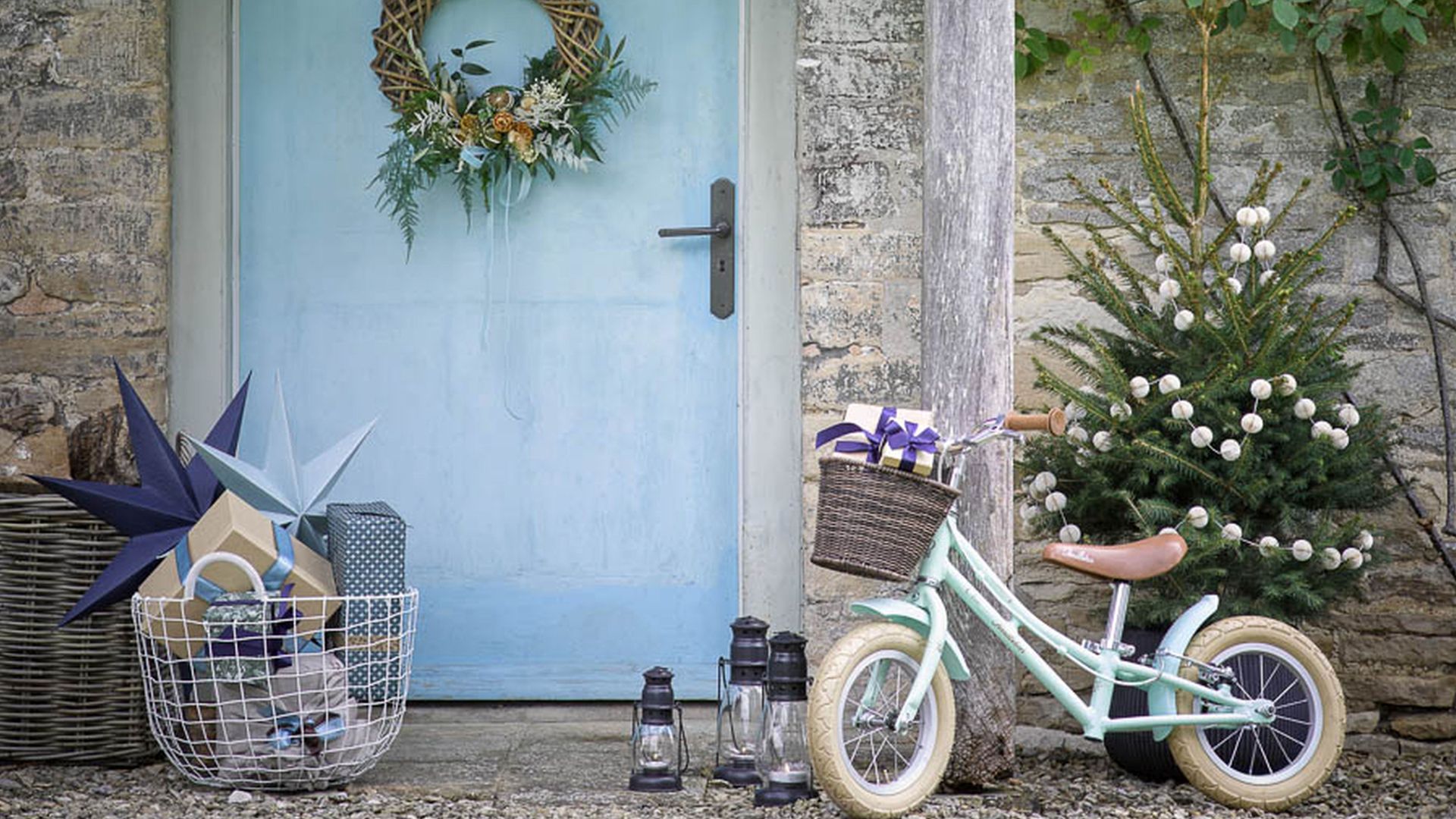 For a beautiful festive moment at your front door, try adding baskets of wrapped boxes to look like presents, while a tree trimmed with a garland or two and a wreath bring in plenty of greenery.
A staged present area used for purely decorative measure makes a lovely backdrop to any outdoor gifts, such as a shiny new bike – perfect for capturing those moments with a lovely photograph.
10. Round up your herd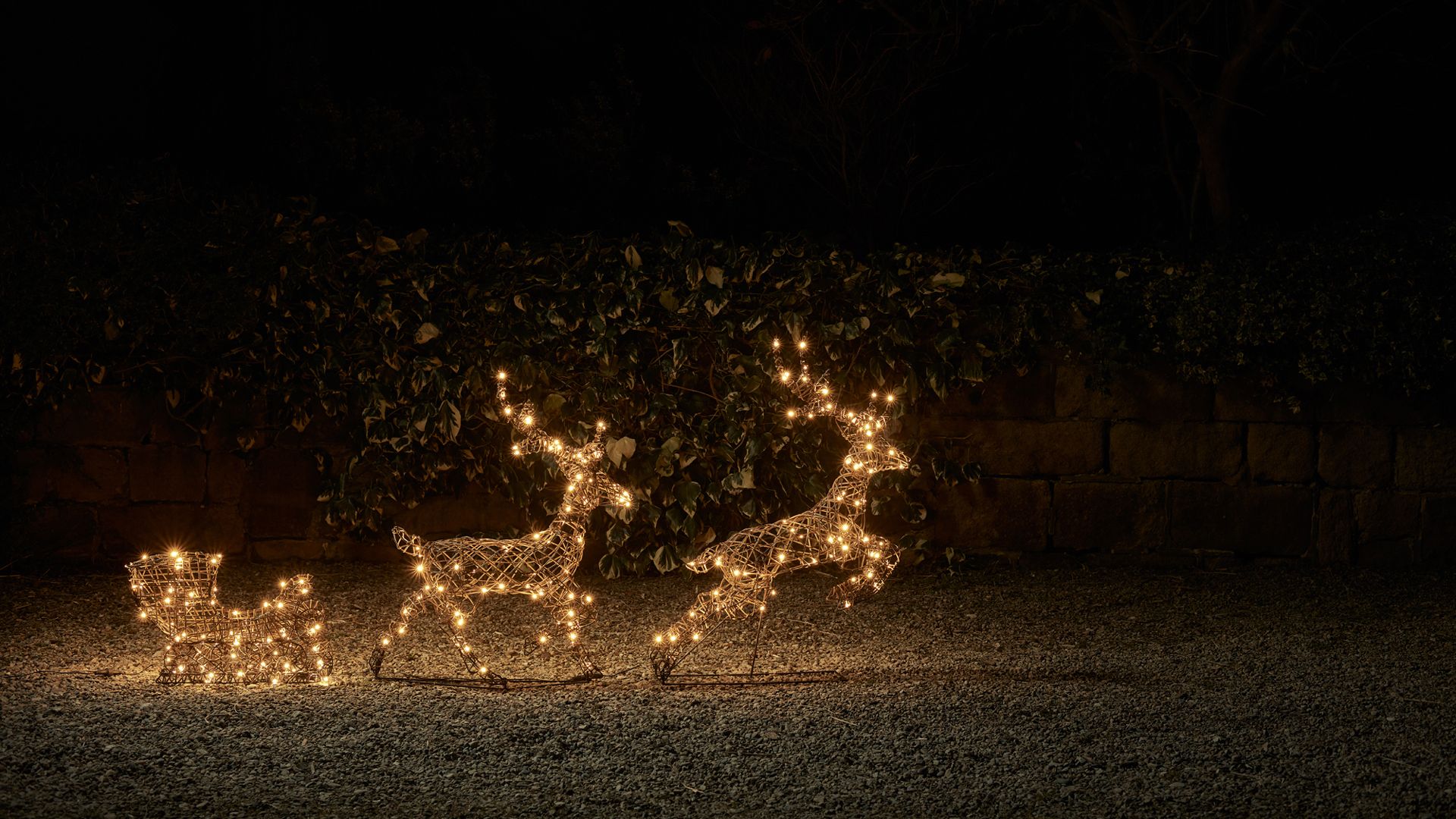 Illuminated reindeer and figures are big news for Christmas 2022. Why not set up a family scene away from the front of your house, either at the bottom of your drive or in your back garden? Both will look magical as the light fades. 
We love this rattan Studley reindeer family at Lights4fun (opens in new tab), as a scene that will seamlessly blend in with the natural winter tones of your garden and bring your outdoor space to life this Christmas time. For those looking to make more of a statement, there's a wealth of novelty cats, dogs, lamas, and more as colorful outdoor figurines to add a fun touch to any exterior.
How do you decorate outside for Christmas on a budget?
For a budget decorating solution Sara loves using foliage. "Simple foliage is far less expensive than flowers – and free if from your own garden, and it usually lasts longer. If you don't have access to much why not do a foliage swap with friends? Generally, whatever is growing in season is more readily available so is in shops for less."
"If you're planning on decorating your home with festive lights, I'd suggest starting with simple string lights if you're on a budget," says Jason. "Classic and simple string lights are synonymous with the season and can be combined with any statement lights you buy in the future."
Of course, nothing beats a wreath – even last year's artificial one can be jazzed up on a budget with baubles, ribbons, and foraged garden foliage.
Net lights are a speedy solution, just tuck them into foliage or hook up underneath a porch. But there are also kits available with all you need to make your front-of-house shine.