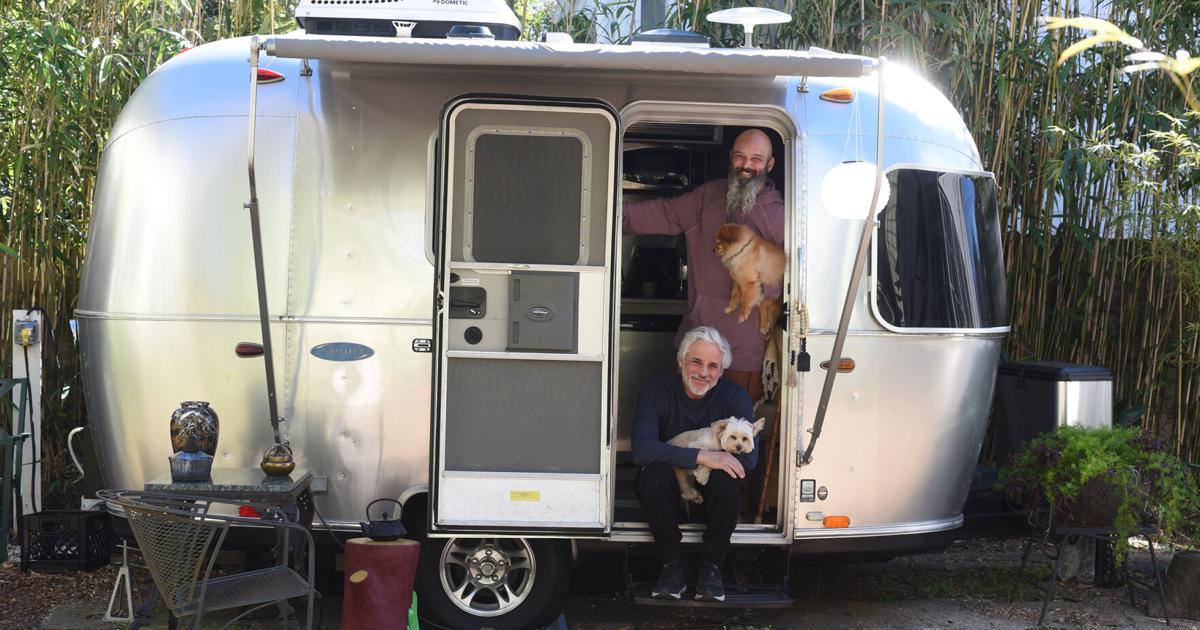 Soap actor Christian LeBlanc comes back from LA for repairs to Ida-damaged Garden District home | Entertainment/Life
"When asked where I'm from, I always say New Orleans," said actor Christian LeBlanc, "even though I've lived in Los Angeles longer than anywhere else. For me, home isn't geography; it's a feeling. My home is always going to be New Orleans."
Since Hurricane Ida, however, his literal home has been unoccupied. LeBlanc's historic Garden District house suffered catastrophic damage in the storm, just months after a multiyear renovation had been completed.
LeBlanc and his husband, Sid Montz bought the house eight years ago.
These days, LeBlanc has been bouncing among short-term rentals, hotels and a condo in Los Angeles, where he works filming "The Young and The Restless." He's played the lead character of Michael Baldwin on the soap for 30 years. Meanwhile, Montz is encamped in a tiny but chic Airstream "Bambi" in their backyard.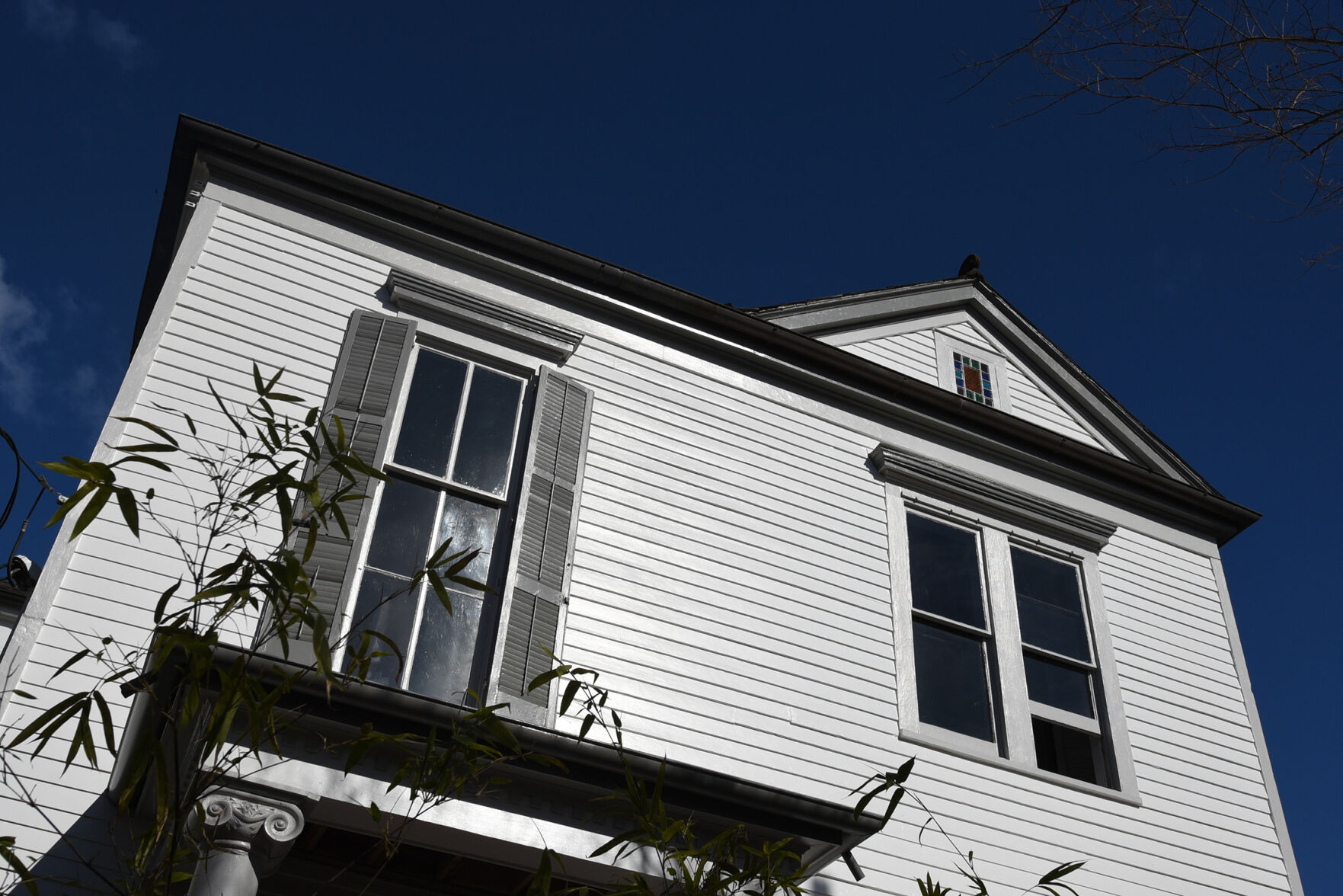 During and after Mardi Gras, however, LeBlanc has been in town coordinating with adjusters, taking some of the weight off of Montz. 
Montz has been managing the endless claims, inspectors, gutting, packing, downed trees, moving, hiring sub-contractors and filling the dumpster with belongings and architectural elements that couldn't be saved.
Still, despite the loss, LeBlanc is quick to point out that he's luckier than most.
The worst part about Ida for the couple, LeBlanc said, was that he was in Los Angeles during the storm and its aftermath, unable to help Montz during the arduous moving and debris removal in a city without electricity. At the time, due to COVID-19, LeBlanc was quarantined in Hollywood filming the soap.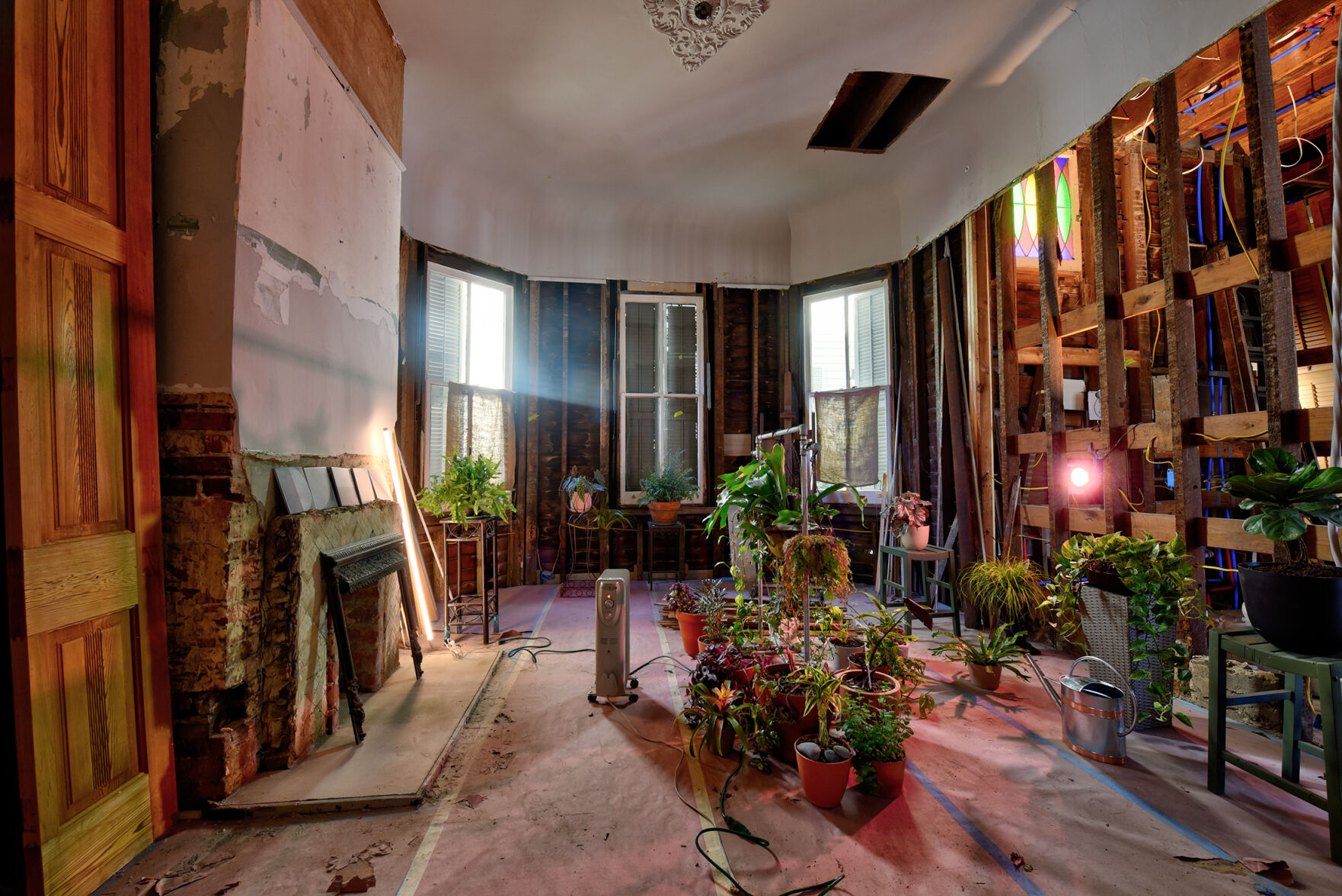 Historic-home complications
The fact that their home was built in the 1890s has complicated their rebuilding process. Multiple owners and early additions have resulted in a roof with several pitches and myriad different materials, including the original slate. At the moment, the couple is awaiting yet another roofing inspector — the last one forgot to bring a ladder to the two-story dwelling. They're hoping for one who understands historical roofing materials and 19th-century construction.
As for many area homeowners, the inability to repair or replace a roof is a major stumbling block to rebuilding. During the hurricane, water poured down the sills and along the rafters, drenching the original plaster walls and ceilings on both levels.
Much of the damaged lime had to be removed, and exposed lathes are visible in every room. The double parlors' delicately coved plaster ceilings survived but are now rapidly deteriorating and will need to be removed and recreated.
First, however, slates must be laid, and the house made watertight before they can start the search for plaster artisans.
Practicalities that could be addressed are in progress. With walls already open, the house is being partially rewired, and new plumbing roughed-in where needed. The tile floors, vanities and tubs of the downstairs bathrooms survived, but second-floor baths were a total loss and had to be gutted to the studs.
Necessity calls for a new kitchen where cabinets and walls had to come down. They've decided to leave it open and repurpose a sunroom into an adjoining dining room. 
Changing points of view
In the long months waiting to rebuild, Montz chose to have the water-damaged cypress doors and architectural elements stripped of decades of paint. The original plan was to repaint, although now, they are not so sure.
Adapting to the feel of the now-empty house has given the couple time to rethink visual elements, and simplicity is winning out. After seeing the beauty of the bare cypress, they are considering leaving some of it in its natural state. In the same vein, tiles that fell off a bedroom fireplace surround may evolve into polished cement.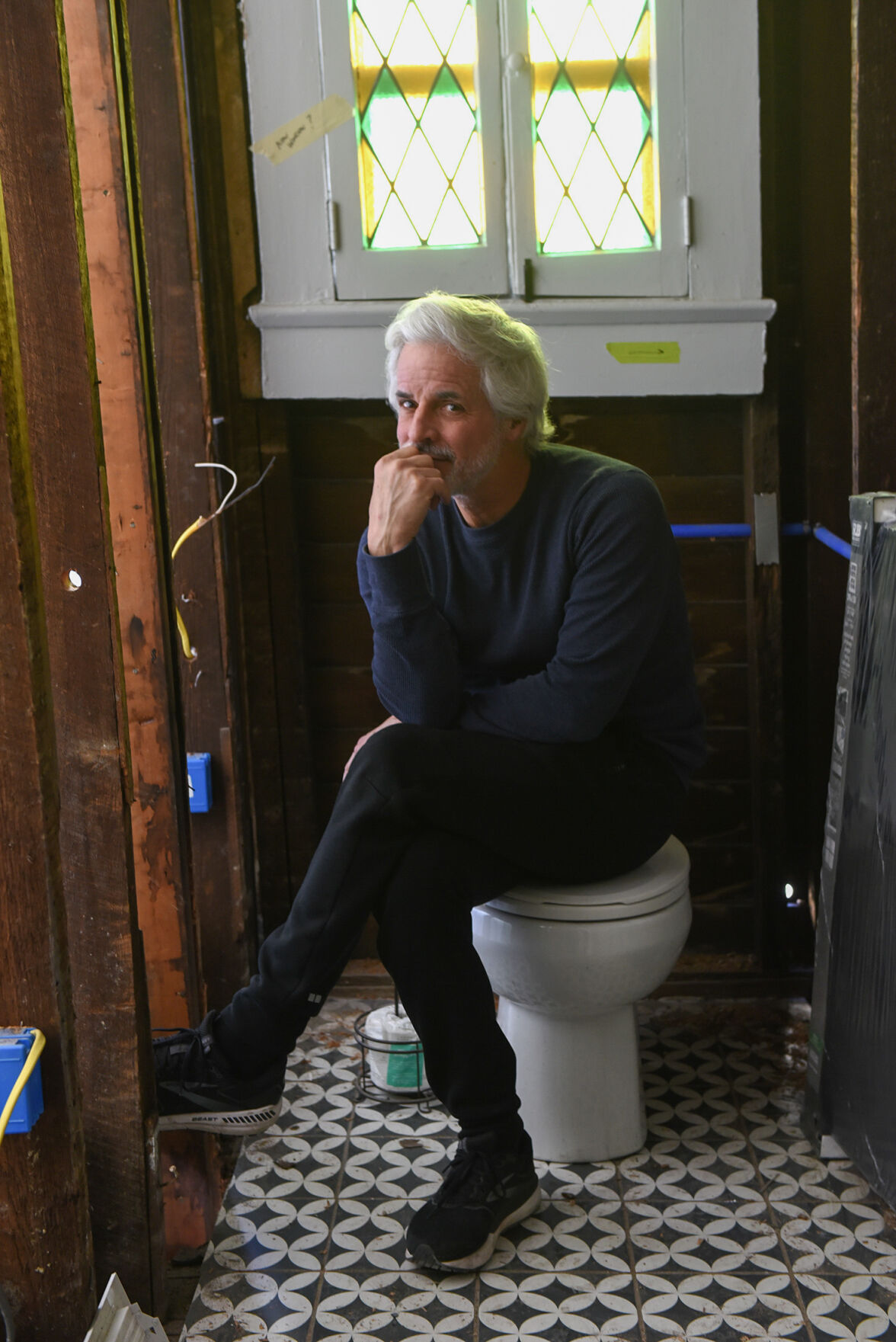 They're both enamored with their house, and while progress is slow, they continually discuss the latter stages and imagine how the house may look when finished. To that end, even without walls, images of Japanese ukiyo-e style paintings in muted shades inform a mood board of paint chips taped to several exposed studs.
Montz, a secular Buddhist monk and art director, has persevered amid the post-hurricane chaos and is finding joy in the madness. He refers to his mindset as wabi-sabi, the traditional Japanese aesthetic of accepting beauty in transience and imperfection.
In that spirit, he has turned the couple's bedroom and former art studio into temporary greenhouses and staging grounds for construction.
Montz may have had to live in the yard since early September, but he hasn't lost his artistic flair or sense of humor. He's wallpapered his trailer entry in Spoonflower's navy "Alien Abduction" flying saucer Toile De Jouy, an unexpected touch of whimsy leading to a small Buddhist shrine in the teensy kitchen.
It's a contrast to the home's interior. LeBlanc, an amateur historian, spent his earliest years in a plantation house his parents rented on River Road near Houmas House. The furnishings in LeBlanc and Montz's home are a combination of inherited pieces from both their Louisiana families, fitting LeBlanc's interest in history.
"The interior of our house is typical Louisiana; you walk through and see our family furniture. For example, we own my mother's antique mahogany bed purchased at an estate sale decades ago."
He explains that they needed an old house with high ceilings to fit the sentimental pieces that don't fit inside modern construction.
More to come
The two also have restoration plans for the two-story carriage house. The French style of its arched doorways, elegant shutters and curved staircase suggests that the structure pre-dates the home.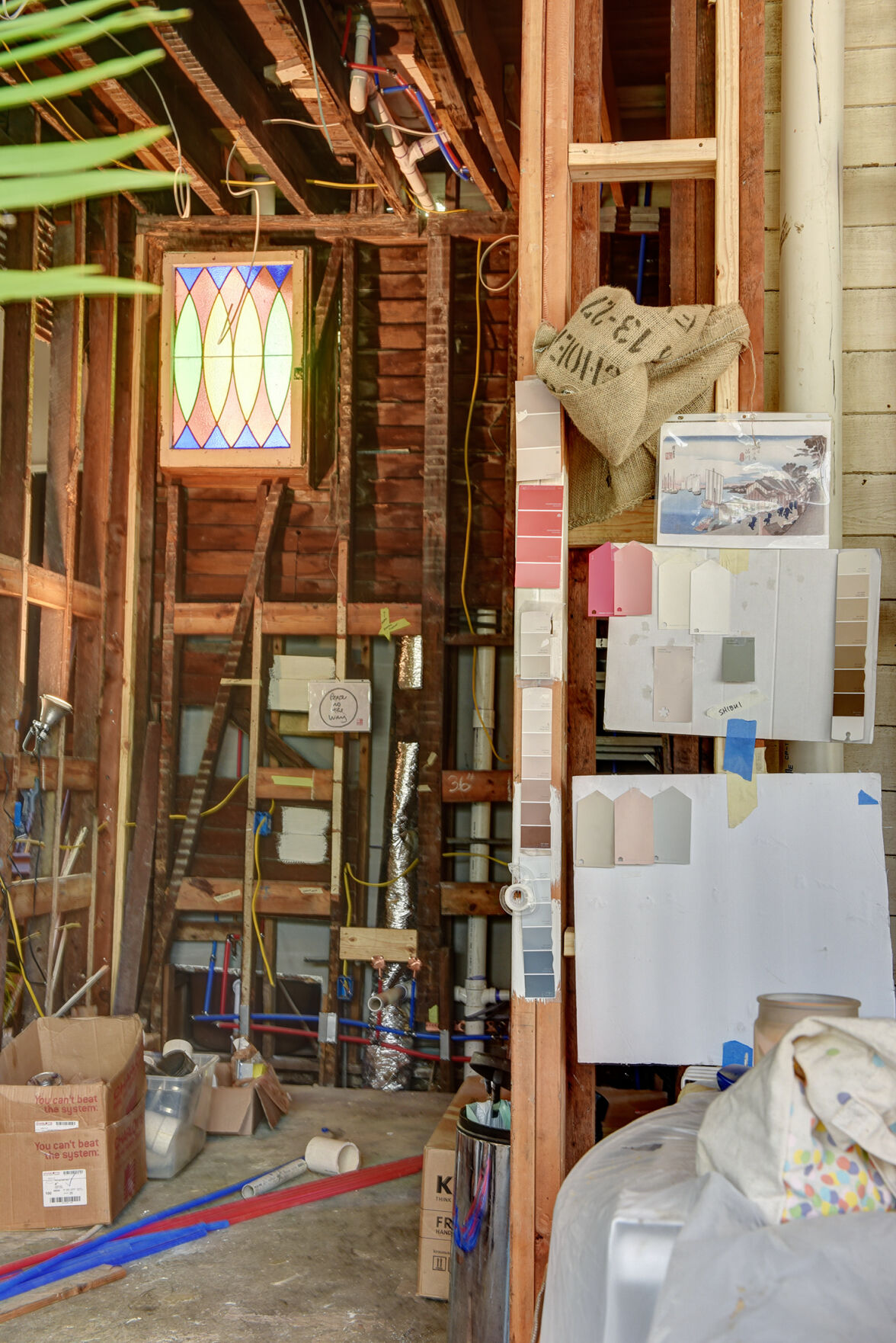 The carriage house may be transformed into an art studio for LeBlanc, who's also a painter, and the stable into a personal yoga and meditation studio for Montz. But for now, the main house is the focus. It's been gutted, and the requisite dumpster is holding court in front of the porch.
Throughout the stalled and ever-changing project, the couple's construction workers have fallen under Montz's spell of calm. The interior of the house's walls and studs hold colorful notes citing uplifting Buddhist messages alongside electrical maps. Accordingly, the once loud crew has learned to practice mediation and respect silence and stillness at the ringing of the Temple Gong.
"They love him," LeBlanc said. "But I would rather saw my arm off than manage contractors."
LeBlanc is currently rehearsing to appear off-Broadway playing Big Daddy in Tennessee Williams' "Cat On A Hot Tin Roof." The show opens at the St. Clements Theatre in New York City and runs July 15 to Aug. 14.