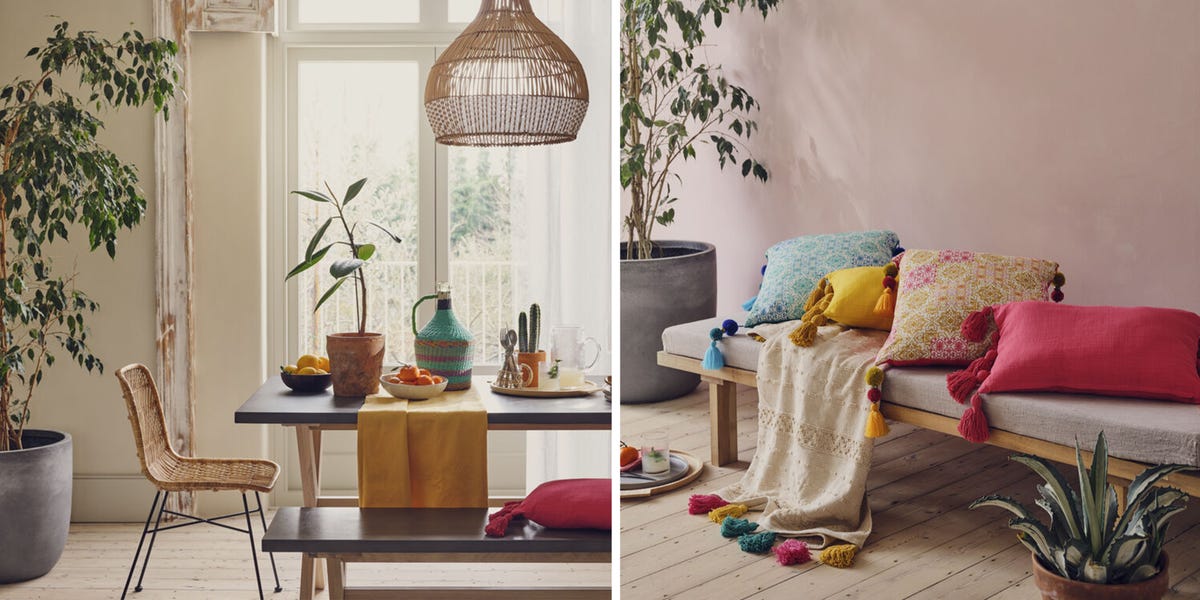 Tips From Ibiza To Provence
In recent years, and especially since the start of 2020, there has been a growing number of interior trends that hinge on escapism. Cottagecore gave us a dreamy glimpse into rural living, we were transported to a luxury beach house with Coastal Grandma, whilst the Bridgeton-inspired Regencycore took us to the opulent heyday of British design.
We are firm believers that how you design your home can transport you to just about anywhere you want to go, and at a time when travel is disrupted, your space can become the rustic Tuscan farmhouse that you've always wanted to visit, or the sunny Mediterranean villa that reminds you of family holidays.
Below, design experts share their tips on creating a year-round holiday home look both inside and out, what materials and colour palettes to use, and the best affordable homeware and accessories for the job.
---
• Bringing the holiday home to you
Mediterranean interiors signal comfort, warmth, and timelessness over anything ostentatious. Homes are lovingly if haphazardly put together and give the impression of a life well-lived – you'll find plenty of inherited furniture, accessories sourced or made locally, and a focus on entertaining spaces (more on the Mediterranean dining table below.)
'You don't need to live in Ibiza to channel boho beach vibes in your home,' says Becky Pickford from Shabby.co.uk. 'Be inspired by everyone's favourite island with a few key interior finishing touches to channel this look all year round. Less is more when it comes to this trend. Pick out one or two pieces to make a statement and pair with natural wooden furniture, a neutral palette, plants and palms.'
Materials are paramount in recreating a sunny Mediterranean look – rattan, linen, wood, seagrass and stone are all great options – and colour palettes can either lean neutral, with lots of calming taupes and olive greens, or embrace more vibrant pinks, terracottas and sunny sky blues.
'You can create the beach house interior by layering up lots of different natural fabrics and materials such as linen, wood and natural plant fibres,' says Rhiannon Johns, interior designer and Brand Manager at Piglet in Bed. 'The beauty of these materials is that not only are they durable, but they add texture and create a minimalistic and contemporary look naturally.'
For a touch of authenticity, the experts at Robert Dyas suggest investing in olive trees. 'With beautiful grey-green foliage evoking the lush groves of Greek islands, olive trees add a sense of the Med wherever they grow.'
• Light and breezy coastal style
Whilst panoramic views of the ocean certainly help in creating a coastal look in your home, they are by no means essential. Coastal design has more to do with taking design cues from the natural world, full of organic materials such as jute, linen, and white-washed wood. Colours are earthy, layered with blues and fresh whites.
But don't fall victim to twee seaside references says Rhiannon. 'Coastal interiors aren't all about blue stripes and miniature ships in bottles. Woven rugs, cushions, baskets, and wall hangings can all be incorporated to create a relaxed, laid back feel that the coastal look is all about.'
Kate Salmon, Head of Buying for Homeware at Oliver Bonas recommends picking up playful crustacean motifs. 'Crustaceans work so well in design because of their unusual appearance and bright popping colours. Not only do they remind us of happy seaside holiday memories but their eccentric look adds sculptural interest to any home.'
• Mediterranean tablescaping
Food is central to Mediterranean culture, and mealtimes are characterised by warmth and vibrance. To recreate the charm of an Italian aperitivo or a late supper in Spain at your own dinner table, decorate with abundance.
'Setting the table is all about creating layers,' says renowned designer, Matthew Williamson. 'Bring more colour and pattern to your dining table with vibrant placemats and decadent ikat tablecloths. Think about introducing layers and height to create an undulating tablescape. Wonderfully long candles paired with charming candlesticks, beautiful votives and rechargeable lamps, promise to bring variety and charm to any table this season.'
• Provence in your garden
As design references go, you can't beat those hailing from the South of France, with well-worn and rustic furniture, vintage accessories, and sunny yet timeless colour palettes.
Below, design expert, Louise Roe, shares five steps for creating a French feel in the garden using affordable finds from eBay:
The amount of space available will define your initial parameters, but it shouldn't define your style. I adore rustic colours – sage green, mustard, and terracotta, so I knew I wanted to work with those tones no matter what. I found a few key pieces first, such as the vintage steamer chair and the bamboo side table, and worked in smaller items around them.
A great way to keep costs down but still make sure you're buying those really unique and special pieces is to shop second hand. eBay has so many pre-loved pieces that are still in great condition. I think vintage pieces make a space feel cosy and nostalgic, just like you're in the South of France.
A bistro set is ideal, because they're mini and tend to fold away. Perfect for a croissant in the morning listening to the birds, or a romantic candlelit dinner once the kids are in bed! An outdoor mirror is also a great way to make your outdoor space feel bigger.
I love to add a vintage flatweave rug underneath everything. It brings the whole vignette together. I also love pops of colour in the tabletop items such as jugs, glassware and flowers. Cushions too!
The most wonderful thing about summer is the longer evenings, and one thing I like to do when it gets to dusk is light lots of candles. I also found some woven lanterns on eBay and once lit at night, they add such a warm atmosphere to the garden.
Follow House Beautiful on Instagram.
This content is created and maintained by a third party, and imported onto this page to help users provide their email addresses. You may be able to find more information about this and similar content at piano.io