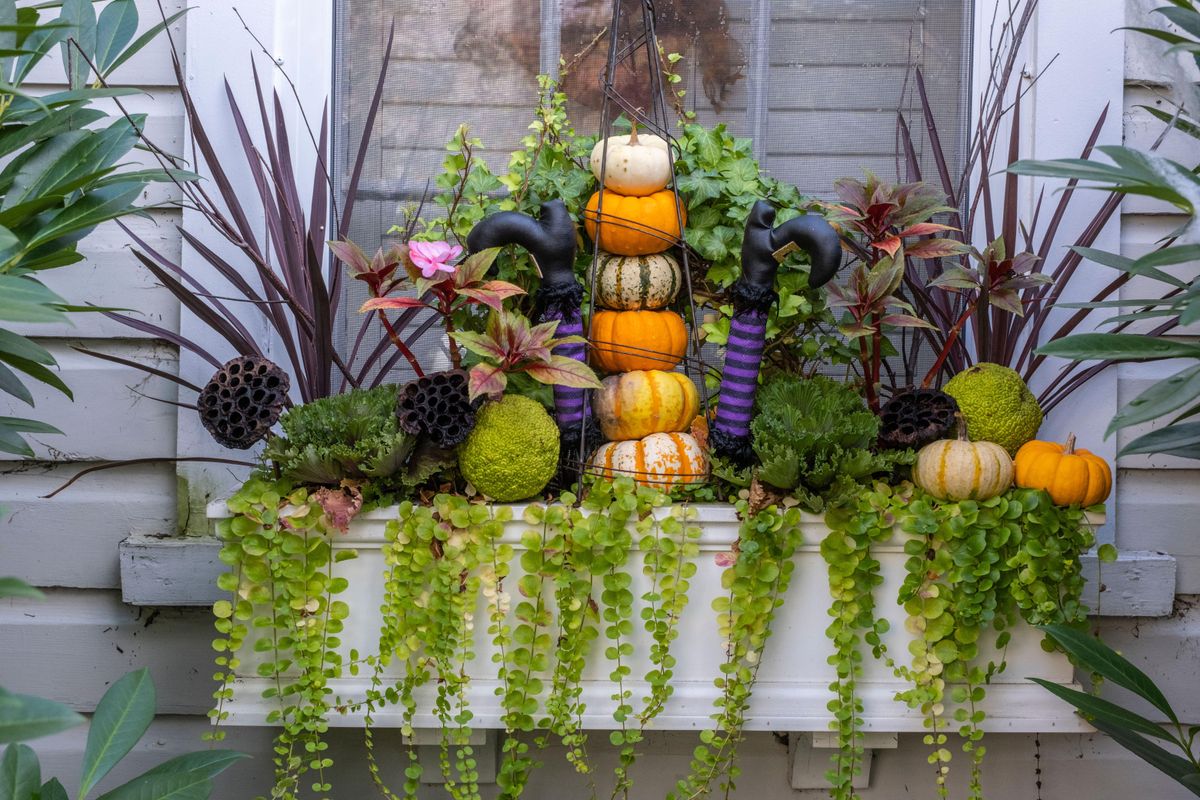 Halloween window decor: 10 spooky ideas for indoors and out
Halloween window decor can transform your home into a spookiest house in the neighborhood. Whether you want it to appear as if you're entertaining a gaggle of ghouls, or like you've got an undead house guest trying to escape the front door, window decorations can create festive illusions and frightening Halloween scenes.
The good news about Halloween window decorations is that they can be as easy or involved as you'd like. Themed window stickers or cling-on silhouettes keep things simple, while painted illustrations or indoor-outdoor vignettes are perfect if you like to go all-out with your Halloween decorating ideas. 
Halloween window decor ideas
No matter if you're looking for an easy way to add haunt to your house or you're aiming for the unofficial title of creepiest house on the block, we've got inspiration for you, below. 
1. Create an indoor-outdoor look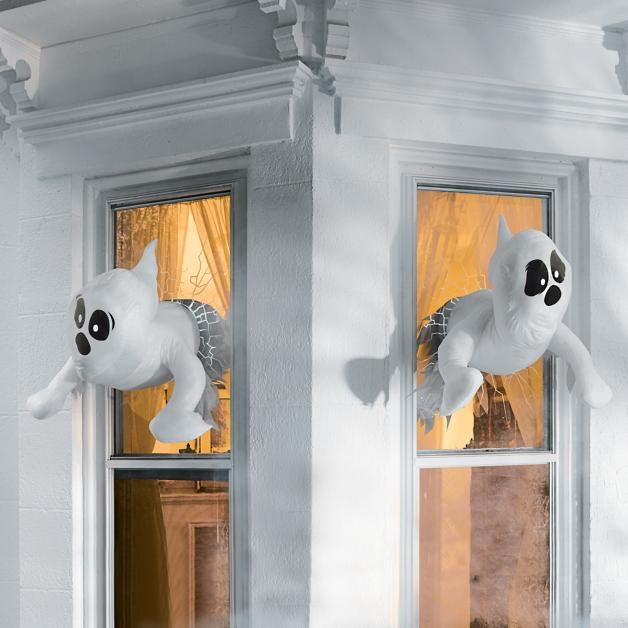 Typically, Halloween window decorations are either indoors or outdoors, but there's no need to pick just one side of the window to decorate.
Installing indoor-outdoor Halloween decorations adds a level of fun and intrigue to your home that one-sided window decor doesn't. These three-dimensional plush ghosts are installed both inside and outside, creating an illusion that the ghosts are crashing through the windows.
You can buy window crashing Halloween ghosts like these at Amazon (opens in new tab).
2. Stage a skeleton takeover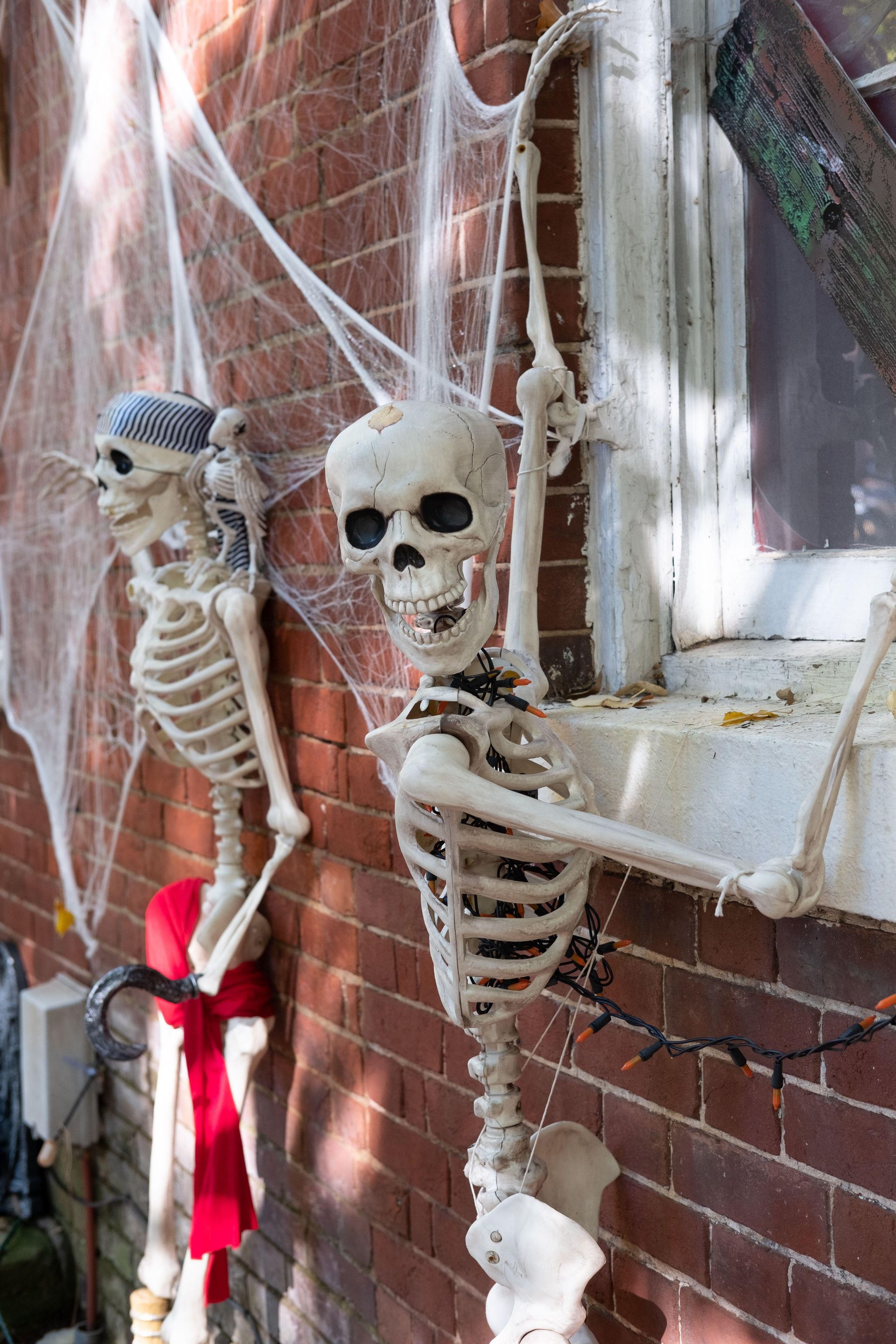 Skeletons look cute when posed on the patio furniture as part of your Halloween porch decor, but if you're looking for a more creative – and spooky – way to set up your skulls and bones this year, hang them from the windows of your home. 
The idea is to make the skeletons look like they're scaling the side of your home, with a few crawling in through the windows. To get the look, choose the right decor and tools. 
'It's best to choose items that aren't too heavy if you're hanging them around the house,' says Paula Boston, visual merchandiser at Festive Lights (opens in new tab). 'Use a fishing line to support the extra weight, as they are strong, but also invisible to the eye.'
Amazon has a vast range of Halloween skeletons (opens in new tab) of various sizes and configurations.
3. Spook-up your window boxes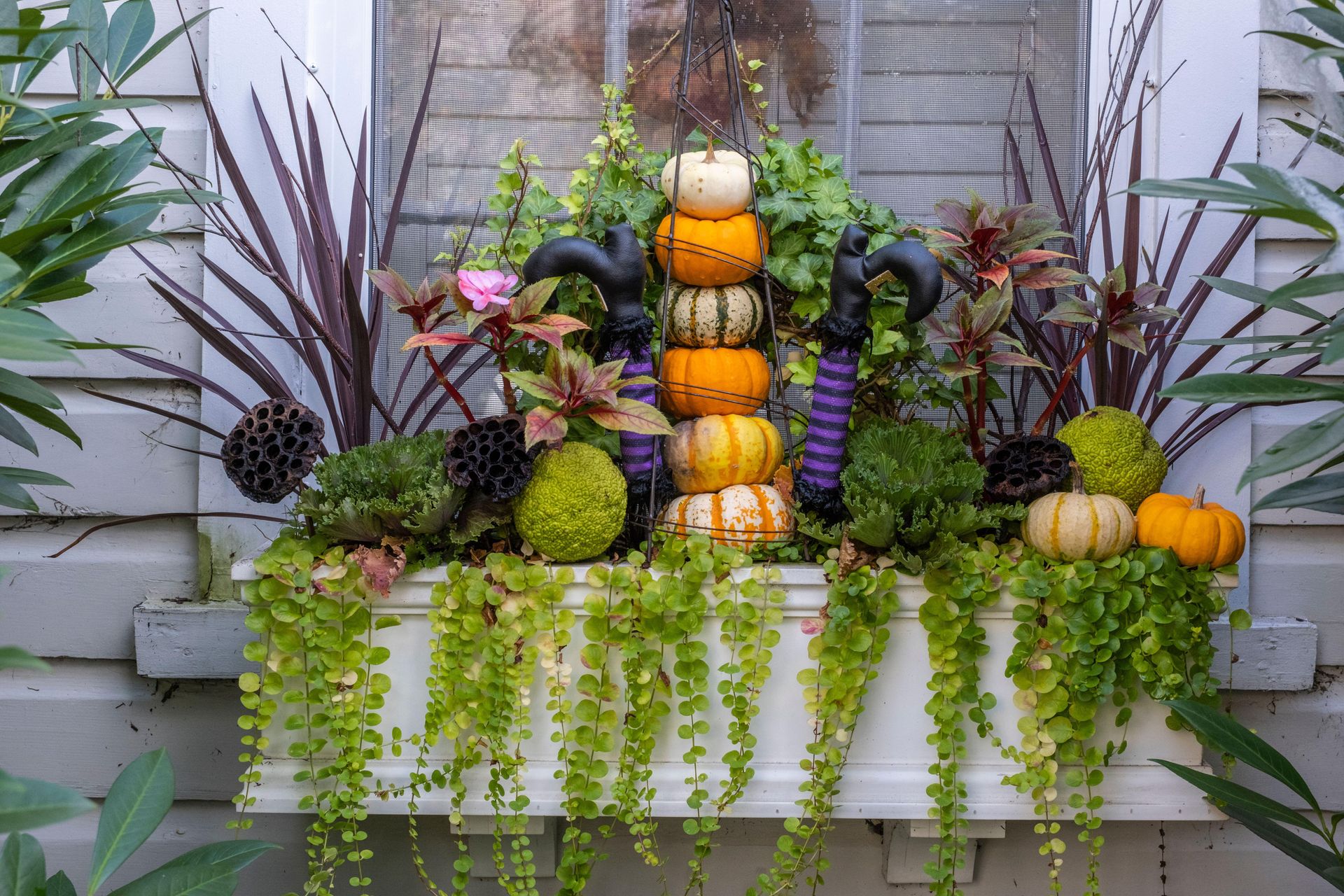 If your window boxes are still looking lovely this time of year, take advantage of it when planning your Halloween window decor. Stack a set of mini pumpkins on one side of the planter, then insert witches legs, a broomstick, limbs from a skeleton, or your other favorite Halloween motif. 
Find witches legs large and small at Amazon (opens in new tab).
4. Board up the windows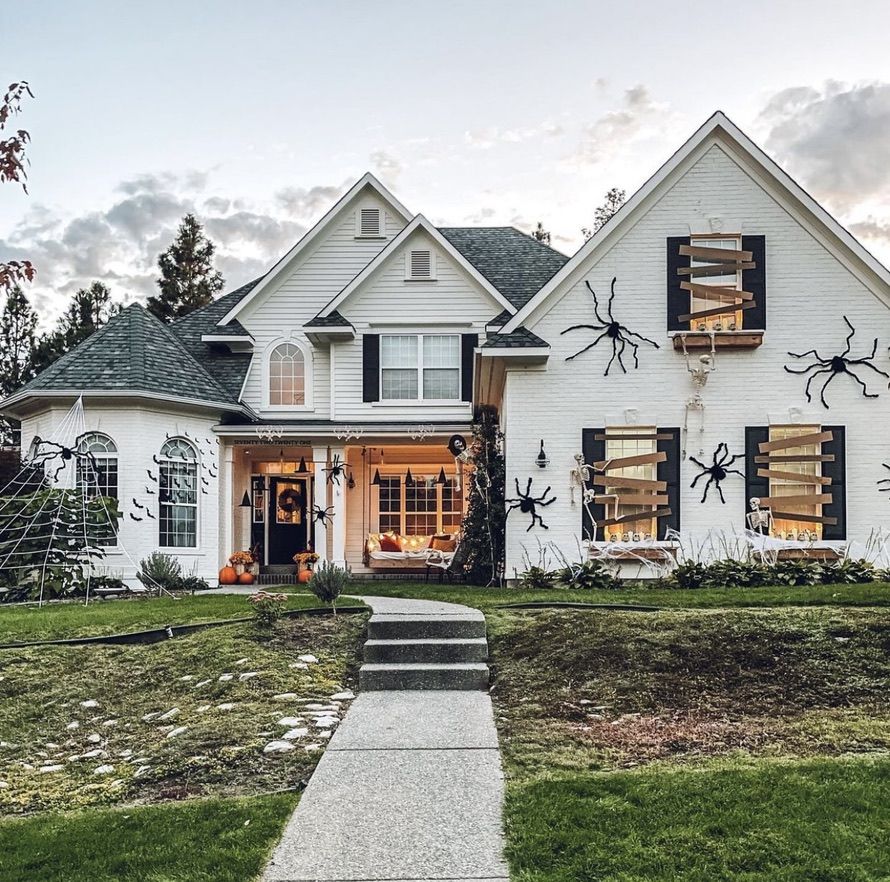 The only reason to board up perfectly good windows? Halloween, of course. 
Create a condemned look by tacking lightweight boards around your windows, like stylist Shannon Morscheck (opens in new tab) has, above. 
If you don't want to actually nail a bunch of boards to the window frames or your home's exterior, nail the boards to a separate wooden frame, then hang the entire piece over your exterior windows or simply attach lightweight boards to your windows with Large Picture Hanging Strips (opens in new tab), that can be removed afterwards without damage.
5. Hang paper bats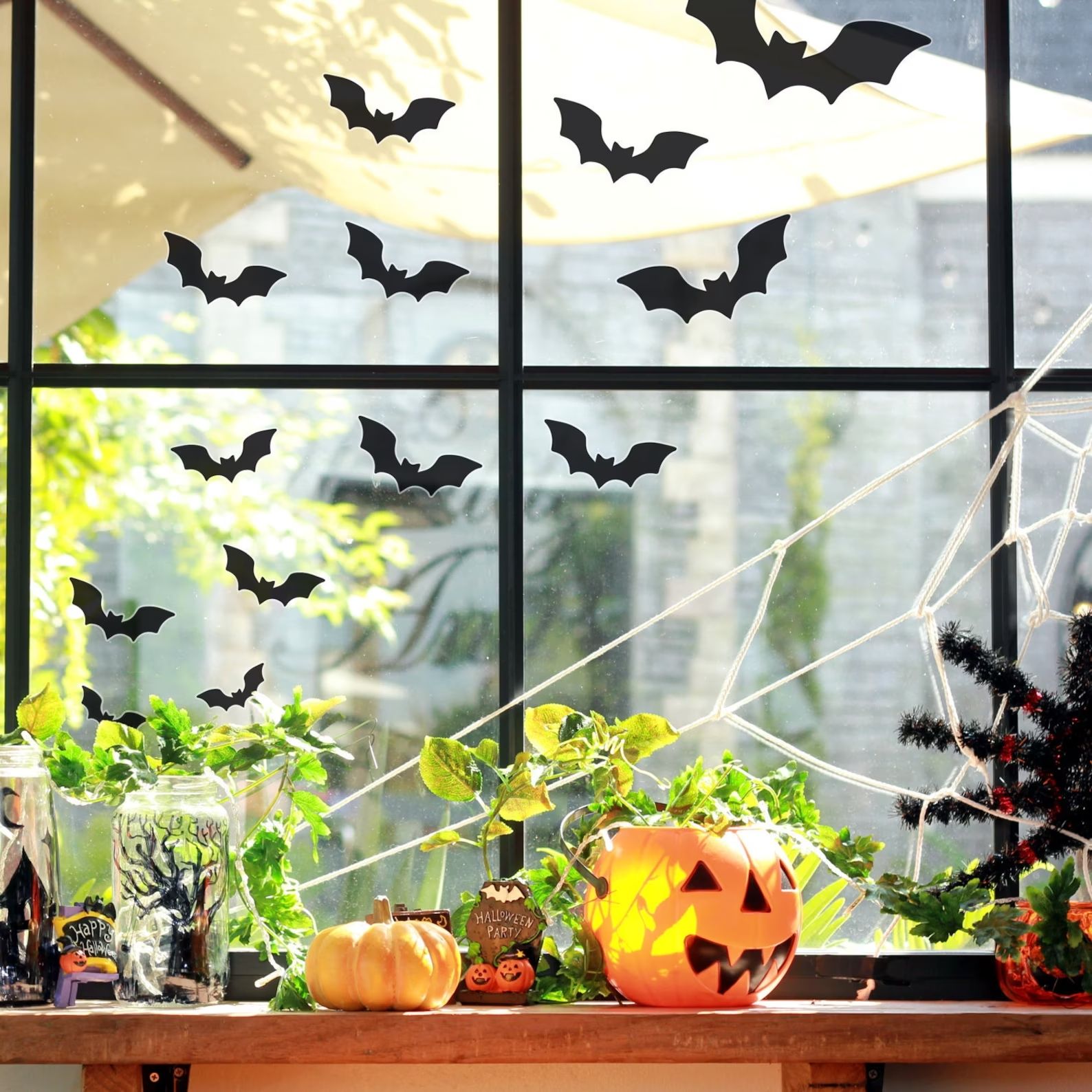 For a subtler Halloween window decorating approach, take a cue from those that Instagram loves most: paper bats. Hang cut outs on the inside of your windows to make it appear like a cauldron of bats is fleeing from your picture window. You can make your own from black construction paper, or purchase a set pre-made – these are Amazon's best selling bats (opens in new tab).
'Paper bats can be stuck to the glass with double-sided tape, or hang the bats in front of the window using string and push pins (or tape) if you don't want to gunk-up the glass,' says Pippa Blenkinsop, Homes & Gardens' content editor and stylist. 
6. Create a Halloween diorama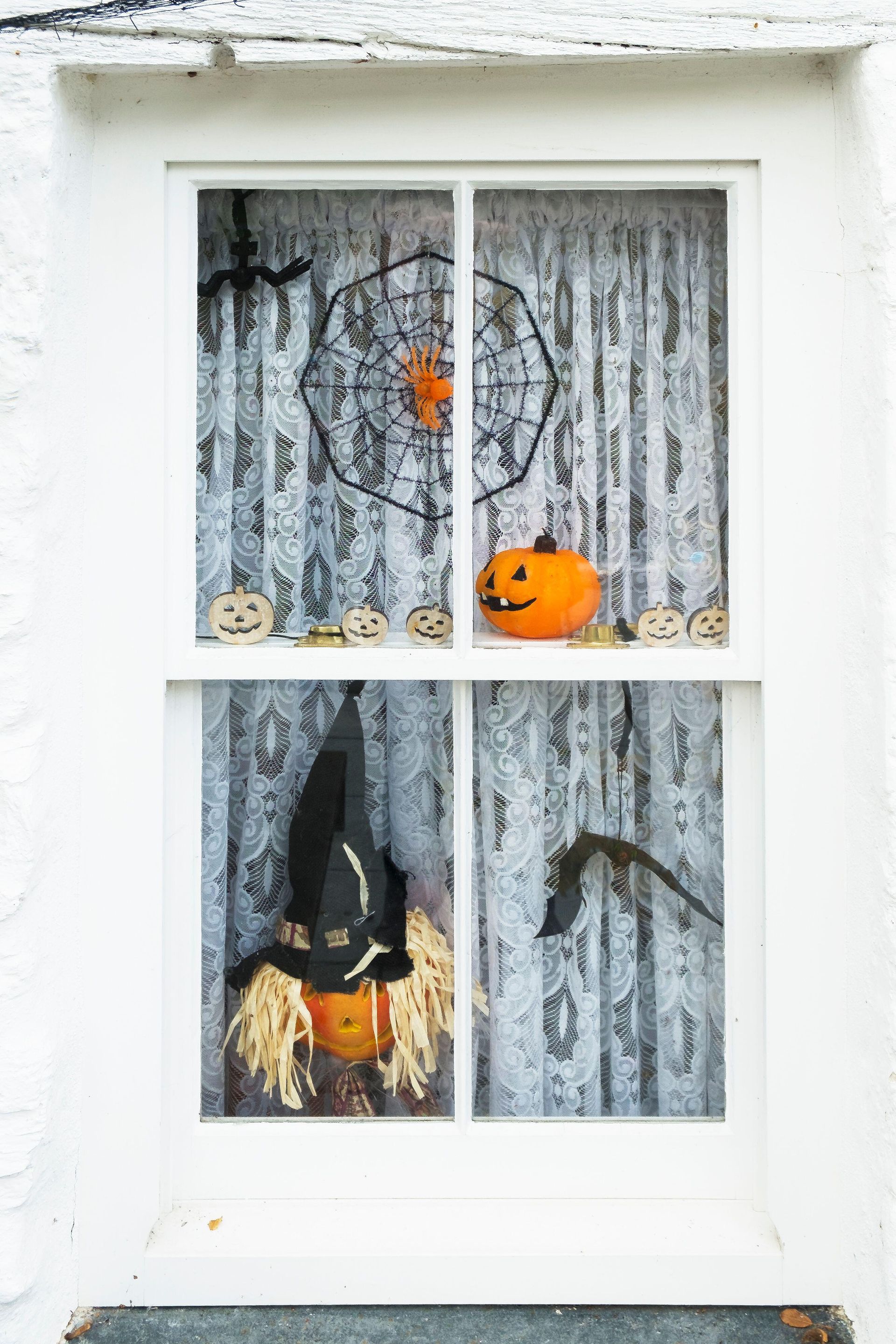 Treat your windows like a Halloween diorama. Close your curtains to create a backdrop (it'll help your decor stand out better to passersby), and layer in hanging items, decor on the windowsill, and window-clings or painting for a three-dimensional, layered look. 
7. Have fun with silhouettes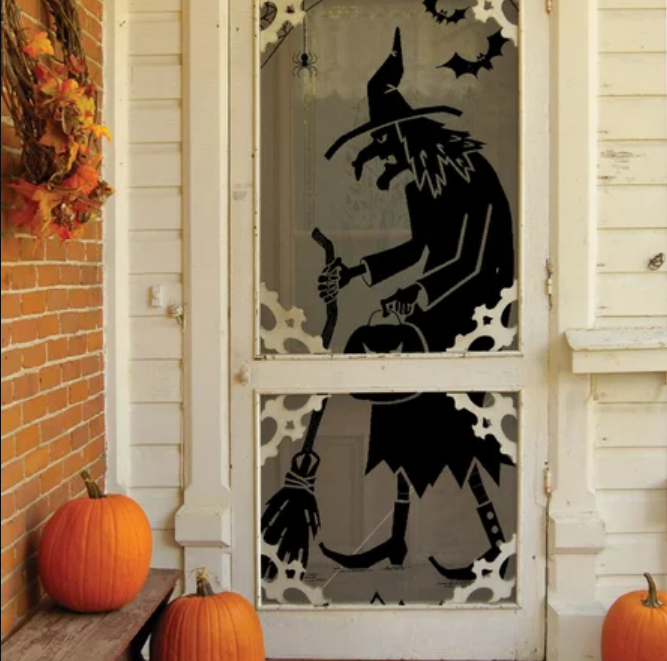 If you have a windowed storm door, silhouettes make a great Halloween door decoration. Use a large window-cling silhouette to make it look like the shadow of a witch is brewing up a spell, or a ghost is peeking through the curtains. 
You can see Amazon's selection of window and door Halloween silhouette (opens in new tab)s on their dedicated page.
8.  Set jack-o-lanterns in the windows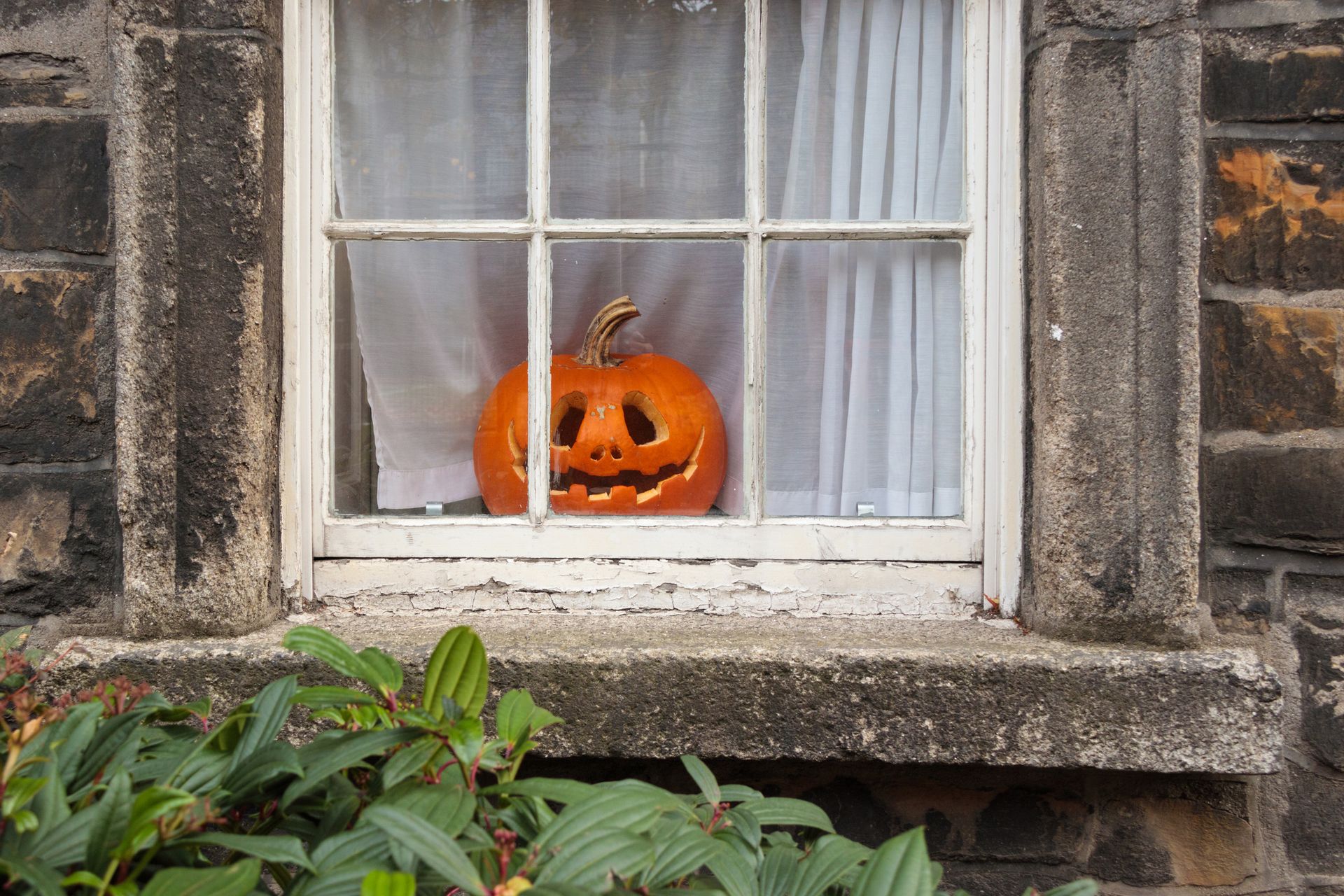 Halloween window decor can be spooky and style-minded at once. Case-in-point? Putting jack-o-lanterns in the windows and lighting them up at night. 
To elevate the look, skip the jack-o-lantern face and try a pumpkin carving idea that's more graphic, like drilling a series of holes around the pumpkin to create a luminary effect. The windows are also a perfect spot to display your best pumpkin painting ideas, too. 
9. Let the kids go wild with window clings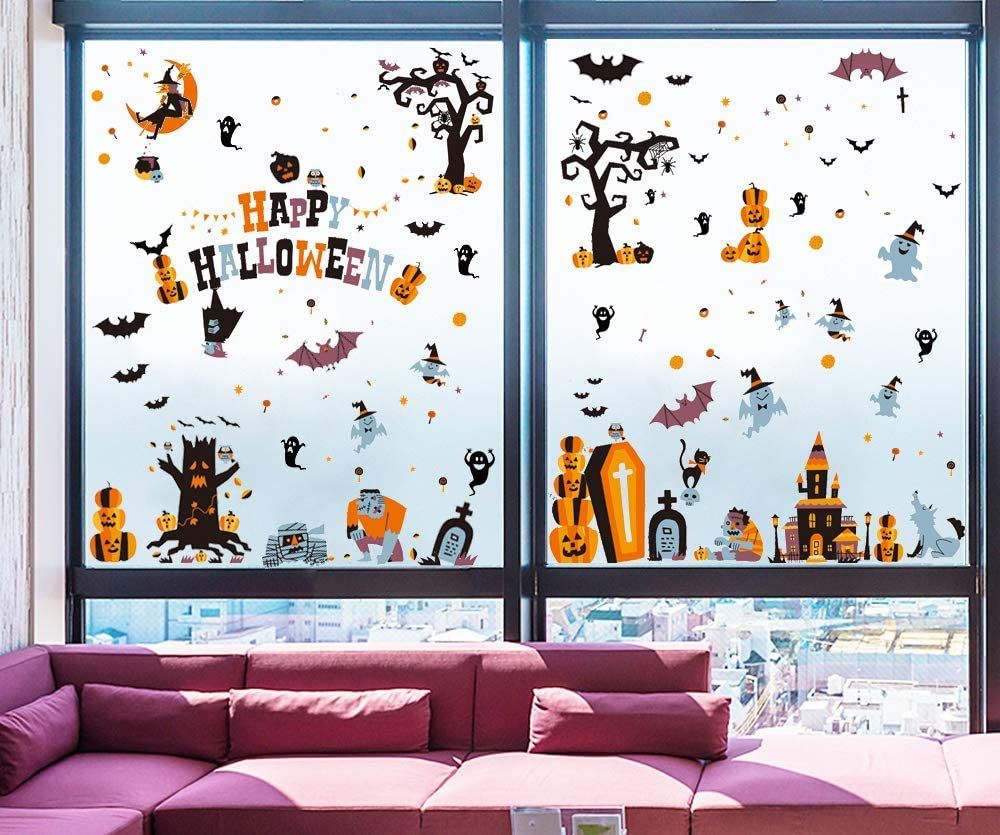 Window clings are one of the easiest Halloween window decorating ideas, since they're so easy to use and remove. All you need to do is peel them off of the backing, and stick them to your window. They're repositionable, which makes it fun for kids to rearrange them through the season, and they pop right off when you're done, leaving zero mess behind.
The scene above is available at Amazon (opens in new tab).
10. Hang Halloween lights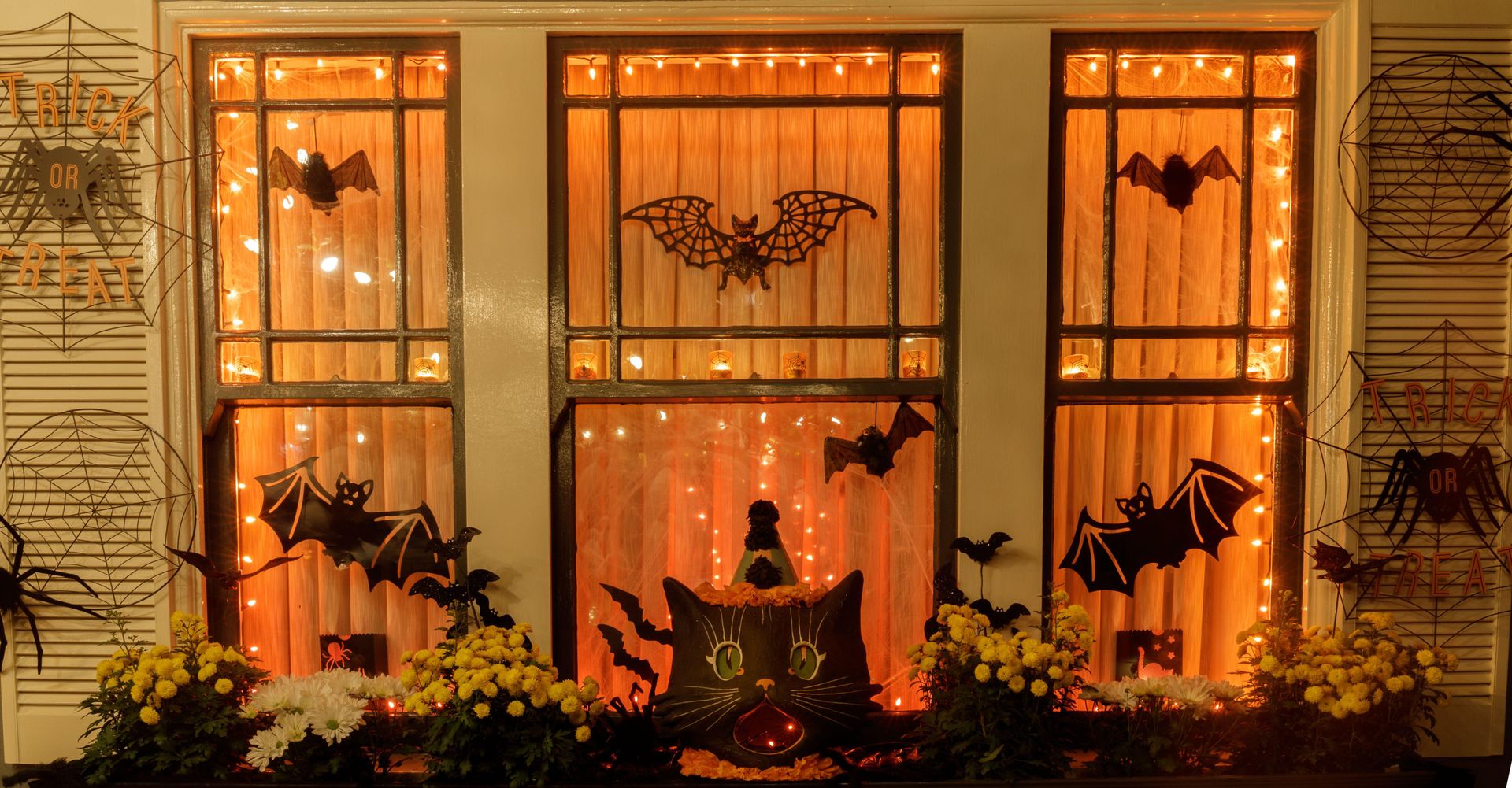 String lights were once reserved for Christmas and the holidays, but the tradition is becoming more popular for Halloween, too. Grab a set of orange string lights and hang them around your windows (you do this indoors or out) for a look that's instantly festive. 
Just be sure to take safety into account when installing your lights. 
'Always consider safety when hanging any lights or decorations around your home exterior,' says Paula Boston, visual merchandiser at Festive Lights. 'Ensure all extension cords are in good condition and that lights are placed in out-of-the-way but accessible locations – such as around doorways and windows.'
These Halloween orange string lights are Amazon's top choice (opens in new tab).
How do you make a Halloween silhouette on windows?
If you like the silhouette look and enjoy Halloween crafts, why not make your own window silhouettes? All you'll need is a large piece of black cardboard (or any large piece of cardboard, painted black), and either a stencil or some art skills.
If you lack the latter, find a Halloween stencil online (there are lots of free ones!), print it out, and trace it onto your black cardboard. Then cut out your silhouette, and tape it to the window. At night time, turn on a few lights in the room where the silhouette is to illuminate it from behind. 
How do I make my windows glow?
If you hang silhouettes in your windows, or simply want to illuminate your decor at night too, the right lighting can make it appear as if your windows are glowing from inside the house.
The easiest way to do it is to close the curtains (as long as they're semi-sheer) and leave a lamp on. Swap out the lightbulb for an orange or a black light version to make things extra creepy.
If you want to take your decor to the next level, you can also purchase specialty strobe lights to turn on once night falls. Put them in each window of your home for an extra-spooky effect.